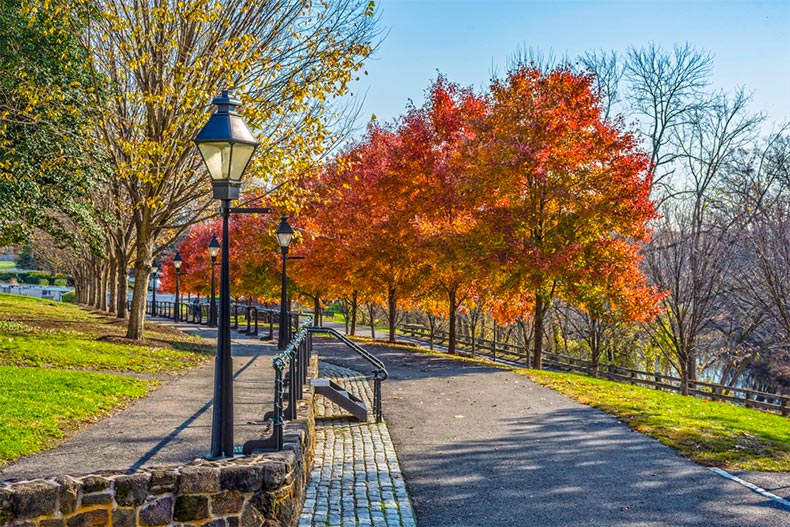 Choosing where to live can be challenging, especially for active adults. Not everyone wants to spend their best years living in steamy, tropical climates or subzero temperatures. Having two homes is one option, but not necessarily an affordable one. Many active adults look to the mid-Atlantic region, specifically the state of New Jersey. This small but densely-populated state is home to millions of active adults. Some have grown up here and moved to local communities while others are transplants from other areas.
New Jersey Taxes and Cost of Living
Jersey has a reputation for high taxes, so let's look at the facts. New Jersey property taxes are the highest in the U.S. and vary depending on the county. The average Jersey property tax rate is 2.4 percent, compared with the 1.19 percent national average. There is a large disparity between home costs, with the lowest being Cumberland County and the highest as Middlesex County. This makes a difference in property tax assessments.
There are other factors that can balance out the taxes somewhat. For example, because NJ does not tax Social Security at the state level, state income tax is low for some retirees. This applies to those with pensions and retirement accounts totaling about $65,000. The state sales tax is 6.625 percent, although most food and clothing items are exempt from this. In addition, monthly utility bills in New Jersey are around seven percent lower than the U.S. average.
Healthcare in New Jersey
New Jersey residents have access to outstanding medical care, with over 70 hospitals, plus numerous private practices, urgent cares and specialty centers. Those close to Philadelphia and New York City benefit from being close to some of the country's best, like University of Pennsylvania Hospital and New York-Presbyterian Hospital. Within the state, top options include Hackensack University Medical Center and Robert Wood Johnson University Hospital in New Brunswick.
Mild, Not Wild Weather
The weather in New Jersey never stays the same, and that is a big plus. It can get quite hot or chillingly cold depending on where you live. Although the winters can be snowy, it usually does not last long. July and August can see temperatures into the 90s, but most of the year the weather trends towards milder numbers. The population of the Jersey shore towns swell during the summers, the beaches filling up with locals, and out-of-towners basking in the sun and sea. Others prefer driving to the Pennsylvania Pocono Mountains, a well-loved mountain resort area.
New Jersey Areas and Activities
New Jersey is considered to have three areas: South, Central and North. Each has its own personality and a wealth of recreational opportunities. The south is known for its farmlands, beach towns, and being close to Philadelphia. Central Jersey has beautiful parks, shopping, and the college towns of Princeton and New Brunswick. Farther north has a higher cost of living, especially the counties closer to New York. North Jersey does have incredible natural beauty, upscale suburbs, and vibrant cultural scenes.
New Jersey is also known for its outstanding produce. As the weather warms, farm stands and markets put out their finest tomatoes, corn, peaches, other fruits and veggies, plus delicious baked goods. Point in fact: Hammonton, New Jersey is known as the Blueberry Capital of the World. Active adults love to take a quick drive to the local stand to grab some fresh Jersey tomatoes for their dinners (and a blueberry pie for dessert)!
No matter where you decide to live, this state has dozens of diverse recreational opportunities for every taste and budget. Many of the country's top golf courses are here, including Mountain Ridge Country Club in West Caldwell and stunning Pine Valley Golf Club. Many of the Jersey beaches are free, including Ocean County Park in Lakewood and the Wildwood Beaches. Charming towns like Princeton, Haddonfield, Lambertville, Cape May, and Maywood offer year-round attractions, like wineries and bustling downtown shopping areas. History buffs flock to spots like the Palisades Interstate Park in Fort Lee and the Museum of Early Trades and Crafts in Madison. The NJ Transit system, PATCO, Amtrak, and other public transportation systems make getting around the state and into New York or Pennsylvania easy.
A Sampling of NJ 55+ Communities
Four Seasons at Sea Oaks in Little Egg Harbor is an excellent pick for South Jersey, as is Holiday Village East in Mount Laurel. In Central NJ, Covered Bridge in Manalapan and Ventana at Lawrenceville are both top choices. Up north and to the west you can find Horizons at Delaware Crossing and charming Bald Eagle Commons.