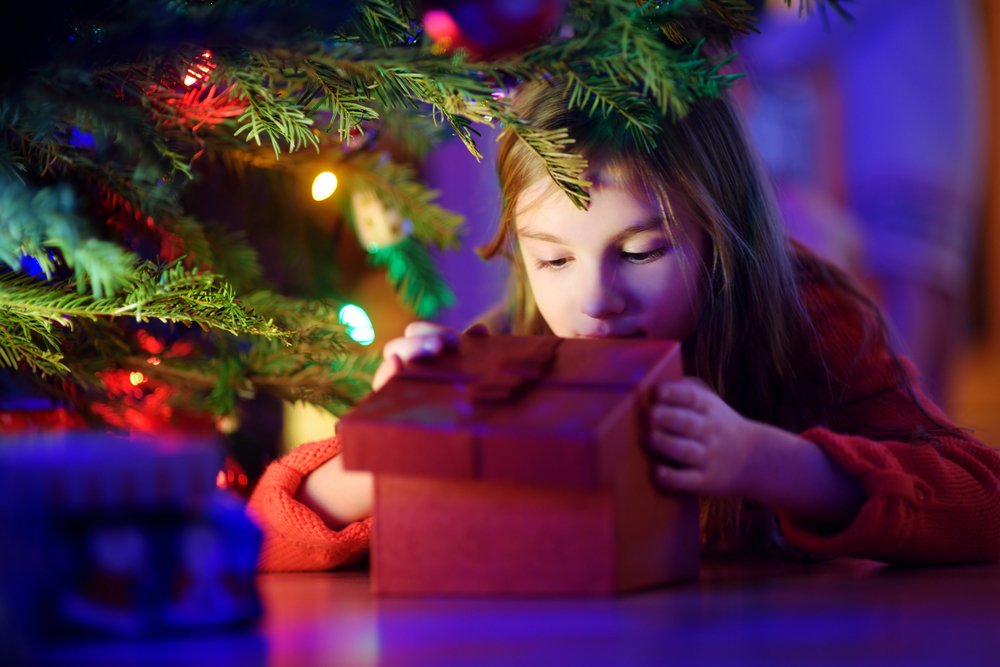 Buying gifts for your grandkids can seem like a lot of pressure. Who could forget Ralphie's embarrassment in A Christmas Story as he trudges down the stairs wearing a pink bunny suit that his Aunt Clara thought would look so cute on him. You don't want to get your grandchild that sweater they won't wear, but you also don't want to take a chance on expensive electronics they might not use.
Ask your grandchild's parents about the child's interests and other gifts they are getting that year. You might give them something to go with their gift from their parents, like a video game for their new console or a capo to use on their first guitar. You might also think back to what your favorite possessions were when you were a child.
While it may seem like kids are much different these days, some toys, games, and books have timeless appeal. Babies and toddlers can be a fun age to buy for. A lot of the toys you grew up with will still entertain them, such as Lincoln Logs or coloring books. Toys that cultivate creativity, language, and problem solving can be especially useful for a younger child's development. Just make sure any puzzles you buy don't have small pieces.
As toddlers get a bit older, they can pick up classic games like Candy Land, Hungry Hungry Hippos, or Sorry that are great for family time.
Young children in grade school pay more attention to trends that their friends are into. Fidget spinners are the latest collectible craze, but there's no telling what the next will be. For this demographic, you may be better off choosing something that doesn't go out of style based on your grandchild's personality.
If you've got a young artist, get them some small canvases and paint. If your grandkid is more analytical, a Legos set might make a good project.
While video games generally have a bad reputation, the best of them have all the storytelling and art direction of a feature film while sharpening the user's problem-solving abilities and hand-eye coordination. On top of that, modern video games are a blast to play. Nintendo offers the more family-friendly games on the Switch and DS systems, both of which are portable. The Sony Playstation 4 and Microsoft Xbox One tend to be what teens and young adults own. If your grandchild is a gamer, find out if they've got any new titles on their list.
Hard as it is to believe, many kids do still like to read physical books. A nice hardcover edition of a young adult classic like Hatchet, The Chocolate War, or To Kill A Mockingbird may be a welcome break from all the screen time. A nice journal and pen set may also make a good gift for a precocious grandchild.
If your grandkids aren't kids anymore, consider getting them an experience gift such as passes to a museum or tickets to a show in their area. College students and young professionals tend to do a lot of traveling, so a durable spinner luggage may also be appreciated.
It really is the thought that counts. Give your grandchild a call to see what they might want. More important than the gift, you'll learn more about what they're interested in and who they've become in the last year.