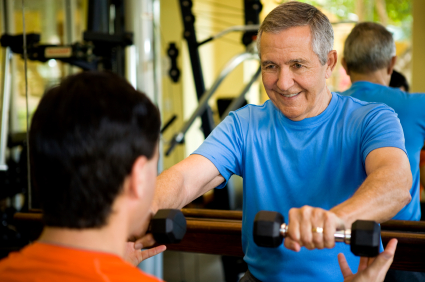 Exercising on a regular basis is easier when you find ways to make fitness fun. This may mean shaking up your routine with different kinds of cardiovascular and strength-training activities. Adding a variety of exercise styles also provides a more complete, full-body workout.
Before making changes, take a look at your current fitness program. Ideally, you want it to include a combination of cardiovascular and strength-training exercises, as well as stretching for improved flexibility. Start adjusting your routine by adding to the areas you may be missing. If you only lift weights, try adding cardio fitness and stretching.
If you focus more on cardio, find fitness routines that will increase your strength and flexibility. When it comes to cardiovascular training, there's no end to your fitness options. You can walk, run, bike, swim or take an aerobics class. High-intensity interval training is one easy way to modify your current routine. This style of training adds short bursts of higher intensity to a more moderate routine. For example, you could alternate one minute of running or jumping jacks with four minutes of walking at a moderate pace.
You can also improve your cardiovascular health with a variety of aerobic dance classes. Zumba is a popular program which pairs easy-to-learn dance moves with South American music styles like salsa, merengue, mambo, samba and the cha cha. The Zumba Gold program is specifically designed to offer a lower impact option for older adults.
Strength training is important for both men and women, but that doesn't have to mean lifting heavy weights. Multiple repetitions with lighter weights can be a great way to build muscle safely. Body weight training is also becoming more and more popular with adults of all ages. This form of strength training builds muscle by using your own body weight with little to no additional equipment. It involves traditional exercises like sit-ups and pushups, as well as a wide range of less familiar exercises, like variations on squats and planks, to keep things interesting.
Pilates is another form of strength training which typically uses your own body weight to build muscle. Some props may be used as well. Pilates has a strong focus on building core-strength, which is very important for overall health, but it also incorporates movements to strengthen arms, legs and your whole body. Adding yoga to your fitness routine can bring multiple benefits as well.
Depending on the style of yoga you practice, you can use this ancient exercise to build muscle, burn calories, improve balance and increase flexibility. Yoga also has the added benefit of teaching mindfulness and body awareness, making it as much of a meditation as an exercise routine. If you'd really like to take your fitness to the next level, you may want to hire a personal trainer. These fitness professionals know how to assess your overall fitness and develop personalized programs to meet your goals.
Some personal trainers also offer group options if you would like to train with a buddy or small group of friends. Many of the larger active adult communities even offer trainers on-staff. While you may want to check with a doctor first, trying new activities is a great way to shake up your routine and stay excited about your exercise program.