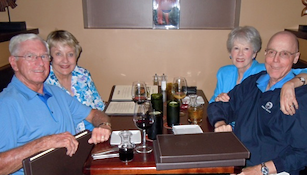 Originally from Orange, California, Tom and Marty Holler embraced an active adult lifestyle when moving to Arizona's beautiful Trilogy at Vistancia community. Like many active adult homebuyers, they were looking for a home which included an exciting line-up of amenities, as well as friendly neighbors and a sense of community.
Set in Peoria, about 30 miles northwest of Phoenix, Trilogy at Vistancia is an active adult community which welcomes residents age 55 or better. The community was opened by Shea Homes in 2004 and is still under development with plans for a total of approximately 2,450 single-family homes.
Adventure Awaits
In October, 2011, Tom and Marty Holler moved to Trilogy at Vistancia hoping to start an exciting new chapter of their lives. "We wanted a new adventure while we could still adventure," they told us while describing their move. "It seemed like a good idea to stretch ourselves and experience a different lifestyle." This is a common goal for many active adults and Trilogy at Vistancia certainly has plenty of amenities to offer an adventurous lifestyle.
Residents can pursue a number of hobbies or special interests at the spacious clubhouse or take a variety of classes at the on-site Center for Higher Learning. Resort-style features also include a state-of-the-art fitness center, indoor and outdoor swimming pools, tennis courts, a full-service spa and the 18-hole Trilogy at Vistancia Golf Course.
Trilogy at Vistancia boasts 35,000 square feet of world-class amenities and fabulous outdoor recreations.
Special Interest Groups
Beyond these facilities, Tom and Marty have gotten involved in some of the community's activities and special-interest groups. They enjoy Trilogy's various entertainment opportunities, particularly playing bridge or a round of golf, as well as activities throughout the area. They are active with their church and Bible Study group, and participate in P.E.O., a philanthropic and educational organization for women.
Social Life
Tom and Marty tell us that their favorite thing about the community is the people. "We have met people from all parts of the U.S. and Canada. Most of the residents are eager to make friends as we are all 'in the same boat'.We also appreciate living in such a pretty community with such nice amenities". By following their dreams and moving to a new home, the Hollers remind us that retirement is a time to enjoy new adventures.
When asked if they would like to share a life philosophy with our readers, Tom and Marty wisely advise, "Live each day to the fullest, taking advantage of new opportunities and experiences. Be a risk taker!". This is great advice for embracing life at any age.