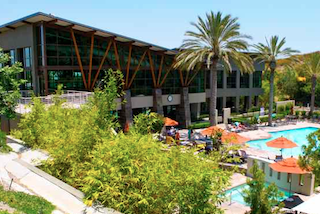 Location is one of the most important factors to consider when choosing a retirement destination. While rural communities offer wide-open spaces, many retirees are flocking to more urban destinations for their convenience and exciting local activities. For those looking to take part in all city life has to offer, here are ten of our favorite options.
Located in Central New Jersey, Somerset Run offers amenity-rich subdivision living just an hour away from the bright lights of New York City. This age-restricted Del Webb community includes everything from a sports lounge to a self-expression studio–– and if that's not enough to keep you busy, Broadway shows and a wide array of professional sports teams are just a drive away in NYC.
Trilogy at Glen Ivy – Corona, CA
If you've ever dreamed of living in Hollywood, this gated active adult community in Corona is just a short distance from the arts and culture of sunny Los Angeles. Equipped with a state-of-the-art fitness facility and a full golf club, this community has plenty to do in house, but adventure seekers will love its proximity to the hustle and bustle of LA.
Sun City Huntley – Huntley, IL
Midwestern retirees looking for city-adjacent living will love Sun City Huntley, a 55+ community less than an hour outside of Chicago. With a 94,000 square-foot clubhouse, there's truly something for everyone inside the community's gates. Outside of the community, residents can drive or take the Metra trains right into downtown Chicago.
Trilogy at the Vineyards – Brentwood, CA
Looking to live near a city without giving up easy access to natural beauty? This community by Shea Homes is within driving distance of San Francisco while also being bordered by local vineyards and nature preserves. With a mild climate and a number of nearby attractions, this community is great for anyone seeking the best of both worlds between city and rural life.
At Siena, retirees can live within Las Vegas city limits but still enjoy a quiet community lifestyle. On any given day, a resident of Siena can choose between hitting The Strip for world-class entertainment or sticking closer to home to take advantage of the full-service spa or outdoor pool on Siena grounds.
Village at Deaton Creek – Hoschton, GA
In this large age-restricted community by Del Webb, residents benefit from a number of on-site amenities. From a ceramics studio to a fishing pond, there is something for every individual interest. But if residents want to get out and explore, the excitement of downtown Atlanta is only 45 minutes away and boasts a number of museums and music venues.
Heritage Hunt – Gainesville, VA
While Washington D.C. proper doesn't have much in the way of active adult communities, nearby Northern Virginia offers resort-style living at Heritage Hunt. Retirees benefit from the country club lifestyle on-site, as well as the hub of D.C. just a drive away. A city full of politics and history, there's no shortage of interesting activities for knowledge seekers.
Del Webb Sweetgrass – Richmond, TX
This community in Richmond Texas has plenty to offer right in town, but those looking for more big city excitement can make the short trip to Houston for world-class shopping and dining options. The community itself offers a little bit of everything–– tennis, pickleball, and boating are all available on-site.
What do you get when you combine the natural beauty of the Arizona desert with the convenience of nearby Phoenix? This sprawling 55+ community. With five different community centers, Sun City Grand is practically a city on its own, yet it's still only a short distance from the fun of downtown Phoenix.
Located in Broomfield, Colorado, this age restricted community is actually near to two different metropolitan areas–– Boulder and Denver. In addition to those great options for entertainment, community amenities include everything from an outdoor amphitheater to over a dozen athletic courts.