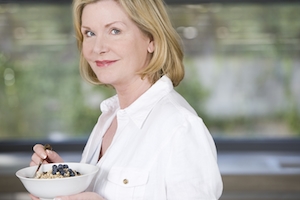 Heading into a new year is a great time to reboot your diet with a focus on healthy eating. A healthy diet typically includes a mix of many different fruits, vegetables, whole grains and lean proteins. You can learn more about nutrition and healthy eating by visiting useful websites like ChooseMyPlate.gov or Nutrition.gov. To jumpstart your healthy diet in 2015, try adding these 10 power foods (featured in no particular order).
1. Beans
For low-fat, high-fiber protein, try adding a variety of beans to your diet. Beans are full of nutrients and can be used in many different meals. Try them in soups, stews, burritos and casseroles.
2. Berries
Blueberries, blackberries, raspberries and other berries are high in antioxidants, making them a healthy addition to your diet. Toss them in salads, mix them into your oatmeal or just snack on a bowl of them.
3. Wild salmon
Omega-3 fatty acids, which may reduce your risk of heart disease and stroke, are abundant in wild salmon. Choose fresh or canned varieties, but always opt for wild over farm-raised salmon to get the most nutrients.
4. Kale
Over the past year or so, kale has been gaining prominence as a power food for healthy eating. This leafy vegetable is high in vitamin K, which is great for bone health, and other nutrients such as vitamins A and C.
5. Oats
A bowl of heart-healthy oatmeal is full of soluble fiber, which may help lower your cholesterol. Choose old-fashioned or steel-cut oats for more whole grain goodness. You can also add oats to your diet with granola snacks.
6. Greek yogurt
Creamy Greek yogurt is chock full of protein, potassium, calcium and probiotics. It may help regulate your digestion and boost your immune system. Snack on it straight or use plain varieties as a base for dips, smoothies or salad dressings.
7. Pineapple
This sweet fruit is packed with vitamin C, fiber, minerals and B vitamins. Whether fresh or canned, pineapple may lower blood pressure, regulate your digestion and help prevent cancer.
8. Spinach
Popeye was right to love his spinach. This leafy vegetable is rich in folate and antioxidants, as well as vitamins A, C and K. You can eat it raw in a salad, lightly steam it or add it to soups and casseroles.
9. Sweet potatoes
With a sweet flavor and pleasing texture, sweet potatoes are a healthy vegetable full of nutrients like potassium and vitamin A. You can bake them whole, roast them in cubes or slice them up as fries.
10. Kiwi
A serving of this little fruit has as much potassium as a banana and more vitamin C than an orange, while still being low in calories. For easy eating, slice a kiwi in half and scoop the fruit out with a spoon. Improve your health in 2015 by adding these delicious power foods to your regular diet.