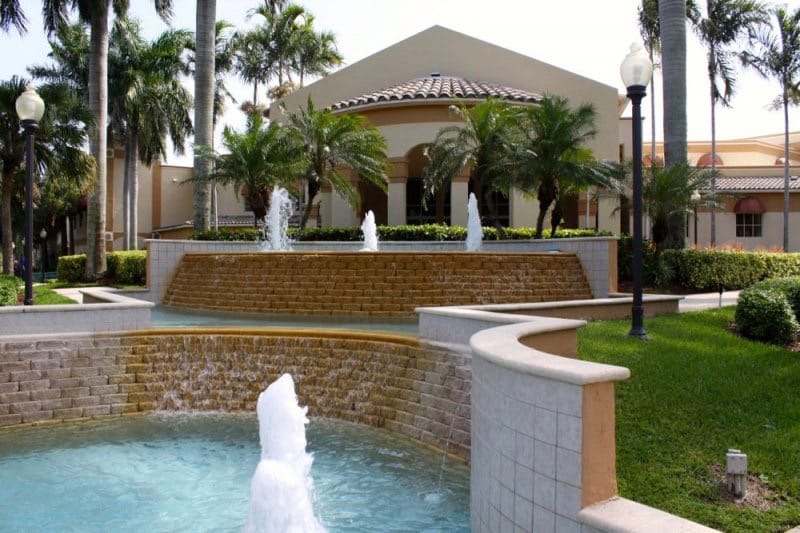 What makes a retiree move from their family home and into an active adult community? There are several deciding factors that motivate baby boomers to leave their familiar surroundings and venture into an age-restricted community.
Amenities
One of the major appeals of these age-restricted communities is the perks that they offer, which resemble country clubs and resort-style living. Some of the most popular 55+ communities provide amenities that create a paradise right in the homeowners' neighborhood, creating a better quality of life for baby boomers. We asked active adults from around the country to share with us their reasons for uprooting their lifelong home and relocating to a new community. Here's what they told us.
"The clubhouse offers shows, every activity that you could possibly want, and a health and fitness center to keep you healthy," said Nan M., a homebuyer who is looking into buying property in Coral Lakes in Boynton Beach, FL.
Homeowners in these active adult communities have access to lavish clubhouses, walking and biking trails, on-site lifestyle directors, and endless social and recreational activities that keep them active and busy no matter what day of the week it is.
Active Lifestyle
From active adult communities in New Jersey to Florida, these vibrant environments provide the ideal setting for retirees who wish to remain active, both physically and socially.
"There is something to do for anyone—golf, indoor and outdoor pools, exercise room, card rooms, and plenty of shows performed by local musicians and big-name entertainment for a very reasonable price," said Helene Goretsky, a happy resident of the 55+ community of Renaissance at Manchester in Southern New Jersey.
Social Life
When residents aren't practicing their golf swing or playing pickleball, they are busy socializing and making new friends at the weekly potluck party or community function. Active adult neighborhoods provide a sense of community with other like-minded adults in a welcoming and friendly setting.
Age-restricted developments like The Villages or Sun City Hilton Head offer hundreds of activities, clubs, and interest groups that cater to a variety of interests. Baby boomers can mingle and share their hobbies with others by participating in card clubs, writing groups, fitness classes, or faith-based studies for a robust social lifestyle while fostering lifelong friendships. Living in a safe and gated community where neighbors can rely on and help each other out in times of need, no matter how big or small, also provides great comfort to many boomers who may be on their own during their golden years.
"We have over 100 clubs for everything, and for people who need help, we have a club called Neighbors for Neighbors where people volunteer their time to help someone who may need a light bulb changed or an item taken care of," said B.J.L, a resident from Sun City Palm Desert in Southern California.
Affordable, low-maintenance homes
In addition to great amenities and friendly neighbors, retirees can find affordable or reasonably priced single-story homes with low-maintenance exteriors, making it easy for them to live within their retirement budget as well as leave the hassles of lawn care behind.
Top active adult communities that offer the best value for homebuyers include Sun City West, On Top of the World in Ocala, FL, and Sun Lakes Country Club in Banning, CA, all featuring attractive, quality-built homes at great prices in desirable locations as well as world-class amenities and a vibrant social atmosphere. Premier builders like Del Webb, Lennar, Shea Homes, and Taylor Morrison offer floor plans that cater to retirees by including features like zero-step entries, wide doorways, single-level homes, and energy-efficient construction.
With homeowners having fewer exterior home chores to worry about, they can reap all of the benefits of living in a 55+ community. Residents have more time to pursue new hobbies or interests and take advantage of all of the amenities and recreational facilities offered in these exciting active adult developments.
Close to Home
Another reason why retirees are choosing to move into active adult communities is to be close to family. A majority of age-restricted developments are built near prime locations like sprawling metro areas that offer easy access to highways and medical facilities as well as entertainment, shopping, and dining options.
"Sun City Huntley offers terrific facilities in a four-season environment so we can stay close to our grandchildren. So much to do and so little time to do it in," said Dino M., a resident of Sun City Huntley in the Chicago area.
With so many active adult communities offering great amenities, homes, and social activities, it's easy to see why baby boomers are making their move into 55+ communities across the country.