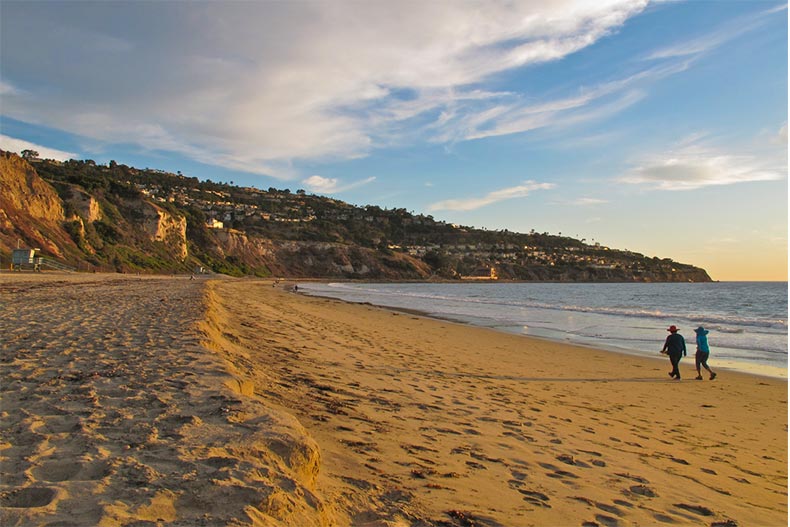 Boasting 1.5 miles of beaches on the Pacific Ocean, the coastal city of Torrance in Southern California, is a beach-lover's dream. Located in the South Bay region of Los Angeles, Torrance has a smaller, laid-back beach city vibe than it's metropolitan neighbor. The city also has a lower cost of living and less crowds than neighboring big cities.
Torrance provides ample opportunities for outdoor recreation, with a wealth of public beaches, trails, nature preserves, public gardens, parks, and almost year-round sunshine. It also boasts a lively restaurant scene, with many local breweries, bakeries, and diverse restaurant offerings.
Active adults who are thinking of settling in this charming seaside city may be interested to know that there are five friendly and intimate 55+ communities in the city of Torrance, as well.
Read on to discover more about these inviting communities.
Low $600s - Mid $700s
As the smallest, and also the highest-priced 55+ community on this list, Courtyard Villa Estates offers luxury, intimacy, and privacy to active adults. This luxurious 55+ condo community consists of only 42 residences, so the atmosphere here is tight-knit and neighborly.
Built between 2007 and 2010, the condominium units at Courtyard Villa Estates range in size from 1,500 to 2,200 square feet, and offer two bedrooms and two bathrooms, with underground parking. The units feature modern upgrades such as stainless steel appliances, granite countertops, and large, spacious bathrooms. Every condo unit offers views of an outdoor central courtyard that's lush with mature trees, flowers and plants.
Some of the amenities residents enjoy at Courtyard Villa Estates include a state-of-the-art fitness center, catering kitchen, and community room, where residents gather for a game of cards, or social activity.
If you would like more information on Courtyard Villa Estates, click here.
Low $300s - Low $400s
Pacific Village is another smaller 55+ community with only 61 low-maintenance condos in a friendly, intimate setting. This Mediterranean-inspired complex was built in 2002 and is only a few miles from several beautiful beaches.
The condo units at Pacific Village range in size from 449 to 880 square feet, and offer either one or two bedrooms, and one to two bathrooms. Many homes feature contemporary finishes such as hardwood flooring and granite countertops. There is also elevator access to every level and a large parking lot with ample parking.
Residents spend leisurely sun-filled days in the outdoor pool, spa and patio. Indoors, they enjoy billiards and card games in the community room and meals in the catering kitchen.
If you would like more information on Pacific Village, click here.
Mid $400s - Mid $500s
With a total of 600 condo units, New Horizons South Bay is the largest 55+ community on this list. This sprawling community was one of the first age-restricted communities in the country, built between 1963 and 1964, and continues to delight residents with its idyllic location near the beach, and friendly, social environment.
Condo homes at New Horizons South Bay offer 950 to 1,133 square feet, and one to three bedrooms, one to two bathrooms, with parking throughout the community.
As the central hub of the community, the 10,000 square-foot clubhouse serves as one of the main amenities at New Horizons South Bay. It features a fitness center, dance studio, sauna, ballroom, catering kitchen, and billiards room. Outdoors, residents delight in the two outdoor pools and a patio, as well as the nine-hole golf course. Croquet, tennis, and shuffleboard courts are available, and there's even a charming lagoon with a waterfall to add to he ambiance.
If you would like more information on Now Horizons South Bay, click here.
Mid $300s - High $400s
With easy access to often-visited Redondo Beach and downtown Los Angeles, Trade Winds offers a prime location and an intimate, peaceful environment. This gated 55+ community is comprised of 91 condominium units, built between 2003 and 2004.
These condo-style homes range in size from 993 to 1,212 square feet, with two or three bedrooms, one-and-a-half or two bathrooms, and underground garage parking. Special features include walk-in closets, double-sink vanities, ten-foot ceilings, and beautiful views.
Residents enjoy gathering in the large community room, where they socialize, play card games, and mingle. Other amenities include an exercise room, library, catering kitchen, outdoor pool and spa, and large patio.
If you would like more information on Trade Winds, click here.
Mid $400s - Mid $500s
Active adults who love living in a place that values neighbors and a sense of community will appreciate Village Court, a 55+ community that plans community-wide events, staying active and social in their city. This 112-unit condominium community was built between 2004 and 2005, and has upscale, spacious residences and resort-style amenities.
The condo units at Village Court feature recessed lighting, stainless steel appliances and granite countertops, among other features. They range in size from 716 to 1,378 square feet, with one to three bedrooms, one or two bathrooms, and underground garage parking.
Residents in this charming community enjoy a media room for movie nights, and a community room for socializing, as well as game tables, a catering kitchen, billiards, an outdoor pool, spa, barbecue areas, and covered patio, among other sterling amenities.