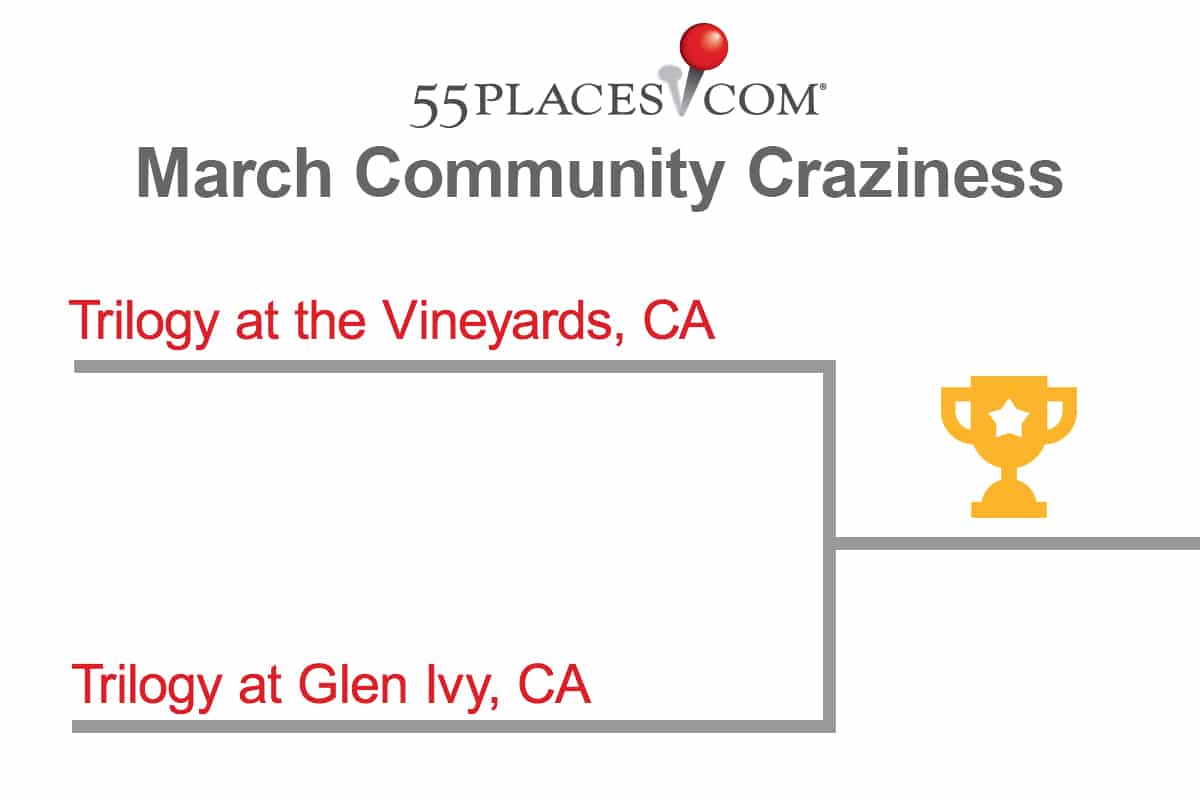 Welcome to the first annual March Community Craziness competition. Think that your community is a cut above the rest? Are your community's amenities simply too good to ignore? Has moving to your community changed your life? Each day we will feature at least one community matchup. When your community (or a community you know well) is featured in a showdown, cast your vote by clicking on the poll below.
After you vote, you can tell us what sets your community apart by leaving a review on the community page. In the event of a tie, the winner will be decided by whichever community has the highest number of unique pageviews. The contest will be in the bracket-style and will work just like any other major sports contest, with the winner of each round facing off against the winner of the next round.
Disclaimer: Reviews are subject to approval and may be edited for clarity and accordance with company policy.
Which Community is Your Favorite: Trilogy at the Vineyards, CA or Trilogy at Glen Ivy, CA?
Trilogy at the Vineyards by Shea Homes is a gated, active adult community named for its location among the breathtaking vineyards in Brentwood, California. Located in the East Bay Area at the shadow of Mount Diablo, Trilogy at the Vineyards is surrounded by thousands of acres of vineyards, rolling hills, olive groves, and nature preserves. Trilogy at the Vineyards is rich in amenities and is also suitably located just a few minutes away from Brentwood and a championship golf course.
Trilogy at Glen Ivy is a Shea Homes active adult community adjacent to the Cleveland National Forest in Corona, California. It is perched in the foothills of the Santa Ana Mountains overlooking Temescal Canyon and Trilogy Golf Club. This active adult community is close to the beach and the desert, surrounded by forests, and immersed in culture. An exquisite level of detail went into every aspect of Trilogy at Glen Ivy. The meticulously maintained grounds and finely crafted homes are scarcely matched by any other age-restricted community in the region.