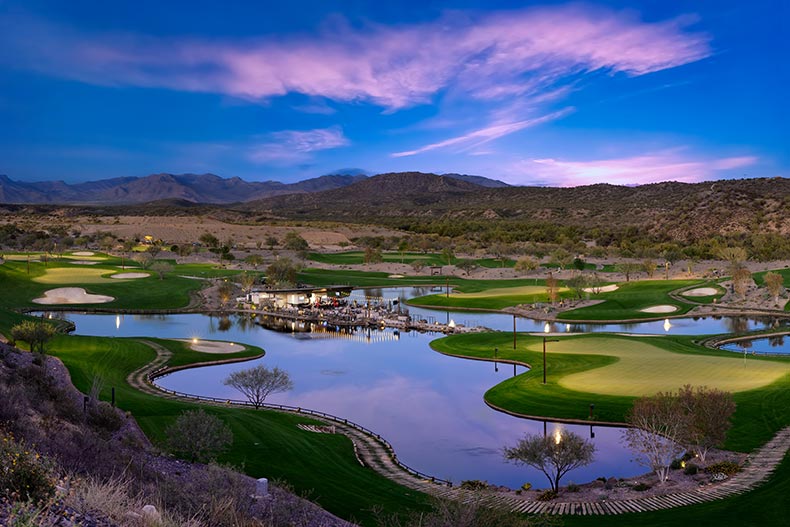 Trilogy at Wickenburg Ranch has announced two new home models as well as their recently-opened Ranch House. About a 10-minute drive northwest of the small town of Wickenburg, Trilogy at Wickenburg Ranch is a gated active adult community with 2,000 single-family homes and no age restriction.
Wickenburg is just over an hour's drive northwest of Downtown Phoenix, and it's a former mining town with a long history behind it. Trilogy at Wickenburg Ranch is also just over an hour's drive from the popular tourist town of Prescott which features historic buildings, galleries, museums, and restaurants. Prescott is on the edge of the 1.25 million-acre Prescott National Forest, which provides many opportunities for hiking and other outdoor pursuits. Also, it's also a three- to four-hour drive to the Grand Canyon from Wickenburg Ranch.
New Floor Plans
The floor plans built by Dorn Homes are all named after pop and rock songs, with existing models including Hotel California, Sweet Caroline, Wild Horses, and two Beatles songs: Come Together and Penny Lane. All of these floor plans have model homes that can be toured on site
The two new floor plans continue the Beatles theme, dubbed Imagine and Let It Be.
The New "Imagine"
The new Imagine model offers 1,580 square feet, two bedrooms, a den, two bathrooms, and a three-car tandem garage. An optional third bedroom is available. The homes also have high nine-foot ceilings, kitchens with granite countertops, and a covered patio.
A covered porch leads into the home past the second bedroom and the den into the open-plan great room with its living area, dining area, and island kitchen. Beyond here, a short hallway leads into the owner's suite with its private bathroom and walk-in closet.
Upgrade options include a sliding glass door between the great room and the patio, additional windows and a fireplace in the great room, a third bedroom, and even a fourth bedroom by reducing to a two-car garage. An option is also available to buy the homes ready-furnished or partly-furnished.
The New "Let It Be"
The Let It Be models are larger and provide 1,905 square feet with three bedrooms, two-and-a-half bathrooms, and a two-car garage. A three-car tandem garage is available as an addition as well as a third bedroom. These models also have kitchens with granite countertops and an outdoor covered patio.
The Let It Be models also have a covered porch leading to a long hallway past a bedroom and den into the great room. These also have island kitchens and a separate dining area. From here, a hallway leads into the owner's suite with private bathroom and walk-in closet. A covered patio is accessible from the great room.
Upgrade options include a 2-foot extension onto the owner's suite, an extended covered patio, a fireplace in the great room, a gourmet kitchen with a raised island, and cabinets and a sink in the laundry. It's also possible to buy the homes ready-furnished or partly-furnished.
The Ranch House
On January 25th, 2020, Trilogy at Wickenburg Ranch also celebrated the opening of its new Ranch House, an additional clubhouse and social space.
The Ranch House overlooks the first hole on the community's Big Wick championship golf course offering scenic views and a place for residents to gather and be social. The Ranch House is home to pool tables, several TVs, a bar, and several lounges
Also, inside the Ranch House, residents can shop at The Outfitter, an outdoor gear store with coolers, clothes, and much more. It's also home to the community's design center and several interactive elements for guests to enjoy.
There's also a trailhead here to the Pioneer Trails, which winds through the community.
Attractive Amenities
In addition to the 18-hole golf course, residents can also use the 9-hole course, Li'l Wick. Other amenities include a golf and social club, a fitness center, a day spa, an events center, a restaurant, and an indoor/outdoor bar. Outside, there's a pool, an outdoor sports complex, and courts for tennis, pickleball, and bocce.
An Active Lifestyle
Residents also enjoy a number of clubs, groups, classes, and activities. These include art and cookery classes, guided hikes, holiday parties, stargazing, yoga, and active clubs for golf, swimming, tennis, and pickleball.
When asked to explain a bit more about the lifestyle programming at Wickenburg Ranch, the community's Lifestyle Director Morgan Barnes stated:
"Our Members hail from all over the country and all end up together at Wickenburg Ranch. My goal is to bring together like-minded individuals to cultivate new relationships that may have never been initiated had they not come together for a lifestyle event. I offer programming with a focus on health and wellness, education, art, and entertainment in hopes of gravitating those with similar interests together."
Learn more information about Trilogy at Wickenburg Ranch here.