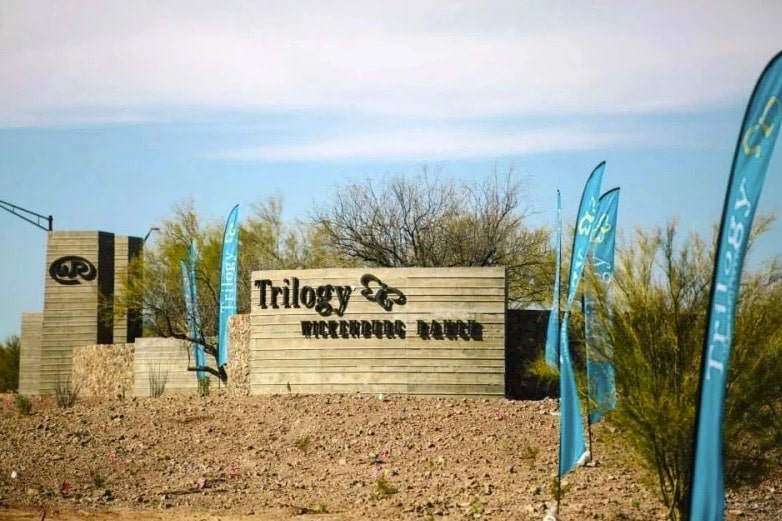 Trilogy at Wickenburg Ranch is celebrating something special this week – the grand opening of its Wickenburg Ranch Golf & Social Club.
The Golf & Social Club, which is located at 3312 Maverick Drive in Wickenburg, was designed with the town's historic and western flair in mind, but also with modern and sophisticated charm. The clubhouse spans 40,000 square feet and offers more than 20 amenity spaces and services as well as numerous indoor and outdoor recreational areas that are sure to enrich the social and active lifestyles of its residents.
"As with all of our Trilogy clubs, a lot of deliberation and reflection went into the planning and development. But, with the Wickenburg Ranch Golf & Social Club, our vision became more than creating a resort club masterpiece. We sought out to bring the town's rich history, founding heritage and western appeal to a contemporary ranch aesthetic," stated Hal Looney, Arizona Area President of Shea Homes Active Lifestyle Communities, in a press release. "This club will add to the dynamic lifestyle already provided at our Trilogy communities," he added. "Guests will experience exceptional dining, first-rate service, new fitness and travel technology plus much more, all surrounded by mountain vistas in a modern, yet charming western design."
Amenities
The clubhouse will feature luxurious amenities that allow for social activities and physical recreation, including a state-of-the-art fitness center, an arts and crafts studio, a private dining area, a demonstration kitchen, and plenty of park spaces. It will also include a great lineup of indoor amenities that will allow homeowners to enjoy everything they could want or need without having to travel far from home.
Alvea Spa will be the community's full-service spa for pampering and relaxation. The Market Place will provide residents with convenient grab-and-go items as well as light pantry groceries that they can pick up on their way home. Wick's Hideaway, which is an inviting saloon overlooking the golf practice facility, will be ideal for post- or pre-golf meals and refreshments. Jake's Spoon will be the community's signature on-site restaurant, serving classic American cuisine and beverages in a stylish and contemporary setting.
Nature Nearby
Wickenburg Ranch Golf & Social Club will also be surrounded by the area's scenic mountain vistas, offering picturesque views no matter where homeowners are within the clubhouse. Some of the outdoor amenities include the Courts & Sports Complex that houses four championship tennis courts, six pickleball courts, bocce courts, and horseshoes.
The Pioneer Trails offers over 13 miles of trails that wind through the development's desert landscape as well as link up with more than 20 miles of outside walking and hiking trails throughout the town. Residents also have access to concierge services at Explore 52 and Explore 360 where they can plan for local or international trips through a high-tech travel service.
Golf Courses
The highlight of the amenities are the two distinct golf courses, named Big Wick and Lil Wick. Big Wick is a prestigious 18-hole golf course that has earned a spot on Golf Digest's Top Ten Best New Golf Courses in North America and Best New Course in the US in 2015. Lil Wick is the community's nine-hole, par 3 golf course that combines golf and entertainment, which is sure to be a fun experience for players of all skill levels. With world-class amenities and magnificent outdoor spaces and recreational facilities, the new Wickenburg Ranch Golf & Social Club is sure to be a hit with residents of Trilogy at Wickenburg Ranch.