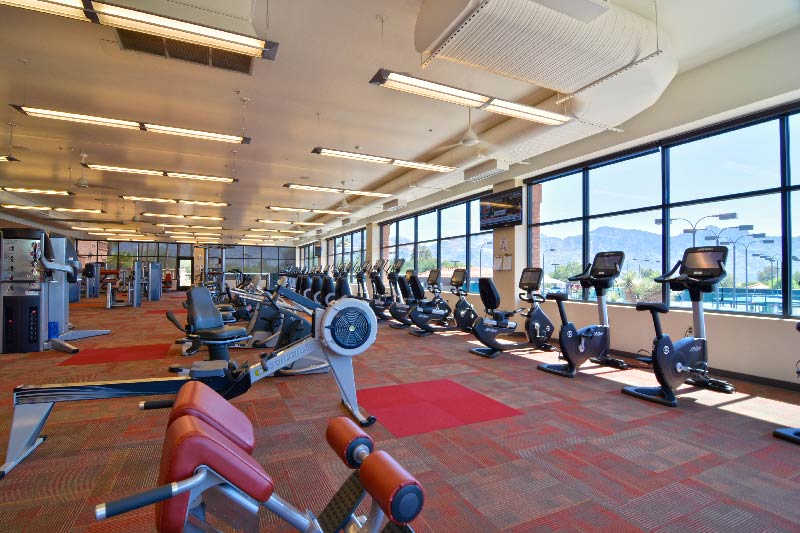 If you're looking for an active adult community offering attached homes in the Tucson area, you're spoiled for choice. There are both large and small communities, there are communities with very low age restrictions, and there are communities either closer to the city center or further out with an Arizona desert landscape setting.
Many people enjoy attached homes because they tend to be more affordable than single-family homes but still more independent and spacious than condo living. In some cases, the attached part of the home will be minimal, in other cases more significant, so it's important to check with a trusted realtor that the configuration of any adjoining house is what you want.
Of the Tucson area communities that we found offering attached homes, the following selections offer a range of choices to suit different circumstances.
SaddleBrooke
With 4,589 homes in total, SaddleBrooke is the largest Tucson area community on this list. It has both attached and single-family homes, and at any one time, it's likely to have more attached homes for sale than anywhere else.
Being for the 40+ active adult, this non-gated community has a very young age-restriction. It's located about a 40-minute drive north of Downtown Tucson in the foothills of the Santa Catalina Mountains. It's a good location if you're less interested in the urban attractions of Tucson and plan to spend as much time as possible in the great outdoors. In less than ten minutes, you'll be driving into the mountains, which provide a scenic backdrop for the whole community.
Amenities are naturally plentiful in such a large community. Golfers are especially catered to with two 18-hole courses, two driving ranges, a putting area, and two pro shops. There are also two outdoor pools, a 478-seat performing arts theater, two fitness centers, a bistro, arts and crafts facilities, and many sporting amenities including tennis, volleyball, badminton, softball, and basketball.
There are countless clubs, classes, and activities available, including arts and crafts, sporting groups, card players, dancing groups, and almost every hobby and recreation you can think of.
Sun City Oro Valley
Sun City Oro Valley is the next-largest Tucson community with 2,488 attached and single-family homes. This also has a younger age-restriction, being for the 45+ active adult.
Sun City is closer to Downtown Tucson than SaddleBrooke—it's a 30-minute drive away—but its location in Oro Valley still provides easy access to the outdoor activities of the surrounding desert and nearby mountains. Nearby Catalina State Park, for example, offers 5,500 unspoiled acres and its entrance is a 5-minute drive from Sun City.
Amenities here are also impressive with an 18-hole golf course winding through the desert and three recreation centers. These recreation centers provide two outdoor pools, several arts and crafts studios, a photography studio, a fitness center, mini-golf, and courts for tennis, basketball, pickleball, bocce, and racquetball. There are dozens of organized activities and clubs for residents, including astronomy, hiking, arts and crafts, dance, gardening, and even rock 'n' roll.
La Cholla Hills
If you want to be closer to the center of Tucson, then La Cholla Hills is a 55+ active adult community with 389 attached and single-family homes. It's located in the northern suburbs, about a 20-minute drive from downtown. However, a 10-minute drive east takes you into the foothills of the Santa Catalina Mountains.
Unlike the larger communities, attached homes aren't always available, so it's important to contact an experienced realtor who can let you know when attached homes in this Tucson community come on the market.
Amenities at La Cholla Hills include a clubhouse, two heated outdoor pools and spas, three tennis courts, three shuffleboard courts, and other courts for pickleball and bocce.
Altura
With 240 attached and single-family homes, Altura is a gated community for the 55+ active adult. It's situated in the Rincon Valley, a rural desert setting with a mountain backdrop. Altura is a 35-minute drive southeast of Downtown Tucson and a 25-minute drive from the hiking trails and desert beauty of Saguaro National Park East.
Altura's amenities include a clubhouse, restaurant, outdoor pool and spa, hiking trails, a lighted tennis court, a fitness center, a card room, and a pilates studio. For a smaller community, there's an impressive number of clubs and activities for residents to enjoy, including potluck dinners, weekly movies, a book club, a birdwatching group, yoga, and a weekly series of lectures and seminars.