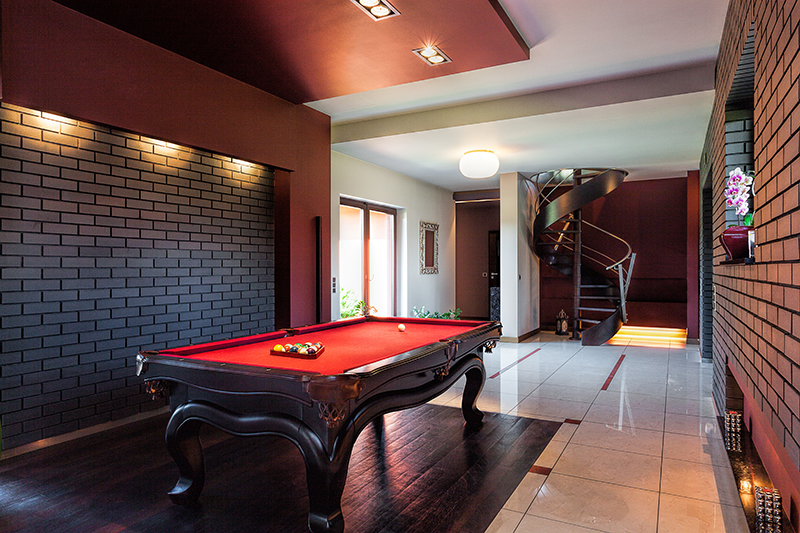 Thinking of turning your finished basement into something more usable for your needs? Want to transform this space into a man cave, office, or guest bedroom? Believe it or not you can turn your basement into pretty much anything you set your mind to. Just make sure your basement is in good condition by checking to see if it is waterproof, stable, has good lighting, and access to electrical outlets. Check out some of these suggestions on what you can do with your basement.
Office/Den
Looking for a quiet space to read or get some work done in peace? Your basement might be the perfect place to set up shop. A home office is useful when you are working from home and need a quiet and efficient area where you can get through those emails or conference calls. You can clearly define a workspace in the basement that will separate it from the rest of the home by designating an area where you can place your desk, computer or laptop, phone, and filing cabinet. You'll also want to have easy access to outlets to plug in your electronic devices.
Man Cave
Turning your basement into a man cave might be ideal if you're looking to get away from the daily grind and stresses of life. You can transform the basement into a man cave by adding your own personal touches like a big-screen T.V., bar area, mini fridge or kegerator, comfy couches, recliner chairs, and sports memorabilia. You can even add a billiards or poker table so you can invite friends over and be as loud as you like without disrupting other family members.
Media Room/Home Theater
If you're a film fanatic then you should consider turning your basement into a home theater or media room. You can add a home theater system, large screen television, or projector screen to get the movie theater experience right in your own home. You can find the proper electronic installation and equipment that you need at electronic and home stores like Best Buy or HH Gregg. Just add some reclining chairs or couches (maybe even a popcorn machine) to watch your favorite movie in your very own theater.
Playroom
Basements can be transformed into playrooms for visiting grandchildren where they can roam free and play with all of their toys in one place. You can cover the walls with dry erase boards or chalkboards where the grandkids can express their creativity safely without damaging your walls. You can add shelves or storage bins where the children can pick and choose toys that are on display. You can also add plush seating as well as colorful rugs or carpeting and other decorative fixtures to make it safe and fun. Having the basement as a playroom means you'll never have to worry about stepping barefoot on pesky LEGO blocks left laying around again.
Guest Bedroom
When you have family or friends staying overnight, make them feel more comfortable with a guest bedroom in your basement. If you have enough space, you can add a bedroom set so they can unpack and store their belongings in dressers. If you don't have enough space, adding a comfortable twin or full-size bed with quilts or comforters and fluffy pillows will also do the trick. Giving them a quiet space to relax and unwind after their travels as well as some privacy will make you the perfect host.