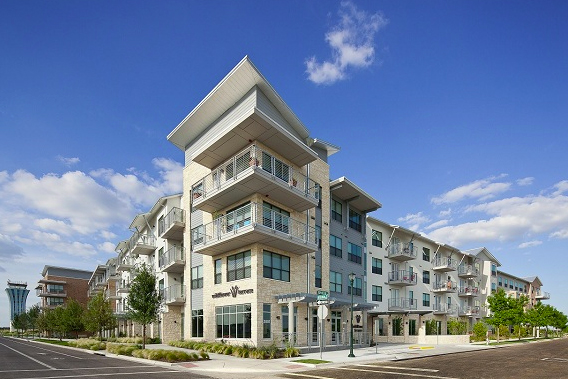 The Urban Land Institute (ULI) Terwilliger Center for Housing has just announced two 55+ communities as finalists for the 2017 Jack Kemp Excellence in Affordable and Workforce Housing Award. This award recognizes the positive efforts developments make to ensure housing affordability for people of different incomes. It also recognizes the efforts made by communities that try to increase the supply of affordable housing to households earning less than 120 percent of the area's median income.
Among the several finalists for the award were two 55+ developments: Perris Station Senior Apartment Homes in Perris, California and Wildflower Terrace in Austin, Texas. Perris Station Senior Apartment Homes is a sustainable housing complex that offers affordable rental units for low-income seniors aged 55 and better. The affordable apartment complex not only offers low-cost units but also retail and office spaces.
Perris Station Senior Apartment Homes is modeled after amenity-rich communities that cater to active adults with resort-style amenities and energy-efficient home designs. Wildflower Terrace is another mixed-income apartment development offering rentals for people over the age of 55 that's located within the 700-acre Mueller Redevelopment community. Wildflower Terrace provides plenty of amenities and resources that help residents stay active and healthy in addition to offering affordable housing options.
The development includes an activity room, movie theater, fitness center, art studio, library, laundry facilities, billiards, game room, and business center. It also features outdoor recreational areas like an outdoor courtyard with access to greenways and trails, swimming pools, and parks as well as easy access to shopping centers and public transportation. "Through the Kemp Award, we are raising awareness of the critical role that affordable and workforce housing play in creating successful communities," stated Terwilliger Center Executive Director Stockton Williams in a press release. "These are the types of real estate projects that are often the hardest to pull together, but at the same time, the most inspiring to complete.
The seven finalists for this year's award show that affordable and workforce housing is achievable in a wide range of markets, providing economic and social benefits that extend far beyond the developments." The winner of this year's Jack Kemp award will be announced during the Terwilliger Center's Housing Opportunity Conference from September 10th to 11th in New Orleans, Louisiana.