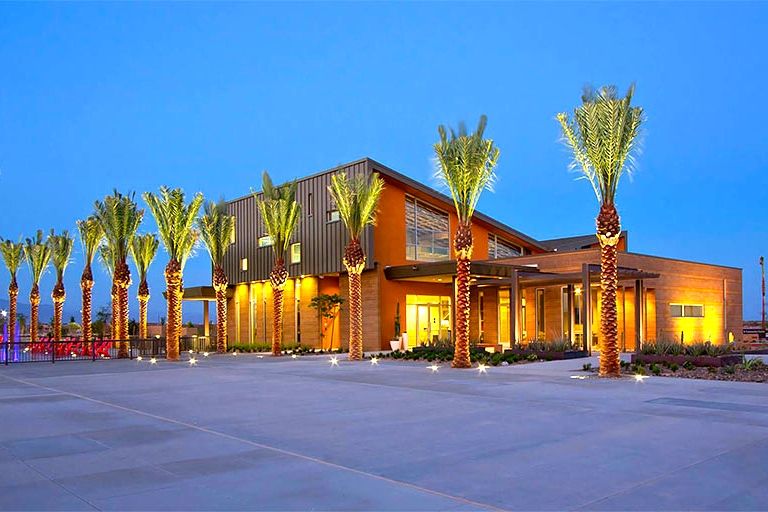 Master-planned communities are becoming more popular for retirement because they not only include 55+ subdivisions, but they also offer everything a homeowner could ever dream of within the master-planned community. Some of the best master-planned communities are typically built around resort-style amenities like golf courses, tennis courts, clubhouses, outdoor pools, and recreational areas, which appeal to many active adults.
But some developers are taking it one step further by including unique amenities like zip lines, organic gardens, and zoos within their master-planned communities that set them apart from the rest. If you're looking for something extraordinary to do during your Golden Years, then check out these master-planned communities with unique amenities.
Eastmark is a master-planned community in Mesa, AZ and features beautiful homes, award-winning schools, and state-of-the-art amenities like no other. As an all-ages community, developers of Eastmark allowed children to design their own unique and urban playground called the Orange Monster where they can safely climb, crawl, and explore their imagination.
The orange structure features tandem pipe sculptures connected with play netting that twists and turns high above the ground and encourages kids to get outside and play. With the Orange Monster within the community, your grandkids will have no problem entertaining themselves when they visit. In addition to this fun playground, everyone who purchases a new construction home in Eastmark receives a bike to promote an active and healthy lifestyle.
Tennis and soccer fanatics will love all of the world-class training facilities in Lake Nona. The development has a 23-acre soccer training facility that will be home to Orlando's major and minor league soccer teams as well as the U.S. Soccer Development Academy teams. Lake Nona is also home to the USTA National Campus, which is the largest tennis facility in the country with more than 100 courts. Active adults within the VillageWalk at Lake Nona neighborhood will love living close to these amazing amenities as well as playing with top tennis and soccer players.
Located near the foothills of the Rocky Mountains, The Meadows is a master-planned community that prides itself on its spectacular outdoor recreational areas for active living. One of its most popular amenities is a 200-step outdoor staircase that provides the ultimate workout to stay fit while enjoying the picturesque Colorado environment.
Giving back is central to the lifestyle in this Central Arizona master-planned community. Verrado has a Southern Live Oak called The Giving Tree, which represents the caring and philanthropic nature of its residents and community partners who work together to implement this vision. This charitable program provides numerous volunteer opportunities to all residents and encourages everyone in the community to get involved with local charities and nonprofit organizations.
If you're an adventure seeker and aren't afraid of heights then Nocatee has the perfect amenity for you. This master-planned community near Jacksonville has a splash water park zip line. This 377-foot zip line soars 35 feet high above the ground and zooms 37 miles per hour from one end to the next. Zip liners glide over the community's water park, volleyball courts, and lush terrain that combines aerial views with a thrilling ride.
Residents of Viera have an amenity that's sure to delight residents and their grandkids alike. Viera developers donated 56 acres of land to the Brevard Zoo, which is home to more than 550 animals from all over the world. This master-planned community is also home to two of the largest wetlands and trail areas in Brevard County. Active adults can explore the beautiful outdoors while appreciating the wildlife.
One of the major amenities and attractions within this master-planned community is The Polo Club at Lakewood Ranch. Here, you'll find nine world-class polo fields, a regulation size arena, covered open-air pavilion, three 24-stall barns, two stick and ball fields, a members' clubhouse, ¾ mile exercise track, and on-site vet clinic. Residents can attend a polo match and watch some of the best players compete in tournaments or just help with divot stomping.
Providing access to a great selection of amenities is just one of the perks when living in Daybreak. Residents of Daybreak are heavily involved in the community gardens where they help plant and cultivate organic, local produce. Green thumbs can explore the six community gardens with more than 300 gardening plots that are spread throughout this luxurious Northern Utah master-planned community.