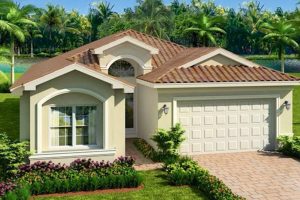 Valencia Bay's pristine clubhouse is officially open for business. The now completed 33,000 square-foot facility offers residents of its 55+ adult community a wide range of amenities and activities to enjoy.
From the lobby area, residents are free to explore all that the clubhouse has to offer. Areas include the grand foyer, two card rooms, a billiards and internet cafe room, a grand ballroom that comes with a raised stage and dance floor, a restaurant, and an indoor/outdoor bar.
Fitness Center
The Valencia Bay clubhouse features a state-of-the-art fitness center, where residents have all the equipment and resources they may need to stay active. In addition to its fitness center, the clubhouse also houses a yoga/exercise room, men's and women's locker rooms, and steam rooms.
Right beside the fitness center lies the community's multiple tennis, pickleball, bocce, handball, and basketball courts. Whatever one's preference may be, Valencia Bay's fitness center ensures every resident has the means to a successful workout.
Pool
The main attraction of the building is, of course, the pool. Overlooked by multiple shade cabanas, the clubhouse features a resort-style pool that includes 60-foot lap lanes. The pool area also has a resistance pool, a grandchildren's pool, and a spa area. Here, residents can simply sit back, relax, and enjoy the surrounding beauty of the community.
For more information on Valencia Bay's clubhouse and community, partner agents at 55places.com can help get you more information as the community develops. Request more information today!