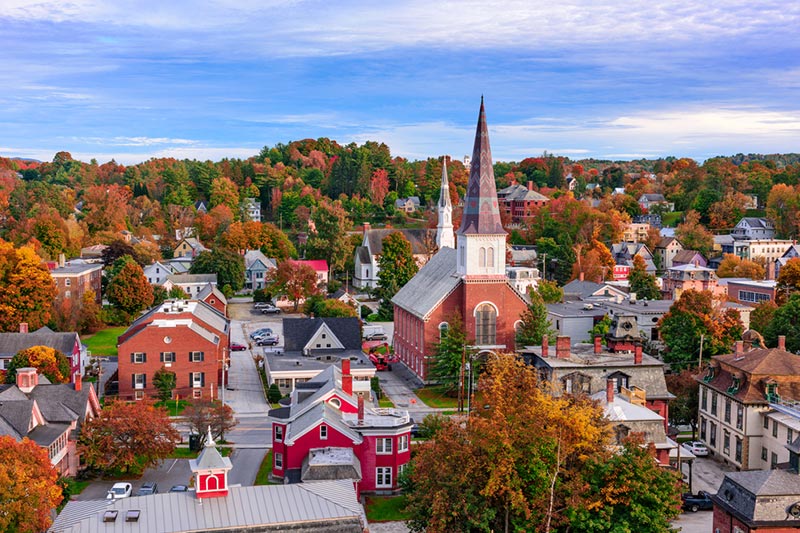 The state of Vermont is already one of the most picturesque places to live. On top of that, the state is now throwing in $10,000 to anyone who moves there.
Being an active adult doesn't necessarily mean retirement. There are active adults who continue to work after moving to a 55+ community. There are those that do full-time work and part-time work. Some consult while others do contract work. The point being, just because you're looking for the active adult lifestyle doesn't mean working can't still be a part of it.
For the active adult who works remotely and is looking for a new community to call home, the state of Vermont is offering up a very intriguing possibility. Per CityLab, the Green Mountain State recently signed a bill into law that will pay remote workers a sum of $5,000 a year for up to two years if they make Vermont their new home, so long as their employer is located in a different state.
Vermont hopes that the law will incentivize people who might not have otherwise considered moving to the state and join the local economy. It's easier for a remote worker to move since they aren't tethered to an office or specific location to do their job. The extra money could also help that person with relocation or renting a co-working space. And of course, the state hopes you like living there so much that you stick around after those two years are over.
Interested buyers should act fast, however. According to Michael Schirling, Vermont secretary of commerce and community development, there is a cap on how much money the state will pay out over the next three years. The initial year will go up to $125,000 (25 people) before expanding to $250,000 (50 people) in the second year.
If that offer has your interests piqued, there are two Vermont communities you might want to consider.
Balsam Circle
In the town of Williston you'll find Balsam Circle, an active lifestyle community that offers residents maintenance-free living amongst a natural landscape. With just 14 houses, this quaint, peaceful neighborhood gives residents an idyllic setting not that far from Burlington.
All homes here include first-floor master suites, granite countertops, hardwood floors, vaulted ceilings, and full basements. Duplex residences include over 2,000 square feet of living space as well as two bedrooms and a two-car garage. Meanwhile, the single-family homes offer over 2,100 square feet that include two bedrooms, second-floor living areas, and a two-car garage. Home prices range from mid $300s to the low $400s.
Because homeowners' association fees cover most of the maintenance around the homes and community, that frees up residents to walk the community trails, shop in the nearby historic Williston Village, or head to nearby Essex or Burlington for plenty of dining, shopping, and entertainment options.
Wynnmere
In the southern part of Vermont, you'll find Wynnmere, a 55+ community in the town of Rutland. This close-knit, 36-home neighborhood allows residents to live a maintenance-free lifestyle close to plenty of shopping, dining, and entertainment options.
There are two kinds of New England-style residences available here. Duplexes range from 1,180 to 1,767 square feet and include up to three bedrooms, up to two bathrooms, and a one or two-car garage. Single-family homes offer 1,082 to 2,260 square feet of living space and have up to three bedrooms, two bathrooms, and an attached two-car garage. Homeowners also have the option to customize their home with additional interior features.
Downtown Rutland, which is just a five-minute drive away, offers plenty of shopping, entertainment, and recreational opportunities to enjoy. Residents also have easy access to multiple art galleries and museums. Nearby Killington Resort provides the perfect backdrop for skiing, snowmobiling, and sleigh riding, all of which provide a well-balanced lifestyle for active adults.