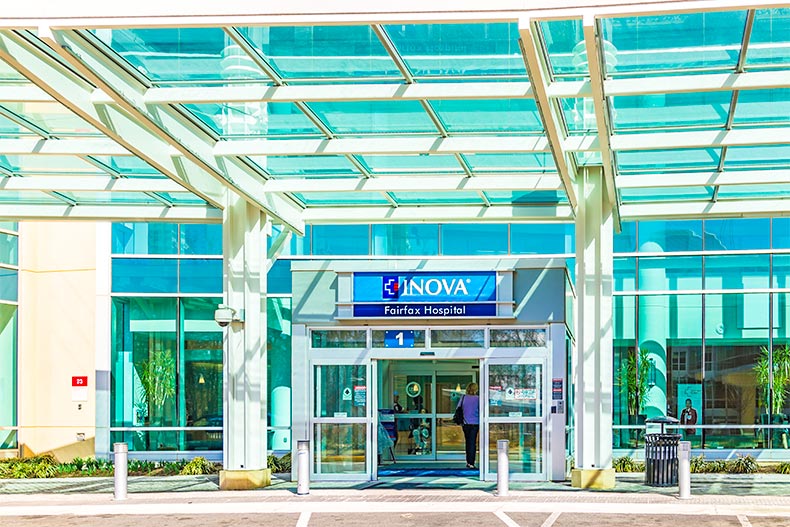 U.S. News and World Report (USN) recently announced their list of the best hospitals in Virginia. USN bases these rankings on complex care and 16 specialty areas of practice. With nearly 2 million people a year needing these types of services at hospitals each year, USN hopes that these rankings will help patients find the quality care they need.
As people age, they need more of this specialty care, and for many adults over 55 and retirees, having easy access to quality health care is important when choosing to buy a home.
The top hospitals are generally clustered around Virginia's larger urban areas like Northern Virginia, Norfolk, Richmond, and Charlottesville. Here are some of the top hospitals, and active adult communities in close proximity.
Charlottesville
The No. 1 hospital in Virginia is the University of Virginia Medical Center in Charlottesville. Like many top hospitals across the U.S., the UVA Medical Center is a teaching hospital, meaning that medical students, residents, and fellows receive training here.
This often means that a hospital has specialties and surgical specialties that need additional training beyond medical school. UVA's hospital is ranked nationally in five adult specialties, and older patients can find some of the top neurology, cardiology, and geriatric departments in the state.
While Charlottesville is a great place to retire, many of the 55+ communities are located outside the city. One exception is University Village. This active adult community includes 94 condo homes that come in a variety of floor plans. Although small, the community has a number of amenities, including a library, game room, exercise room, indoor pool, and crafts studio. The community is also minutes from the University of Virginia's campus and Charlottesville's downtown mall.
Richmond
Richmond is home to the No. 2 hospital in the state, VCU Medical Center, as well as the ranked Bon Secours St. Mary's Hospital. Like the UVA Medical Center, VCU Medical Center is part of a large university and serves as a teaching hospital for the university's medical school.
The hospital is nationally ranked in four adult specialities, and patients can receive treatment from most specialties, including endocrinologists, oncologists, cardiologists, and orthopedic surgeons. St. Mary's Hospital is a private, non-profit hospital under the larger Bon Secours hospital system. The hospital is smaller than VCU, but still highly ranked in five adult specialties. Patients can find doctors in most specialties and surgical procedures at this hospital.
After Northern Virginia, the Richmond area offers the most 55+ communities in the state. The 40 include a range of communities, from large to small, new builds to homes for resale, and rural and urban vibes.
Settler's Ridge is mid-sized community of 146 single-family homes. Prospective residents can choose from homes offered for resale or new builds. While the community's clubhouse is small, it does include an indoor pool, ballroom, meeting rooms, and exercise room. The area has a rural feel, but residents are just minutes from Downtown Richmond.
StyleCraft Homes is currently building The Townes at Notting Place, a community of 146 attached homes in Richmond. The models are all about 1,500 square feet, with two bedrooms and two to two-and-a-half baths. This community offers prospective residents the chance to build their home on the outskirts of historic Richmond.
Northern Virginia
Three of the highest-ranked hospitals in Virginia are in Northern Virginia, including two Inova Fairfax hospitals. The Inova Fairfax Hospital and Inova Fairfax Oaks Hospital rank five and six on the top hospitals list. They are also two of Inova's five hospitals in the region.
Inova Fairfax Hospital is a teaching hospital with general and surgical specialties. Inova Fairfax Oaks ranked high in four adult specialties, and received high marks for patient safety and reducing mistakes and accidents.
The Virginia Hospital Center in Arlington ranked No. 8 overall in the state, and performed well in six procedures and conditions. Especially important for older adults, they ranked well in heart conditions and surgery, as well as knee and hip replacements.
Northern Virginia is also home to 47 active adult communities, and almost any community will be within a half-hour drive to these top hospitals. Saintsbury Plaza includes just over 100 condos in Fairfax. The condos are mid-sized, between 1,100 and 1,700 square feet. They generally sell in the mid $400s to low $500s.
HiddenBrooke in West Springfield is another condo community with just under 100 homes offered for resale. It has similar amenities to Saintsbury Plaza, including meeting rooms and an exercise room. The community is also minutes from Interstates 395 and 95, offering easy access to Washington, D.C.