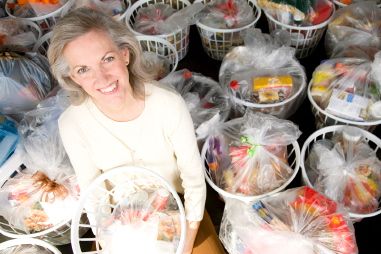 When active adults retire from their careers, they often find that they aren't ready to stop working completely. Some retirees opt to start a second career or even launch their own businesses. Yet many active adults see retirement as the perfect time to give back in the form of volunteering.
Volunteering At Your Active Adult Community
In active adult communities, there are many opportunities for residents who choose to volunteer their time and experience. In fact, many active adult communities depend on volunteers for their governance and continued success. Residents may choose to run for an elected position within the community or volunteer to work within a community committee. While many active adult communities have their own full-time activity directors, the numerous social clubs and the events planned throughout the year are largely organized through the efforts of volunteers. Community newsletters, magazines, and websites are also likely to depend on voluntary contributions by residents.
Of course, not all of an active adult community's volunteering opportunities revolve around running the community. There are many social clubs based on volunteering. For example, Oakmont Village in Santa Rosa, California, has a unique club known as The Oakmont Visual Aids Workshop. Founded in 1971, this group produces Tactile Aids that are donated to be used in teaching visually and mentally impaired children.
Some hobbies naturally lend themselves to volunteering as well. Those who knit and crochet can donate handmade items such as blankets and caps for newborns or "chemo caps" for cancer patients. Quilters can piece together projects to be auctioned during fundraisers for various causes, and those who are good with their hands may enjoy volunteering with a group such as Habitat for Humanity. Retirees have accumulated years of experience and that experience can often be translated into a variety of volunteer opportunities, both within the community and in the local area. Whether an active adult community is set in a rural area or within close proximity of a thriving city, there are bound to be many places where retirees can offer their time and expertise.
Volunteering certainly helps those in need, but it can also bring benefits to those who volunteer. Active adults who volunteer regularly enjoy benefits such as being more active, making new friends, and having a greater sense of purpose. Volunteering lets retirees keep their skills sharp or develop new ones. New experiences through volunteering enrich retirees' lives and help them better appreciate their own accomplishments. Active adult communities make it easy for retirees to find their own ideal ways to volunteer, whether it's within the community or through outside opportunities. While retirement may mean the end of your regular paycheck, it doesn't have to mean the end of purposeful living.
Have you discovered a volunteer opportunity that is meaningful to you? Tell us about it in the comments and you just may inspire other readers to get involved in their own communities.