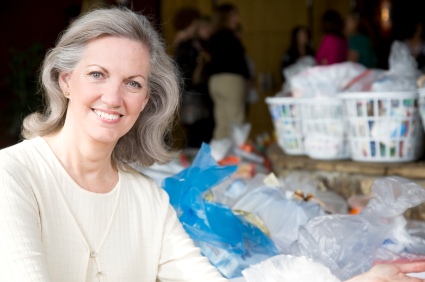 As baby boomers join the ranks of retirees, many charitable organizations have recognized this generation's volunteerism potential. With approximately 77 million babies born during the boom era (1946-1964), this group is often touted as the single largest, most well-educated generation to date. Studies have also shown that baby boomers also have a penchant for volunteerism, which is greatly in need during this tough economic period.
Government Inspired
In 2005, the White House launched the Get Involved! Campaign to urge older adults to take part in volunteer opportunities. This project was fueled in part by the positive results found in a study conducted through the U.S. Bureau of Labor, which linked baby boomers with higher volunteer rates. According to this study, baby boomers' volunteer rate of 32.2% is the highest of any generational age group. It is also more than four percent higher than the national average.
Why do baby boomers volunteer?
While volunteerism is often highest during the active adult years (approximately age 50 to 70), baby boomers bring some new attitudes to volunteering. While older generations often saw volunteerism as a civic duty, baby boomers often enjoy the social aspect just as much. Community-based volunteer organizations are very popular among active adults. The U.S. Bureau of Labor study also found that many baby boomers who volunteer take part because they were asked to participate by someone with whom they had an established relationship, such as a friend or family member.
Communities with Volunteer Programs
Many active adult communities list volunteer groups among their social clubs and activities. Residents at Oakmont Village, in Santa Rosa, CA, participate in various volunteer opportunities throughout their local area. They also have a unique group known as the Oakmont Visual Aids Workshop. Founded in 1971, this volunteer group is dedicated to creating tactile aids that are donated to help teach visually impaired children with special needs around the world.
Why Should Active Adults Volunteer?
Volunteerism groups at active adult communities help those in need. They also provide an ideal environment for baby boomers volunteers, who tend to prefer helping out within social or community settings. Though many active adults continue to work full or part-time jobs, volunteering within a social club makes it easy to share the workload and give as much or as little time as each individual can afford.
As active adults become empty nesters or retirees, they often get involved with volunteer opportunities. The organizations they choose to support are diverse, and many active adults work with more than one charity. The average baby boomer is estimated to volunteer 51 hours a year, or one hour per week. In 2005, nearly a third of baby boomers (approximately 25.8 million people) volunteered with a formal organization. With effort like that, baby boomers will continue to make their mark on the world and inspire the younger generations to do the same.