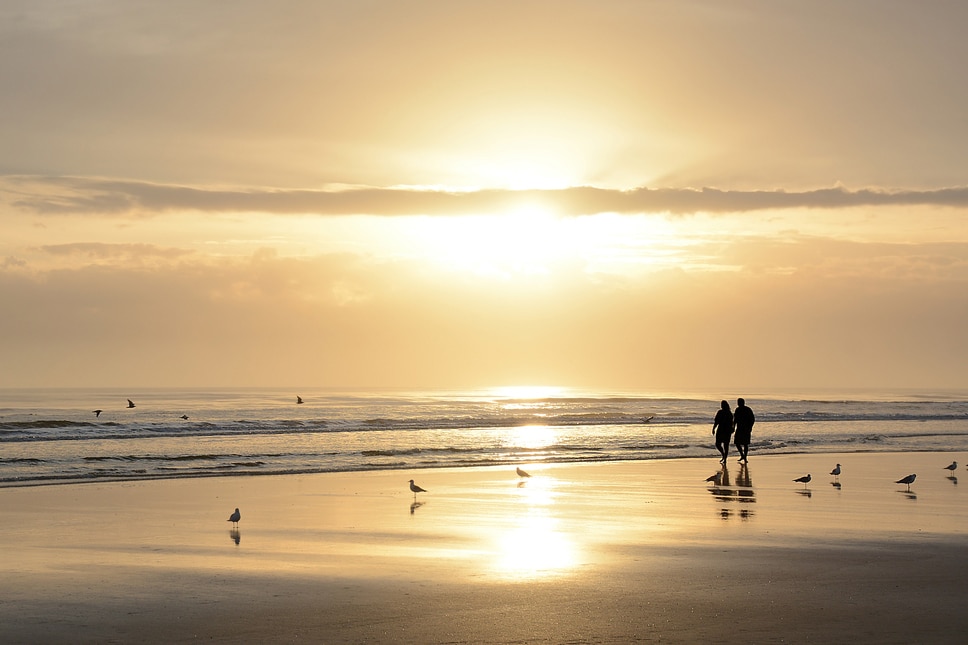 Deciding when to retire might be just as important as where you decide to retire. Studies have shown that about 30 percent of non-retired adults don't have enough money saved for retirement. But in order to live comfortably throughout your Golden Years, it's safe to say that you'll need enough funds to cover your cost of living as well as have some extra cash for unexpected expenses.
That's why some retirees consider moving to a retirement destination that accommodates their budget without altering their lifestyle too much. WalletHub recently released its 2018 Best & Worst States to Retire list that compares all 50 states across important components that matter to retirees like affordability, quality of life, and health care. So if you're researching where you want to settle down during your retirement years without breaking the bank, then check out these five best states to retire to, according to WalletHub.
Florida earned the number one spot on WalletHub's Best State to Retire list this year due to the state's affordability and quality of life. Active adults can stretch their dollars in the Sunshine State thanks to its lack of state income tax. In addition to no state income tax, retirement income and Social Security benefits are not taxed and there are no estate or inheritance taxes, making Florida one of the most tax-friendly states for retirees. Florida is also a retirement gem because of the year-round warm, tropical weather.
Thanks to the sunny climate, retirees are more active outdoors. With numerous beaches, golf courses, and outdoor recreation available, retirees can easily maintain an active lifestyle in retirement. The state also has the highest percentage of residents aged 65 and older in the country and is home to more than 300 active adult communities that offer a variety of home designs, amenities, and social environment.
Colorado made the number two spot on the list and earned high scores in the quality of life and health care categories, yet it has the lowest percentage of the population aged 65+. Colorado is popular for its scenic outdoor environment and varied climate that provides endless options for activity and recreation throughout the year, making it the perfect active adult playground. With plenty of fishing, hiking, biking, rafting, skiing, and other outdoor adventures, it's easy to see how Colorado fulfills the active lifestyle many retirees seek.
Although the state has a slightly higher cost of living than the national average, its state and local taxes are reasonable when compared to the national average. The Denver Area is also a retirement hotspot that offers retirees a wide selection of age-restricted communities as well as a vibrant cultural scene, diverse neighborhoods, and abundant parks and open spaces. Retirees can find new home designs and world-class amenities in active adult communities like Hilltop at Inspiration in Aurora, Anthem Ranch in Broomfield, or Heritage Todd Creek in Thornton.
Although South Dakota doesn't come to most people's minds when thinking of retirement destinations, the state did come in at number three thanks to its high ranking scores in affordability and health care. Besides cold and snowy winters, retirees love the vast open landscape as well as the tax-friendly environment.
The state also has the highest percentage of workforce aged 65 and older. South Dakota also appeals to retirees who prefer a slower pace of life and want to escape the hustle and bustle of urban areas, which ultimately enhances their quality of life. Active adults can also find reasonably priced homes in tranquil settings such as The Willows at Dakota Dunes or The Meadows at Dakota Dunes that offer close-knit environments and charming amenities.
Coming in fourth place is the Midwestern state of Iowa. Although the state lacks sandy beaches and tax-free living, it does offer retirees great health care options and a high quality of life. Labeled as "America's Heartland," Iowa is also known to be a friendly state where retirees can easily meet new people and become involved in a welcoming community. Active adult communities like Courtyards at Rock Creek or Villas at Stonewater have fewer than 100 homes and provide homeowners with a close-knit neighborhood setting.
The small town, rural vibe may be what appeals to active adults who wish to get away from urban hotspots where it may be difficult to make new friends. Besides a tranquil environment, Iowa also has plenty of lakes, ponds, hills, and flat plains that allow retirees to pursue fun, new hobbies outdoors. Another reason why Iowa is a great state to retire in is because the cost of living is relatively low with affordable homes.
Virginia has been a well-known retirement destination thanks to its temperate climate that allows retirees to experience all four seasons. Thanks to the state's distinct regions, retirees can also choose to retire in a variety of places, whether it's along the coast, near major metropolitan areas, or rural areas. Some of the popular outdoor attractions include the Blue Ridge Mountains, Shenandoah National Park, and Luray Caverns. In addition to a diverse landscape that provides retirees with an active lifestyle, Virginia also has a rich history and dozens of cultural attractions. History buffs can visit historic homes, museums, antique shops, and famous Civil War landmarks that are found throughout Virginia.
The state is also home to a variety of mid-sized active adult communities built by popular developers including Del Webb, Lennar, K. Hovnanian, and Toll Brothers. Retirees can find new homes in active adult communities like Trilogy at Lake Frederick or Regency at Creekside or quality resale homes in communities like Potomac Green or Landsowne Woods of Virginia. Another benefit to retiring in Virginia is that many of these 55+ communities are located near major metro areas like Richmond, Virginia Beach, Fredericksburg, or Washington D.C.