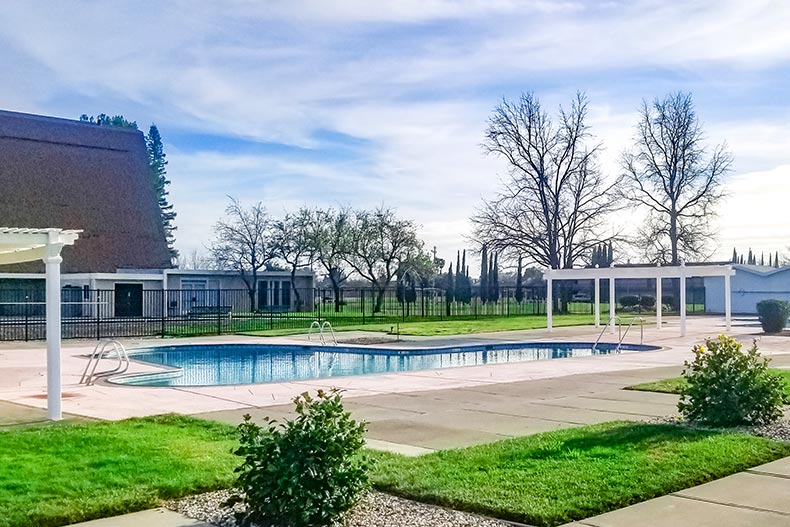 An idyllic climate, a robust economy, a diverse population, and some of the most beautiful scenery in the world: Northern California sure has a lot going for it. It's no wonder active adults are seeking it out as a potential area to put down roots.
Despite California's expensive reputation, there are still plenty of affordable homes to be found in the upper part of the Golden State. Read on to discover five affordable 55+ communities in Northern California where active adults can find homes for $300k or less.
High $100s - High $400s
Set smack dab in the heart of the Napa Valley wine region, Rancho de Napa offers a lot of bang for your buck. This 55+ manufactured home community gives its residents all the luxury and proximity of one of the most coveted regions in the country without the hefty price tag. Set among lush landscaping, picturesque vineyards, and mountain views, this established neighborhood offers beauty, charm, and character. Aside from the natural beauty of the area, Yountville boasts some of the highest-rated restaurants and wineries in the country.
Built between 1971 and 2004, the single-family manufactured homes at Rancho de Napa range from 1,180 to 1,600 square feet with two to three bedrooms and two bathrooms. Most also offer covered parking for one to two vehicles.
With a private clubhouse, a multitude of meeting areas, and an outdoor pool and spa, Rancho de Napa has a variety of amenities for residents to enjoy. Bocce ball courts, walking trails, and greenspaces also help residents and their guests enjoy the idyllic, sunny Northern California days.
Learn more information about Rancho de Napa here.
High $200s - Mid $600s
Active adults seeking out modern, newer homes at moderate prices should take a look at Trilogy at Rio Vista, a 55+ community situated near the Sacramento River in the East Bay delta region of Rio Vista. With its impressive list of amenities (including a nationally recognized 18-hole golf course) and beautiful East Bay area hill views, Trilogy at Rio Vista delights its residents and their guests.
Construction began at Trilogy in 1996, and developers are continuing to improve upon this gated 55+ community today. As such, this community offers both new and resale homes to buyers, although the resale homes do come with a cheaper price tag. With 3,000 single-family homes in its community, Trilogy at Rio Vista offers homebuyers a large variety of home sizes to choose from. Square footage ranges from 976 to 2,507 square feet with two or three bedrooms, two to three-and-a-half baths, and two- to three-car garages.
With two large clubhouses, an 18-hole golf course, and multiple swimming pools, there's a wide range of resort-like amenities that residents love. Other amenities include a fitness center, a library, a game room, a cafe, a spa, a barbecue area, a full-service restaurant, and an arts and crafts room.
Learn more information about Trilogy at Rio Vista here.
Low $200s - Mid $400s
With 1,150 single-family homes and approximately 1,800 residents, Leisure Town may not be a small 55+ community, but it's still extremely friendly and intimate with neighbors who have been residents for decades. Set in centrally located Vacaville, this sprawling community is nestled halfway between San Francisco and Sacramento.
Construction at Leisure Town began in 1964 and continues today. Homes here range in size from roughly 728 to 2,204 square feet with one to four bedrooms, one to three bathrooms, and attached one- or two-car garages. Most homes include upgrades and in-demand features such as quartz countertops, front porches, sunrooms, and backyard patios.
Active adults stay social and fit with help from the numerous social clubs and amenities offered at Leisure Town. These include "The Leisure Town Center" clubhouse, a state-of-the-art fitness center, a library, and multiple billiards and hobby rooms. Outdoors, residents and their guests can enjoy two swimming pools, a jacuzzi spa, and a cabana as well as lawn bowling, bocce ball courts, and horseshoe pits. The one-and-a-half miles of walking, biking, and running trails provide ample opportunity to take in the mature trees and wildlife surrounding the area.
Learn more information about Leisure Town here.
Low $200s - High $300s
The Vineyard is set in the picturesque, forested area of Northern California's Redding, an area popular with boomers for its natural beauty and affordable prices. The 208 single-family homes here were built from 1987 to 2003, and they range from 1,200 to 2,400 square feet. These homes offer either two, three, or four bedrooms; two bathrooms; and a two-car garage. Some homes offer perks such as waterfront or lake views.
Amenities at The Vineyard cover the basics. There's a clubhouse, a fitness center, a swimming pool, and bocce ball and shuffleboard courts. Additionally, residents can enjoy two charming ponds onsite, lighted walking trails, a playground for visiting grandchildren, and a large lot for RV parking.
Learn more information about The Vineyard here.
Low $200s - Low $300s
Set in the state capital of Sacramento, Suncountry offers the best of both worlds—urban living and a peaceful setting. This gated 55+ community is small and intimate with 307 single-family homes built from 1989 to 1999.
The homes in Suncountry feature 980 to 1,500 square feet with two to three bedrooms, two bathrooms, and a two-car garage. These one-story homes boast high ceilings, walk-in closets, and dual-pane windows.
Residents of Suncountry regularly go on planned outings with neighbors or stay onsite and enjoy the many amenities. These include two clubhouses, a fitness center, a library, a catering kitchen, and multiple billiards and hobby rooms. Outdoors, there are multiple pools to enjoy, a shuffleboard court, two tennis courts, and two horseshoe pits. Residents also make use of the multiple walking and biking trails that weave throughout the property.