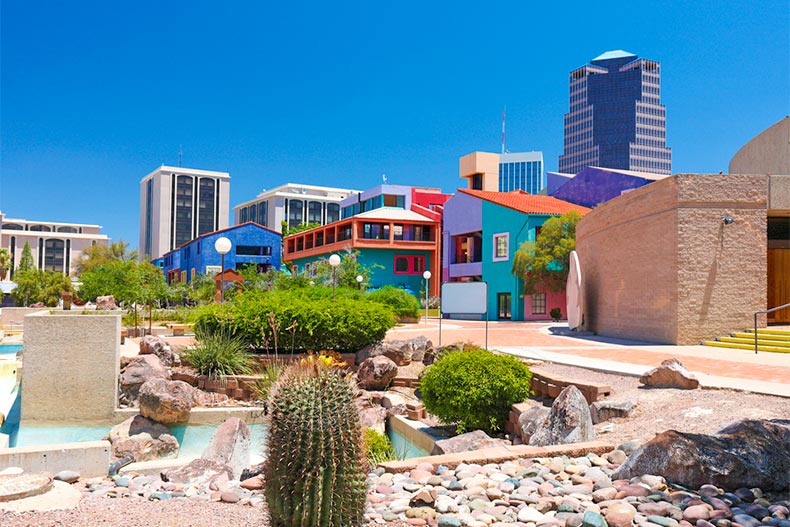 SaddleBrooke Ranch is a 40+ active adult gated community north of Tucson and near the small town of Oracle, Arizona. It's a 45-minute drive from Downtown Tucson, and less than two hours from Phoenix Sky Harbor International Airport. A little closer is Mesa Gateway Airport, used by the budget airline Allegiant Air. Tucson International Airport is an hour away on the south side of Tucson.
One point in favor here is that SaddleBrooke Ranch stands at 3,600 feet, which is 1,300 feet higher than Tucson and therefore cooler when Arizona gets hot.
SaddleBrooke Ranch will appeal to people who want to live in an active community (5,400 homes) and enjoy the outdoor lifestyle. The Ranch is surrounded by the Sonoran Desert, with the Santa Catalina Mountains and the northern end of the Coronado National Forest a 10-minute drive from the entrance to the Ranch.
Homes at SaddleBrooke Ranch start in the $230s and go up to $1 million, making this one of the more luxurious 55+ communities close to Tucson. It was built by Robson Communities, who have five other upscale developments around Arizona, and one in Dallas/Fort Worth in Texas.
There are 15 different floor plans in SaddleBrooke Ranch, which range in size from 1,404 to 3,077 square feet. All are either two-bedroom or three-bedroom homes, and some have extra dens. Smaller homes have two-car garages while larger homes have adjoining two-car and one-car garages, which is convenient if you need extra storage or a work room, or have a golf cart.
The SaddleBrooke Ranch Golf Club is an 18-hole 6,875-yard, par-72 championship course with lush greens surrounded by desert and mountain views. Residents also have access to all other Robson Development golf courses across Arizona at a reduced rate. The golf course at SaddleBrooke, the community which preceded SaddleBrooke Ranch, is a 15-minute drive away.
At 37,000 square feet, the La Hacienda clubhouse is one of the largest in Arizona. Its amenities include a billiards room, fitness club, spa, bistro, outdoor pool, and indoor lap pool. The amenities at the separate Ranch House include a grill, a pizza station, a private dining room, and a ballroom/auditorium. An unusual feature at SaddleBrooke Ranch is that the grill incorporates its own craft brewery.
SaddleBanch Ranch also has a Crafts and Technology Center, which includes an Art Glass Studio, a Jewelry and Lapidary Studio, a Pottery, Sculpture and Ceramics Studio, a Quilting and Needleworking Studio, a Woodworking Shop, a Computer Lab, and a Fine Arts Studio which is home to painting, sewing, and other craft groups.
As well as the golf course, sports amenities include lighted tennis courts and 24 lighted pickleball courts, the largest pickleball complex in Southern Arizona. The dozens of social groups include a dining group, a singles group, a bicycling group, horseback riding, a table tennis club, and a writing group.
Around Tucson
Biosphere 2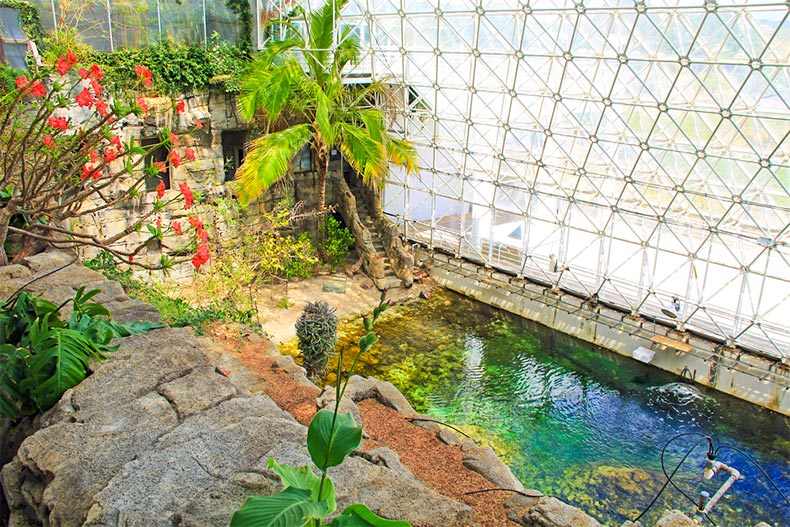 In addition to its own facilities, SaddleBrooke Ranch is also convenient for numerous major Tucson attractions, the closest being Biosphere 2, less than ten minutes from the entrance of SaddleBrooke Ranch.
When it opened in 1991 Biosphere 2 was intended as an experiment in living in fully-enclosed human environments, as research for how man could live in outer space. Today it's run by the University of Arizona. Visitors can tour to see the original experiment and also see the work that is being done today in the Biosphere 2 Ocean project to try to protect coral reefs around the world.
Coronado National Forest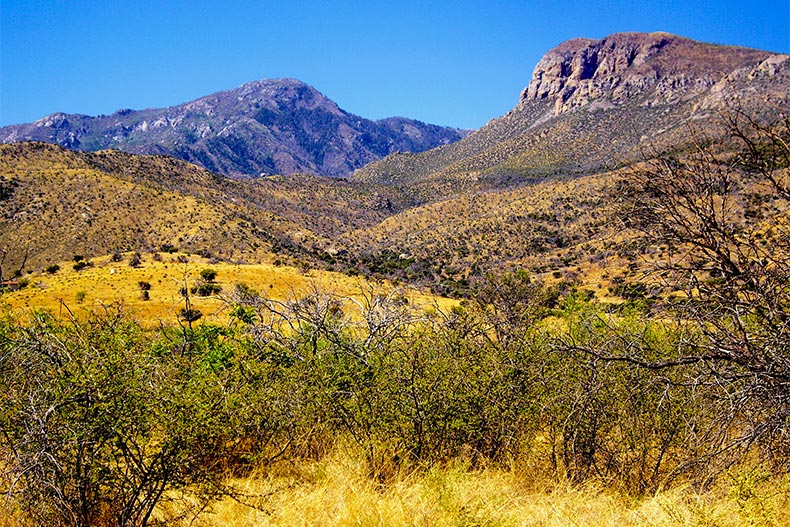 At 1.78 million acres, the Coronado National Forest covers a huge area of southeastern Arizona and southwestern New Mexico, and its northern-most part is just a few minutes' drive from SaddleBrooke Ranch.
Residents therefore have quick and easy access to over a hundred miles of hiking and biking trails, campgrounds, and even ski resorts. Adjoining the National Forest, the Catalina State Park offers additional hiking, bicycling, and riding trails, and is a 20-minute drive from the Ranch.
Arizona-Sonora Desert Museum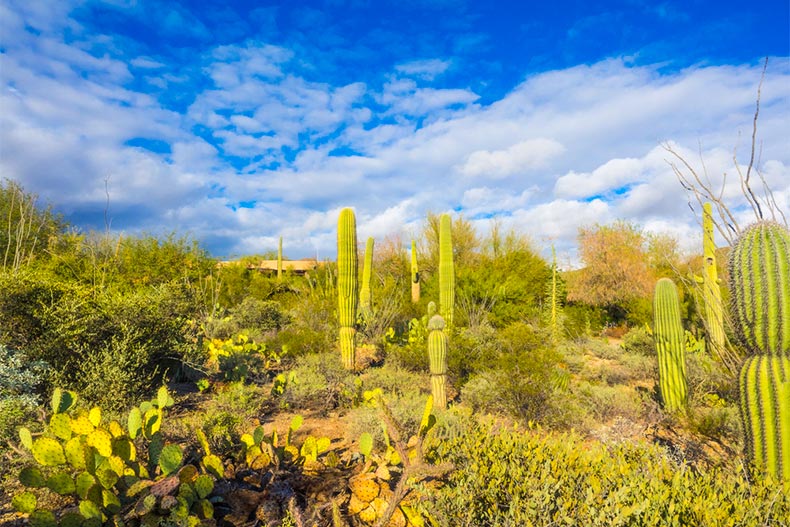 One of the area's biggest and best attractions, the Arizona-Sonora Desert Museum, is just over an hour's drive from SaddleBrooke Ranch. The 98 acres tells the story of the natural history, plants, and animals of the Sonoran Desert.
It isn't a conventional zoo, as most of the creatures here have been rescued from injury or for some other reason are not able to survive in the wild. They are housed in enclosures as near to their natural surroundings as possible and include mountain lions, bobcats, coyotes, javelinas, mountain goats, otters, hawks, eagles, rattlesnakes, and other creatures.
If you move to SaddleBrooke Ranch from outside Arizona, it's a chance to learn about the creatures whose territory you will be sharing, and to bust a few myths about some of them. The museum also includes an aquarium, botanic gardens, a charming humming-bird enclosure, and a restaurant.
Saguaro National Park West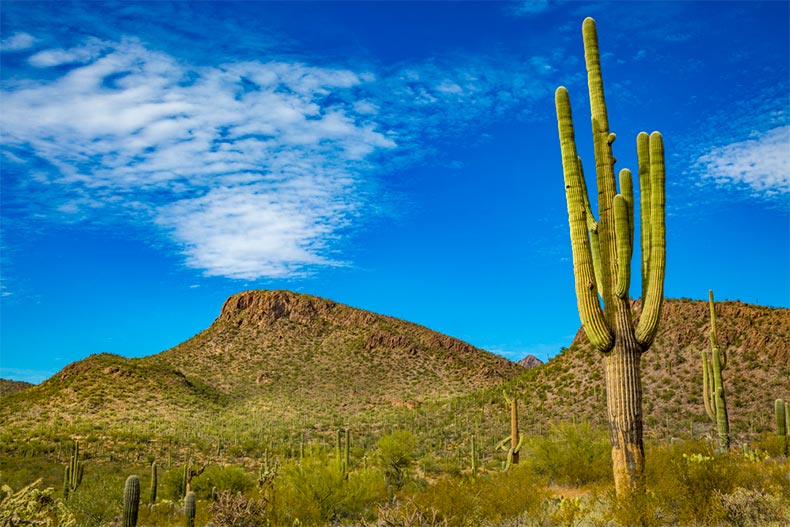 Homeowners in SaddleBrooke Ranch are spoiled for choices when it comes to outdoor recreation.
Five minutes from the museum is the entrance to Saguaro National Park West. This is another opportunity that is both recreational and educational. Call in at the Visitor Center not only to get a map of the hiking trails, but also to learn about the desert, its birds and animals, and also the extraordinary Saguaro cacti that are found only in Southern Arizona, Northern Mexico, and Eastern California. They're remarkable plants that can live for over 150 years, and only grow their first arm when they are 75 to 100 years old.
So if you live at SaddleBrooke Ranch, what to do in Tucson is not a problem. All these activities and many more are right on the doorstep, in addition to the many amenities of the active adult community itself.