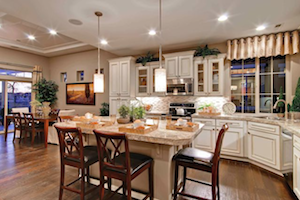 Each year brings new trends in home architecture and interior design. In 2015, homes will see bold colors, mixed materials, natural motifs and more. Open floor plans and multi-purpose living spaces will also make it easy for homeowners to adapt their homes to their own needs. Read on to learn more about the upcoming trends for the new year.
Color is an important part of interior design and each year sees the emergence of a new popular palette. In 2015, expect colors to be bright and bold. Blue will be a hot color, particularly in shades that reflect the Mediterranean or when mixed with olive or sour green. Pastels are also a popular trend, especially with the pale pinks, aquas and purples of the 1980s. For a more neutral look, opt for soft grays instead of pale whites. Deep, muddy colors like rust, dusty mint and aubergine are also a great option when you are looking for a warmer style.
To really make your home pop, plan a dynamic look with a bold mix of popular colors. Along with a mix of colors, 2015 will see an increased use of mixed materials. Metal, wood and stone accents bring a modern look to any room. Combining older furnishings with modern patterns and materials also give your home a stylish flair. Think about bringing in reclaimed wood or refinished items like picture frames and accent tables. Current homes are making it easier for homeowners to create living spaces that fit their lifestyles.
Spacious great rooms can be divided into multi-functional areas for enjoying a variety of hobbies and activities. While separate dining rooms are still popular, formal living rooms are rapidly disappearing from modern floor plans. Living rooms are combined into larger great rooms or being redesigned as hobby rooms, media rooms, music rooms or home offices. Home bathrooms are still designed to feature upscale living, but styles are trending toward sleek, contemporary lines and elegant simplicity.
Instead of a standard tub with a shower surround, modern bathrooms offer separate soaking tubs and freestanding showers. For bathroom color, consider dark grays and sleek, black tiles. For countertops in both the kitchen and bathroom, consider choosing engineered quartz instead of the more traditional granite options. Made with resin and chips of quartz, these engineered countertops combine the beauty of natural stone with the durability and easy maintenance of a solid surface.
Kitchens can also get a trendy boost with touches of copper or a full copper backsplash. While design trends change from year to year, you can always find your own way to incorporate new looks with your own personal style. In 2015, cherish your traditional elements while bringing in new items for a bold, modern twist.