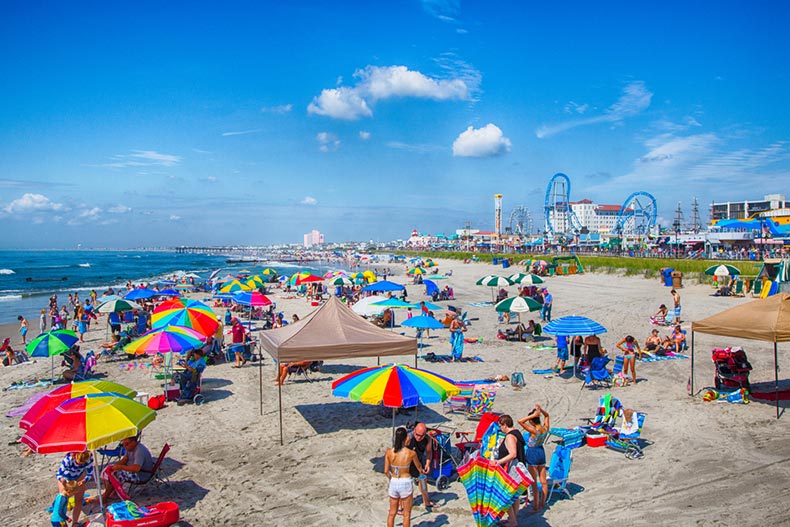 Monmouth County and Ocean County both have more active adult communities than other New Jersey counties, with 37 and 65 respectively. It's not hard to see why there are so many; both are close to the coastline with miles of public beaches, year-round attractions, and modern conveniences.
These areas have been popular with retirees for years, but just like everywhere else, its real estate markets are constantly changing. Here at 55places.com, we've gathered data from the New Jersey Multiple Listing Service (MLS), and there are some eye-opening 2019 conclusions worth sharing. Overall, there's a trend showing an increase in condos and a decrease in single-family homes bought in Monmouth County. In Ocean County, there's been a decrease in condos and an increase in single-family homes sold.
To elaborate on this, the data gathered for Monmouth from October 2018 to October 2019 shows that 162 condos sold in 2018 and 166 the following year, an increase of 2.47 percent. Ocean County saw a decrease in the number of condos sold, from 76 to 63, or 17.11 percent.
Looking at Monmouth single-family home sales during the same time, there were 596 single-family closed sales in 2018 and 566 in 2019, which was 5.03 percent lower. Yet in Ocean County, there were 671 sold in 2018 and 676 sold in 2019, indicating a 0.75 increase. During this time, Monmouth County's average single-family home sale price jumped from around $554k to $596k, and Ocean County's prices also went up but averaged lower, from $376k to around $401k.
In general, Monmouth County's real estate prices are higher than Ocean County's, with condo prices ranging from $336k to $366k. The Ocean County price points were significantly lower, from $205k to $239k. Also good to know: For the most part, homes are selling well in both counties. In October 2019, Monmouth had close to 2,800 single-family homes and 530 condos on the market, while Ocean had 3,491 single-families and 383 condos listed. To delve deeper, here are spotlights on two Monmouth County condo neighborhoods and two Ocean County 55+ communities with single-family homes.
Monmouth County
Low $300s - High $400s
The luxury condo community of The Village at Chapel Hill has 120 resale homes housed in 12 buildings in a prestigious setting about 10 miles from beach towns like Sea Bright and Sandy Hook. Though it's not age-restricted, this upscale neighborhood caters to active lifestyles, with luxury master suites, a convenient location close to Navesink Country Club, and miles of shopping centers and restaurants.
The Village was built from 2006 to 2009 by Centex Homes, and it has six spacious floor plans ranging from 1,896 to 2,615 square feet with two to four bedrooms, two-and-a-half to three bathrooms, and one- to two-car garages. Options include fireplaces, basements, and private elevators.
Learn more information about The Village at Chapel Hill here.
Low $200s - Mid $300s
Part of fashionable Marlboro Township, the hamlet of Morganville is where you can find Chelsea Square. Regal Homes broke ground on this lovely active adult condo community in 2007, and it offers 225 new and resale homes, plus resort-style amenities. There's a modern clubhouse with a well-equipped fitness center that features locker rooms, a weight room, an exercise and aerobics room, and a massage room. Residents can also use the business center, fireplace lobby, game rooms, multi-purpose room, and outdoor pool area.
The seven floor plans are sized from 1,482 to 1,918 square feet and offer one to three bedrooms, two bathrooms, and two-car garages. Upgrades may include balconies, gas fireplaces, and stainless steel appliances. This lovely 55+ neighborhood is in a residential area, yet only minutes away from several shopping centers that have grocery stores, pharmacies, home improvement stores, and other services; the closest hospital is Bayshore Medical Center.
Learn more information about Chelsea Square here.
Ocean County
High $200s - Low $300s
Our first Ocean County 55+ single-family community is Wedgewood Place, a welcoming neighborhood with 145 resale single-family homes. This established property was built from 2000 to 2003 by Brick Builders. There are four models ranging from 1,581 to 1,625 square feet with two bedrooms, two bathrooms, roomy master suites, decks, porches, and two-car garages. The private clubhouse keeps homeowners busy, with a hobby and game room, a lounge, and an exercise room. Outside amenities include bocce ball and tennis courts, an outdoor pool, and RV parking.
Some of Wedgewood Place's most-liked activities include bowling, art club, and travel club. The closest airport is Philadelphia International, which is about 90 minutes away, and closer points of interest include Point Pleasant Beach and Forge Pond Golf Course.
Learn more information about Wedgewood Place here.
Low $100s - Low $200s
Here's an affordable option for active adult homebuyers who may be interested in single-family manufactured homes. Perry's Lake has a sought-after Ocean County zip code and 450 resale homes offered in six models. This well-kept community was built from 1999 to 2010 by Davis Enterprises, and the floor plans range from 1,320 to 1,680 square feet with two bedrooms, two bathrooms, and one-car garages. Upgrades may include sprinkler systems, newer appliances and cabinets, dens, and breakfast areas.
This friendly 55+ community is close to Long Beach Island and the Manahawkin Wildlife Management Area, but there's plenty to keep you busy right on the property. In season, the outdoor pool and spa is open, and there are also basketball, tennis, and bocce ball courts. The 6,200-square-foot clubhouse also has a fitness center, a crafts studio, and a multi-purpose room. The latter is a comfortable meeting place for the community's sewing group, men's and ladies' clubs, and friendly card games.