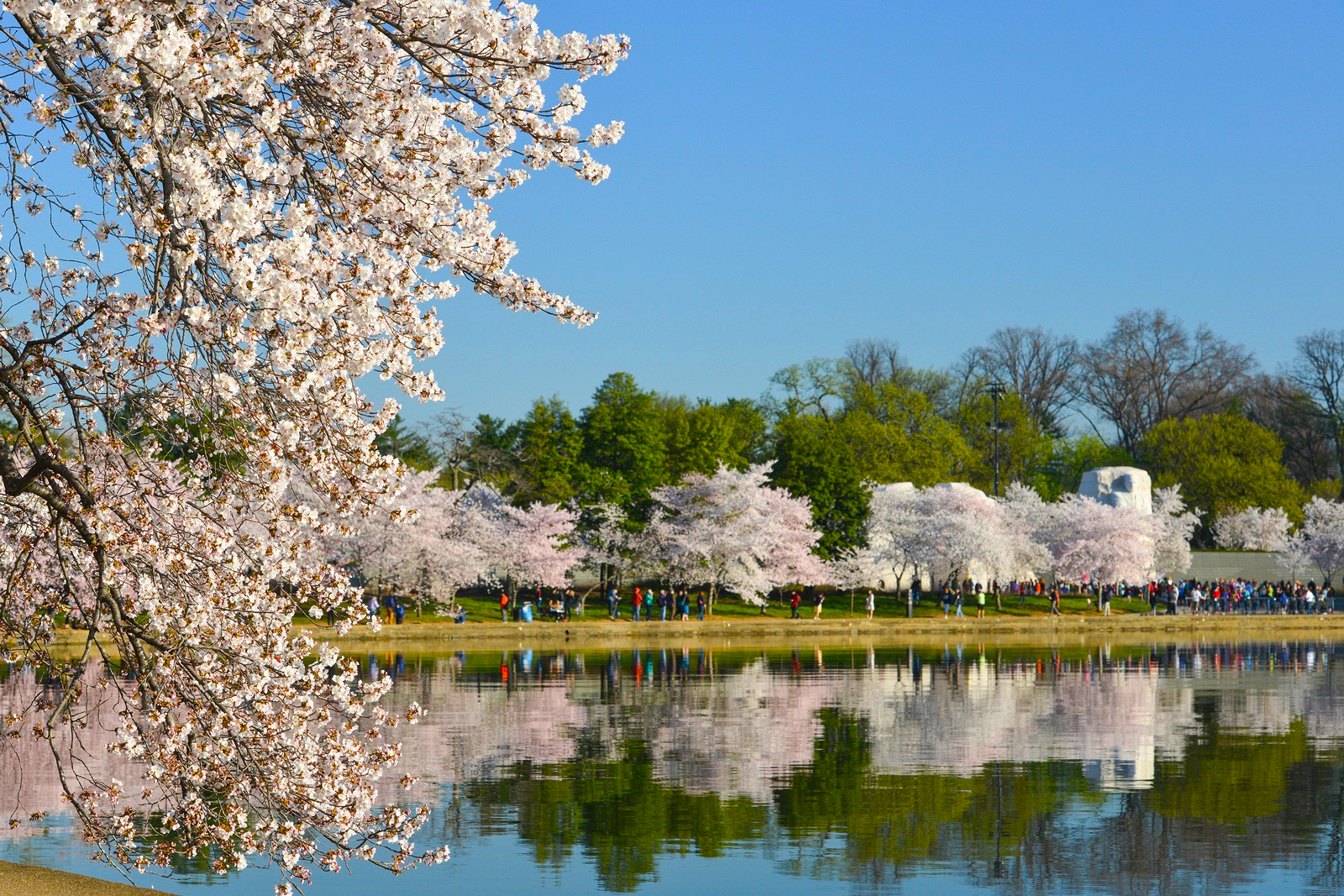 If the thought of cold temps, snow, and ice makes you shudder, then you may want to research locations where you can retire to enjoy the spring season. Across the country, retirees can choose to settle in active adult communities that are located in cities that offer comfortable temperatures, beautiful landscapes, blooming wildflowers, lush foliage, and scenic water views.
Baby Boomers can spend their Golden Years enjoying leisurely strolls through beautiful gardens or farmers markets, playing a round of golf on a sunny day, or just appreciating the natural beauty of their surroundings while watching a sunset. If you love all that the blossoming season brings then check out these places to retire to enjoy spring.
Washington, D.C. comes alive during the spring because of its famous 3,000 cherry blossom trees at peak bloom during the season. It's easy to enjoy watching the National Cherry Blossom Festival because temperatures during this time are in the high 50s to high 60s, making it a comfortable environment to be outdoors on a sunny day.
Active adults looking to retire in this location will find plenty of active adult communities in the Washington, D.C. metro area that include established developments like Heritage Hunt in Gainesville, VA or Four Seasons at Historic Virginia in Dumfries, VA. Boomers who are looking for new construction will also find active adult communities offering new home designs like Gatherings at Wellington in Manassas, VA, Vistas at Lansdowne in Lansdowne, VA, or The Villages at Broadlands in Ashburn, VA.
Napa Valley is synonymous with wine because it's the most popular wine region in the US. Not only does Napa Valley have lush vineyards and produce spectacular wine, it is also a beautiful and less crowded destination during spring. In addition to the endless options for wine tasting at hundreds of local vineyards, active adults will enjoy living in this area because of its mild temperatures that typically range from the high 60s to high 70s.
In addition to comfortable weather, this area also attracts retirees because of its scenic beauty and relaxing vibe. Outdoors, retirees can hike or bike along trails that wind through mountains or witness the changing of plants and flowers in bloom like lavender and mustard plants. This beautiful haven is also within proximity to active adult communities like Oakmont Village in Santa Rosa, Clover Springs in Cloverdale, or Temelec in Sonoma, which make it convenient for retirees to take day trips to the Napa Valley area for entertainment and attractions.
San Antonio's spring climate is perfect for Baby Boomers to spend their days outdoors strolling along the famous Riverwalk or admiring the wildflowers in season at the 976-acre McAllister Park. The city's temps are usually in the 70s to 90s during this time, which make it easy for retirees to get out and stay fit by hiking nature trails along picturesque creeks.
Retirees also have plenty of options for attractions and entertainment in this charming city. They can visit the popular and historic Alamo site, catch an NBA game to watch the San Antonio Spurs, or view animal or nature exhibits at the San Antonio Zoo and Japanese Tea Gardens. The San Antonio area also offers retirees beautiful active adult communities such as Hill Country Retreat by Del Webb, Campanas at Cibolo Canyons, or Roseheart.
The Pacific Northwest is a beautiful region that is popular for its lush green landscape, picturesque mountain views, and sparkling coastline. Eugene is Oregon's second-largest city that provides plenty of natural beauty and green spaces as well as a more affordable option than Portland for retirees. Average temperatures during the spring season are usually in the high 60s with about three inches of rainfall.
Active adults and nature lovers have tons of outdoor recreational options to choose from including hiking through the trails at Spencer Butte to strolling along the 400 varieties of roses and the oldest cherry tree in full bloom in Owen Memorial Rose Garden.
Spring in Savannah is probably the most enjoyable time because its average temps are in the 70s to 80s, so retirees can avoid the sticky hot summers of the south. This charming southern city offers a beautiful landscape dotted with buildings depicting distinct architectural styles that take you back to a forgotten time. Retirees who love architecture can tour preserved mansions and historic buildings that feature Federal, Georgian, Italianate, or Greek Revival styles. Savannah is also ideal for Boomers who want a small-town vibe with modern amenities.
The city and surrounding area offer numerous art galleries, museums, festivals, and entertainment hot spots that make living in this southern town fun all season long. Retirees moving to Savannah will find a resort-style living while having easy access to the city at The Landings on Skidaway Island, a beautiful active lifestyle community that has world-class amenities and a vibrant social atmosphere.