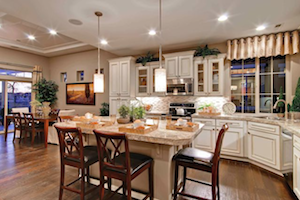 For retirees, ranch-style homes are an affordable home option which includes many appealing features. Depending on the particular design, ranch homes may be easier to maintain, cheaper to heat and cool, and quieter to live in. Ranch homes are also popular with retirees because their one-story designs mean homeowners don't have to run up and down stairs throughout the day.
The Ranch Layout
While ranch homes are single-story, not every one-level home is built with a ranch-style design. Ranch homes, also known as ramblers, typically spread out with rectangular, elongated floor plans. Bedrooms are often located down long hallways, separate from the kitchen and living room. However, newer ranch-style homes may feature open floor plans with the master bedroom suite and additional bedrooms flanking the main living area.
To allow in plenty of light, ranch homes are traditionally designed with a number of large windows. They commonly include sliding-glass doors which lead to patios for outdoor living, as well as attached garages for all-weather convenience. Open floor plans further add to a ranch home's spacious, airy feel.
Benefits of Ranch-Style Living
Retirees shopping for ranch homes may choose an older home in a well-established neighborhood or a new construction home in an active adult community. Older homes may have the added appeal of all-brick exteriors, working fireplaces, hardwood floors, and even some interior brickwork. Newer designs may reflect more recent trends, such as open kitchens with large islands and more luxurious master bedroom suites.
Single Floor
Whether choosing an older or newer home, ranch designs also include many of the same appealing elements. A lack of stairs is the number one reason most retirees prefer ranch-style homes. Stairs put added strain on knees and other joints and may increase the risk of injury from falls. Ranch homes offer one-level living, although they may still include basements or attics for added storage space or expanded living.
Downsizing
Ranch homes are also popular with retirees who want to downsize and avoid the hassle of wasted living space. Rooms that aren't in regular use add to heating and cooling bills and create unnecessary housework. Available in a wide range of sizes, rambling layouts that have rooms located down long hallways can also be quieter than multi-level homes. This is especially true when larger homes include open foyers or great rooms with two-story cathedral ceilings.
Market
In addition to all of their easy-living appeal, ranch-style homes may also be a better financial investment. Ranch homes continue to be popular with retirees, as well as with first-time buyers in open-age communities. This popularity helps property values stay high and often makes ranch homes sell more quickly.
In both open-age and age-restricted communities, ranch-style homes continue to appeal to active adult retirees across the country.