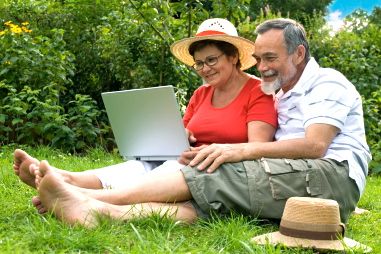 Facebook may have started on a college campus, but today it's the most popular social networking site for people of all ages. Teenagers, singles, parents, and grandparents have all signed up to reconnect and keep in touch. If you haven't joined Facebook yet, it's time to consider what you might be missing.
For the past few years, older active adults have been among one of Facebook's fastest growing demographics. According to iStrategyLabs, there were 15,516,780 Facebook users aged 55+ on January 4, 2011. That's a significant increase from just one year before when there were 9,763,900 users in the same age group.
There are two main reasons that older adults enjoy Facebook: keeping up with their family and friends and reconnecting with former classmates, co-workers, and other past acquaintances. When it comes to staying in touch with family and friends, Facebook makes it easy to share pictures, messages, and even videos.
For grandparents who live far away, Facebook can be an invaluable tool for being an active part of their children's and grandchildren's lives. It also brings together siblings, cousins, and friends. Facebook users can easily post status updates from their computers or cell phones. The post can be simple text or include pictures or links to interesting information online. All of your friends' posts then show up in your own streaming news feed, where you can comment on them or see what other people are talking about.
With so many people now using Facebook, it's easy to reconnect with former friends, classmates, and co-workers. You can search for former acquaintances, find people through your current friends, and add information to your profile which makes it easy for past friends to get in touch with you.
Once you start making connections on Facebook, you may be surprised to hear from many important people from your past. Facebook pages and groups are a big help as they are often used to organize reunions or give alumni a chance to share memories and pictures. You might reconnect with your best friends from college, high school, or even elementary school. Some users have even used Facebook to find—and rekindle—a lost love.
In addition to reconnecting and keeping up with the people currently in your life, Facebook can be used to meet new people who share similar interests. Facebook groups let people discuss particular topics or learn more about certain events. Many active adult communities even have their own Facebook pages to keep residents up to date with upcoming events and activities. If you haven't tried Facebook yet, what are you waiting for? Joining is free and easy, and privacy settings let you control who can see the information you decide to share.
Try it for yourself to see just how easy it is to reconnect through social networking. Already on Facebook? If so become a fan of the 55Places.com fan page here! 55Places.com Fanpage