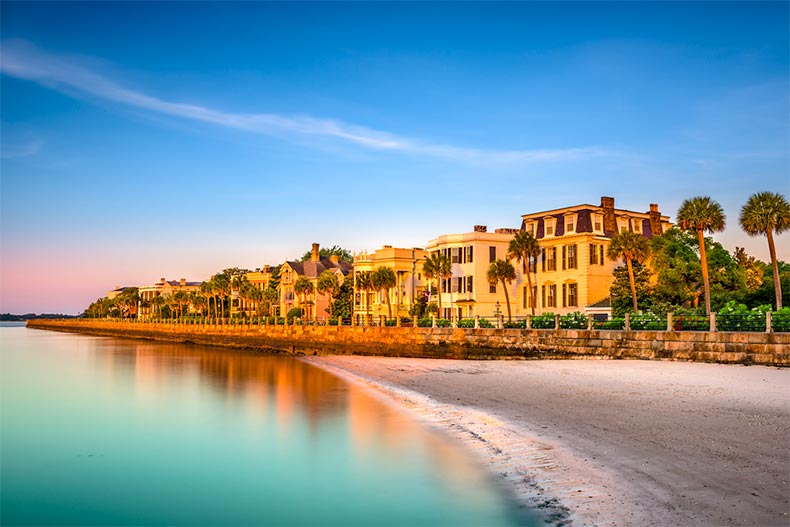 When you're deciding on where to retire, you undoubtedly factor in a lot of things before making such a big decision. How far away will you be from your family? What kind of budget are you working with? What kind of climate do you want to live in?
We may not be able to help with those first two questions, but we're happy to make recommendations.
When it comes to retirement, coastal living is all the rage. In fact, retirement is made for the scenic, sandy beaches and laid-back attitude that coastal living is all about. Best of all, the Eastern Seaboard has plenty of 55+ communities for active adults. We've highlighted four coastal cities we think you're going to love.
Charleston, South Carolina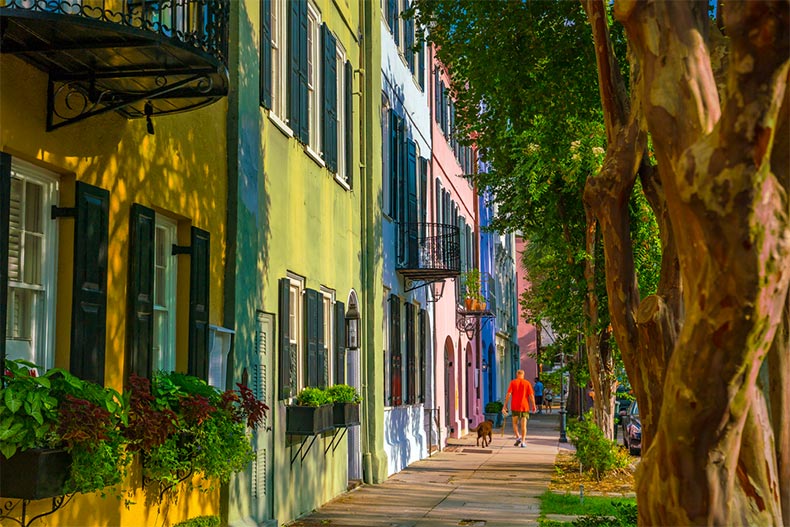 Rainbow Row is one of several historic sections of Charleston.
Located on the southeastern coast of South Carolina, Charleston is the oldest and largest city in the state. You can feel the city's historic charm as you walk along the scenic promenade of Battery Park, which is famous for its stately antebellum mansions and brightly-colored homes of Rainbow Row. There's also Fort Sumter, an island fortress and site of the start of the American Civil War, as well as Magnolia Plantation, founded in 1676. This city is steeped in history, but still has plenty of modern beauty.
Summers in Charleston average in the high 80s, often with high humidity, while winters can get chilly, with an average low of around 40 degrees.
The beach, of course, is why you're looking at a coastal retirement. Charleston has five beach towns to choose from within a 20-minute drive from downtown. And if golf is on your mind, Charleston has around 20 courses.
Charleston has an abundance of museums and festivals celebrating the arts and history, such as the Halsey Museum of Contemporary Art at the College of Charleston, Patriots Point, the Exchange and Provost, Spoleto Festival USA, the Taste of Charleston, the Historic Charleston Foundation's Festival of Houses and Gardens, and Charleston Antiques Show.
And if you're into shopping, Charleston has you covered with places like The Shops at Belmond Charleston Place, Maret Square, and Terrace Oaks Antique Mall, among a variety of other options. There are malls in the city, but arts, crafts, antiques, boutiques and locally-owned shops reign supreme in Charleston.
Nearby Communities
Wilmington, North Carolina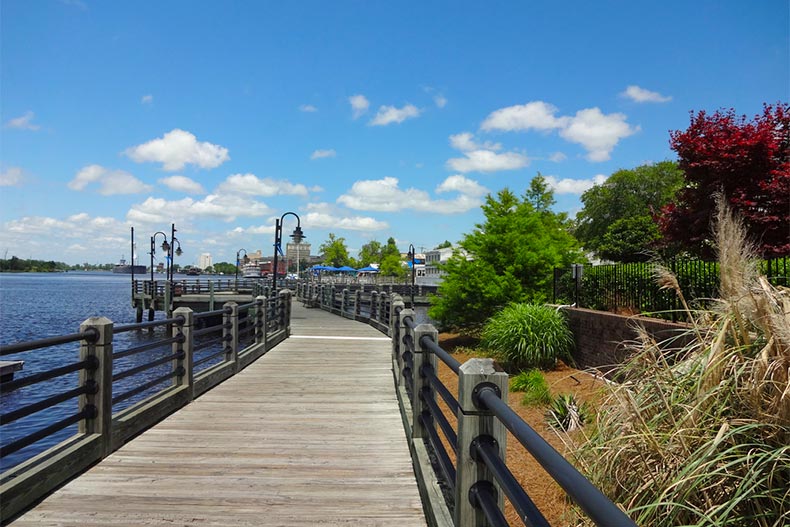 Located between the Cape Fear River and the Atlantic Ocean in the southeastern corner of North Carolina, Wilmington boasts an incredibly rich history, is minutes away from three beaches, and has modest temperatures, making it one of the top retirement destinations in the southeast.
This port city celebrates all four seasons, with average temperatures from May to September reaching around 82 degrees with some humidity. Winter is generally mild, with temperatures dipping into the 30s.
Wilmington is full of history with buildings dating back to pre-Revolutionary War days. Named in 2008 by The National Trust for Historic Preservation as one of its Distinctive Destinations, this charming coastal town has seven National Register Historic Districts, tons of historic homes and museums, the Battleship North Carolina, and Fort Fisher State Historic Site, among other historic attractions.
If you love golf, Wilmington was host to the 2017 Wells Fargo Championship, one of the most prestigious events on the PGA Tour, and is home to numerous championship golf courses. For tennis lovers, there is Empire Park, which includes 19 courts and a clubhouse.
When it comes to shopping, Wilmington's River District offers variety within the area's renovated historic buildings. Malls, boutiques, and shopping villages await you. Then there are the shops and restaurants on the Carolina Beach Riverwalk, as well as the Port City Marina.
Nearby Communities
Savannah, Georgia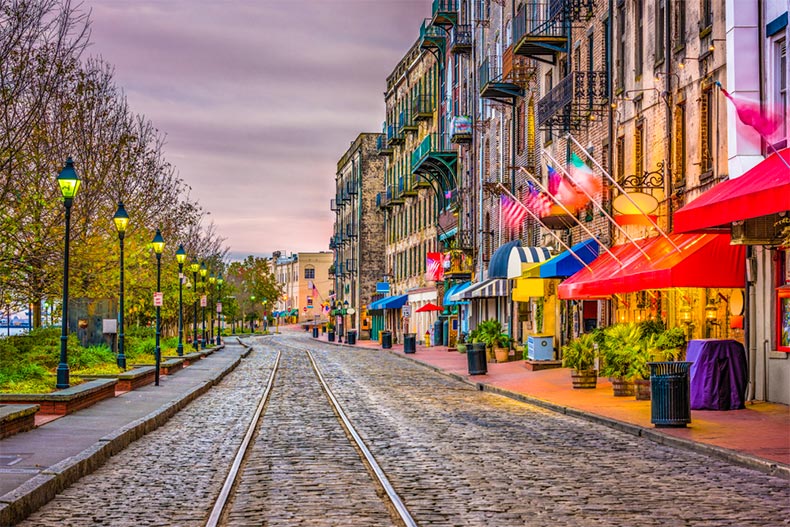 Savannah is full of historical quirks, including cobblestone streets.
With a mix of historic architecture and modern cultural attractions, Savannah, Georgia has developed its own distinct allure. This small city is touted as one of the prettiest towns in America and a prominent center for the arts, historic sites, museums, shopping and dining centers, galleries, theaters, and much more.
For a taste of southern Savannah history, you can visit such attractions such as Old Fort Jackson, the Andrew Low House, the Roundhouse Railroad Museum, or the Ralph Mark Gilbert Civil Rights Museum. And you don't want to miss the City Market, which offers shopping, dining, art galleries, and live entertainment.
Speaking of entertainment, Savannah offers hot spots for every taste. You can hear jazz and blues at intimate clubs, enjoy salsa or swing dancing, attend an outdoor concert, or explore one of the city's seasonal festivals. Live theater includes performances at the Savannah Theatre, Lucas Theatre for the Arts, and the Savannah Civic Center.
Nature lovers can explore the regional beauty through the Savannah Area Council of Garden Clubs' Botanical Gardens, or plan a visit to the Oatland Island Wildlife Center.
Nearby Communities
Hilton Head, South Carolina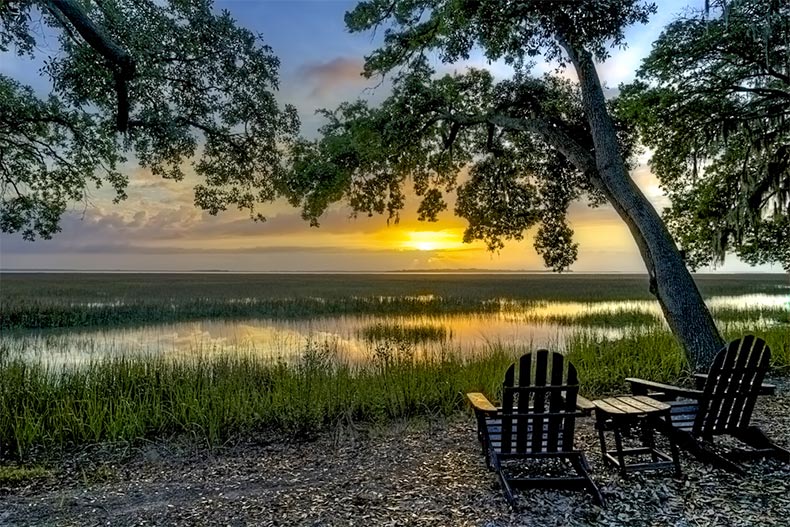 Hilton Head has beaches, golf, shopping, and recreation.
If white, sandy beaches, legendary golf greens, and small-town southern charm sound good to you, then Hilton Head is the place you need to be.
The last time it snowed in Hilton Head it was 1990. Though winters can occasionally dip below freezing, the summers can reach as high as 90 degrees and most months you can expect at least three inches of rain. Because it's on the Atlantic Ocean, this town's climate is a bit more tropical with the average temperature year-round in the 70s.
It's not a requirement to love golf if you move to Hilton Head, but it certainly doesn't hurt. With more than 40 premier golf courses, many designed by PGA professionals, Hilton Head is a golfer's paradise. Of course, there are other sports offered there, too, with more than 360 tennis courts available, and pickleball gaining popularity in the area.
Though Hilton Head is less than five miles wide and 12 miles long, it's the perfect size to explore. With about 60 miles of bike trails, the area is just coaxing you to rent a bike and discover the natural beauty of the island.
And while sun worshippers will appreciate the beaches, shopping enthusiasts will enjoy time at Okatie Center, where shops and restaurants are plentiful.
As one of the Sea Islands, Hilton Head is one of the birthplaces of the Gullah culture. Learn more about the language, art, and food of this fascinating culture at the Coastal Discovery Museum.
Nearby Communities