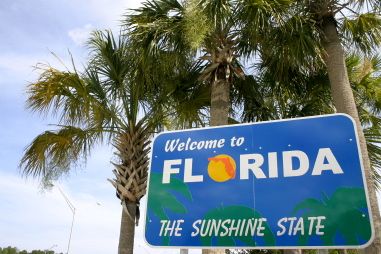 For generations, The Sunshine State's sunny beaches, breathtaking sunsets, and Southern hospitality have attracted thousands of active adults interested in Florida retirement communities every year. Florida retirement communities are abundant, there are favorable tax laws for retirees and census data shows a high percentage of residents over the age of 65. Yet several other states have recently begun to give Florida some serious competition for this top spot.
Population Boom
According to a U.S. Census Bureau population report released in May of 1997, Florida has been the state with the highest percentage of residents over the age of 65 for some time and is likely to hold its position well into the future. In 1995, 19 percent of Florida's population fell into this demographic. The Census Bureau report predicts that Florida will still have the lead in 2025 with a projected 26 percent of its residents were aged 65 or older. However, other sources are beginning to show signs of nearby states luring away many of Florida's retirees.
In 2009, studies by the Associated Press and the North Carolina Center for Creative Retirement began to look at the slowdown of Florida's population growth. Retiree migration to Florida was certainly slowed after the collapse of the housing market and the subsequent poor economy, but there may be more to the story including more personal reasons for choosing other retirement destinations.
Florida, Full of Reasons to Retire
Florida still has plenty of champions and those who live in the Sunshine State appreciate its many benefits for retirees. As a peninsula, the state offers miles of coastline along both the Atlantic Ocean the and Gulf of Mexico.
The semi-tropical climate provides plenty of sun and fine weather for outdoor recreations, while sprawling, resort-style communities support their residents' luxurious, active lifestyles. There are also many cultural and recreational attractions, including theme parks, museums, restaurants, and shopping centers.
Communities
Yet there are many reasons why relocating retirees are reconsidering a move to Florida retirement communities. While current technology has made it easier than ever to stay in touch across long distances, many active adults feel that relocating to Florida will take them too far away from their family and friends.
They may also decide that Florida's sunny climate is a bit too warm for their taste, particularly during the hot and humid summer months. Other retirees are also turned off by Florida's crowds during the peak tourist season. Developers have taken note of these trends and have begun building more resort-style active adult communities in diverse locations across the country.
Retirees can now find developments that let them live among their peers, and enjoy fabulous amenities, while still staying closer to their families or choosing a more personally appealing climate. As a result, more and more active adults are finding their ideal homes in states such as North Carolina, Georgia, Texas or Nevada.
Florida is likely to remain a popular retirement state for some time, yet recent trends show that it may not have the continued influx of retirees that it once enjoyed. Do Florida retirement communities appeal to you, or do you have your retirement sights set on another area? Let us know in the comments below.