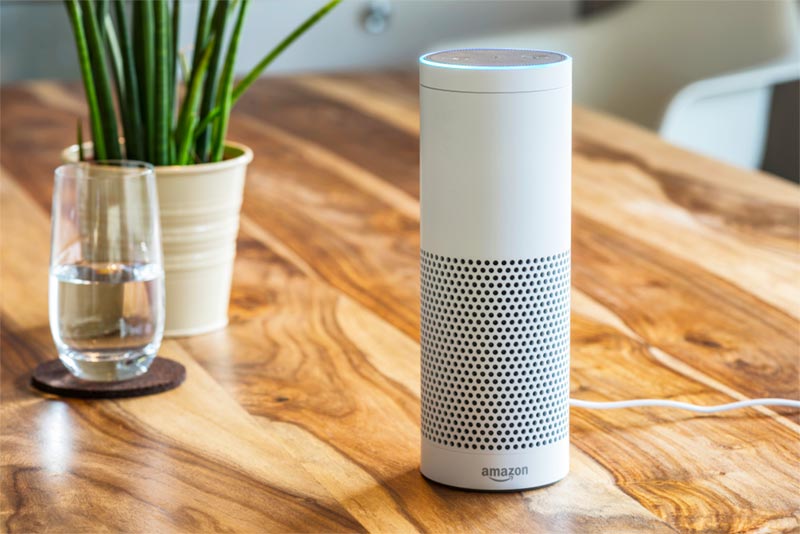 Amazon's Alexa has endless opportunities to make your life easier and even more low-maintenance than ever.
Initially released in 2014, Amazon's Alexa has since become the quintessential in-home helper when it comes to just about everything. Getting her name from the ancient library of Alexandria, Alexa is Amazon's all-knowing voice control system that has been integrated into a number of the company's products, such as Amazon Dot and Amazon Echo.
By simply speaking into the Alexa-enabled devices, they provide a number of features and responses, whether it's checking the weather, playing your favorite music, or even placing an order for pizza. Alexa is also capable of controlling smart-home gadgets, granting it the ability to lock doors, adjust lights, and alter the thermostat.
Continually updated with more features and abilities, Alexa is a complex piece of technology that takes time to fully grasp. That's why 55Places.com has your guide for getting the most out of the new Alexa-enabled device in your active adult community home.
So What Can It Do?
Alexa is constantly being updated to allow for new skills and uses. Some of the most common uses for Alexa are:
Turning on music
Checking news reports
Syncing to your calendar for reminders and to set events
Placing an order with businesses like Amazon (for products) and Domino's (for pizza)
Searching food and drink recipes
Reading audiobooks to you
Calling an Uber or rideshare car
Changing lighting and heat (Smart home device required)
Video chat (Only applicable to Echo Spot and Echo Show devices)
Finding the Device Right For You
In order to get the true Alexa experience, you'll first need to pick the right Echo device. Since its initial launch, Amazon has integrated Alexa into almost half a dozen Echo devices that perform the task you ask for (if Alexa is the person who takes your order, Echo is the one who gets it for you). While each offers almost the same functionality and capabilities when it comes to what Alexa can do, the devices have some differences.
Echo Dot
Price: $49.99
A simplified version of the standard Echo, Echo Dot's compact size and cheap price makes it a great choice for familiarizing yourself with what Alexa can do. Unlike the more expensive models, the Echo Dot doesn't feature high-quality speakers.
This serves as a disadvantage for calling Alexa from another room or listening to your music. With that said, Echo Dot can connect to a person's already existing sound system through Bluetooth or with a cable. Echo Dot is perfect for those unfamiliar with how voice assistants work and who want to try out the technology for the first time.
Echo
Price: $99.99
The flagship model for Alexa, the Echo is the standard for getting everything you want from Alexa. Featuring a quality speaker system, Echo is easy to use and can be heard from a farther distance away as opposed to Echo Dot. Echo is perfect for those looking for the standard Alexa experience at a decent price.
Echo Plus
Price: $229.99
Nearly identical to the standard Echo model, Echo Plus justifies its higher price with its built-in smart home hub. This technology allows Echo Plus to connect to your smart home devices without the need for a third-party app or Wi-Fi connection, which makes Echo Plus perfect for homes that have many smart home devices.
Echo Spot
Price: $129.99
Unlike the other models, both Echo Spot and Echo Show provide touch screens. These screens can perform tasks not available in other models, such as video calls—perfect for when talking with grandkids. The Echo Spot is great for those who prefer visuals when it comes to using technology.
Echo Show
Price: $229.99
The most expensive of the group, Echo Show seeks to be the definitive version of Amazon's Alexa devices. Everything Alexa has to offer is displayed on a seven-inch touchscreen. The screen is ideal for watching videos, sportscasts, or checking security cameras. Though expensive when compared to the other devices, Echo Show fully embraces Alexa's growing capabilities.
Picking the Perfect Spot to Set Up Your Device
One thing to consider is figuring out the best spot for your Alexa device. The device can be used anywhere in the house as long as it's connected to an outlet and within reach of the home's Wi-Fi signal. From there, picking out the best room depends on what use you'd like to get out of Alexa.
For those wanting an alarm clock or to catch up on the news of the day, the bedroom is ideal. If you plan on using Alexa to help search for movies when sitting on the couch or to play music, the living room is a clear choice. Plus, you can always unplug the device and move it whenever you'd like.
That said, if you plan on making your home fully tuned to Alexa, then buying multiple devices is always an option. With Echo Dot's cheaper price tag, setting up multiple devices is an affordable way to set your entire home up.
Setting Up Your Device
Setting up your Alexa-enabled device is easy. Simply plug the device into your preferred location and follow the Wi-Fi pairing instructions on the Alexa App on your phone or tablet. The app is free and can be found through the app store on your device.
Connecting to Your Smart Home Devices
To begin connecting your Alexa device to other smart home devices, you'll need to check to make sure that your appliance or device is compatible with Alexa. You can check here. Complete setting up your smart home device by following the given directions. Make sure your smart home device is connected to the same Wi-Fi as Alexa. Otherwise, the devices will not be able to connect.
From there, you'll need to open the Alexa app on your phone to complete setup. Go to the menu and click "Skills". Then, enter keywords into the search bar to look for your smart-home device and click "Enable". Follow the on-screen instructions to complete the process. From there, ask Alexa to "Discover my devices" or "Add device" in the Smart Home section of the Alexa app.
Adding Skills to Alexa
In regards to Alexa, "skills" are abilities that can be added to your device and there are new ones all the time. For example, if you'd like to play the game "Jeopardy", you can add that skill to your device, allowing Alexa to play a game of "Jeopardy" for you whenever you like. To set up a new skill, go to the Alexa app, click on the menu and select "Skills." From there, you will be brought to the Alexa Skill store. You can then explore and enable new skills on to your device.
Fun Things to Ask/Do With Alexa
Like any good companion, Alexa has a great sense of humor and will respond to a number of "hidden" requests. Some examples include:
"Alexa, play bingo": Search and download some free printable bingo cards and Alexa will start a game of bingo for you and your friends
"Simon Says...": By using the command, "Alexa, Simon Says…," Alexa will repeat anything said back to you
"Alexa, sing Happy Birthday": Alexa is also a great singer and will happily serenade you with a song for your birthday
"Alexa, tell me a joke.": Alexa comes with a number of cheesy jokes to enjoy