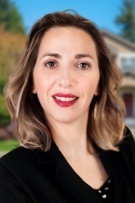 Samira Zamor
West USA Realty
Lic. #SA667028000 (AZ)
Curious and adventurous from an early age, Samira came to the US from her home in Brazil to Arizona as an exchange student at the age of 17. The experience opened her mind, shaped her worldview and started a love affair with the people and unique culture of Arizona.
You will not find a nicer, more dedicated or knowledgeable agent than Samira. She takes a personal interest in everyone and isn't pushy. I would recommend her to anyone!
July 4th, 2020
Excellent customer service skills. She goes above and beyond! So happy I found her. Thank you for everything!!!
March 26th, 2020
I am extremely happy that Samira was my realtor (agent) when I decided to buy a house in AZ.
March 25th, 2020
Showing 1 - 3 of 4 reviews