If you're a keen traveler and currently looking to buy a home, there are numerous holiday home exchange programs available. Buying an appealing home will increase your chances of swapping your home with residents of countries and cities all around the world.
Having a home in a popular holiday destination in the USA—think Florida, California, or Arizona—will make it easier to satisfy that wanderlust and attract more people who are keen to exchange their home for yours, whether it's for a weekend, a week, a month, or sometimes even longer.
Holiday home exchange programs can work particularly well if you're a snowbird or planning to become one. For example, if you plan to spend the winter somewhere warm like Arizona, the home you leave behind in New England might have great appeal to keen skiers. If you live somewhere popular for leaf-peeping in the fall but you've seen those fall colors all your life, you can decamp early to your winter residence and let someone use your house at the best time of year.
Types of Holiday Home Exchanges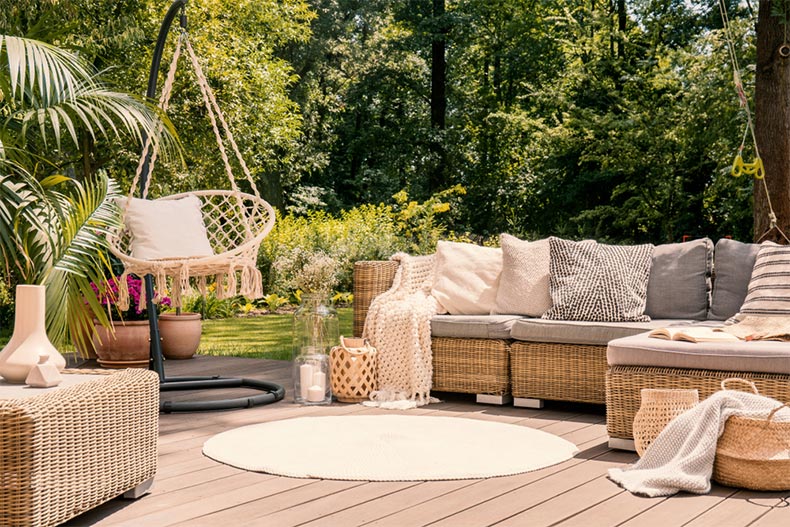 Depending on which service you belong to, holiday home exchange programs work in several different ways. You can also belong to several programs, giving you completely flexible options.
The first kind of holiday home arrangement is a simultaneous exchange. With these, you stay in the other person's home while they stay in yours on the same dates. These straight swaps take more advance planning to coordinate your dates exactly, but if you have any questions about the home you're staying in, you know where the owners are. This type of home exchange also means that you don't have to have a second home since you're always swapping your primary residence.
You can also do non-simultaneous exchanges, though this means you have to make other arrangements while the visitors are using your home. If you have a second home, that's ideal, or you can use the exchange as an opportunity to go visit relatives or take off on a cruise.
Yet another way of making these programs work is by doing what's called a hospitality exchange. In this situation, you stay as a guest in the other family's home, and they come and stay with you in your home for a similar period. This option also means that you don't have to have a second home, merely a guest bedroom.
One thing to watch for is the way that memberships work in each program. Most have a single membership option, which allows you access to all other members' properties. Others offer a tiered membership, so if you have a high-end home and want to only stay in similar high-end homes, you have to go in at a premium level. If you join at a more basic level, you only have access to properties at the same level as you.
Meet Some Experienced Home Exchangers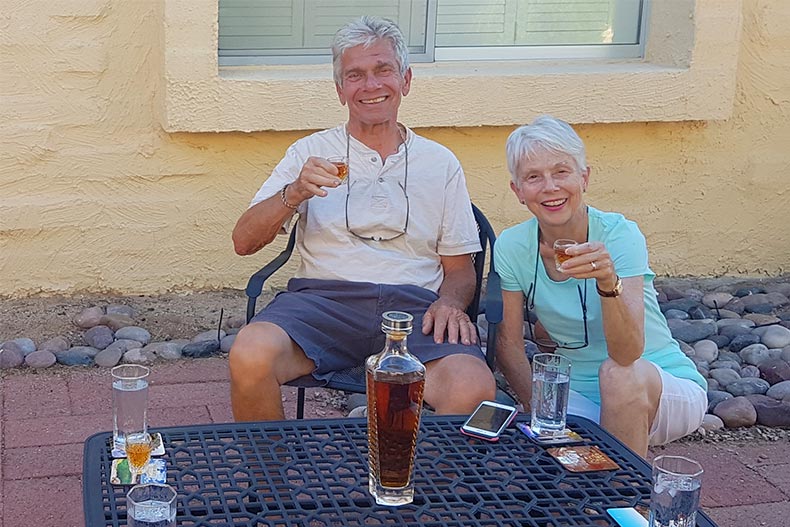 Tom Buinicky and his wife Mary Ferland are snowbirds who winter in Green Valley in Southern Arizona and retreat to their New Hampshire home when the Arizona summer heat kicks in. Mary also has a cottage in New Hampshire, giving them more flexibility, and they've been doing holiday home exchanges for almost twenty years. Their exchanges have given them inexpensive holidays in such places as Quebec, Budapest, England, Australia, and Argentina. They're currently looking into home exchanges in Portugal and England's Lake District.
"The first exchange we did," Mary says, "was probably about 2003 or 2004. A couple from Quebec came down for a long weekend. They were going to a wedding or something in Springfield, Vermont, and they stayed in our house while we went up to their house in Old Quebec City."
From such simple beginnings, the couple moved on to much more adventurous travels, including several visits to Australia and spending over three weeks in Argentina.
What was your best home exchange travel experience?
"For me, it would have to be Buenos Aires," Tom says immediately. "Three weeks in Argentina—can't beat that!"
"Too many to name," says Mary. "England, definitely, and Australia. We were in Budapest recently and loved that."
Have you had any bad home exchange experiences?
"Not really," Mary says. "We did an exchange one time and had booked our flights when the person we were exchanging with canceled. He was coming to a wedding and thought our home was nearer to where he needed to be. He clearly didn't do his homework first, so he just canceled it. When we contacted him to explain the situation, that we'd already booked our flights, he was really nice about it and let us stay in his home anyway."
"The only thing I can recall," Tom adds, "is that one time we swapped with a Spanish couple who had a 4-year-old child, who broke a lamp of mine that was quite rare. But they spent a lot of time tracking one down and eventually found one and replaced it."
"We've found that people who do exchanges are very careful with your property," Mary points out, "just as you are careful with theirs. It's a two-way thing; you treat other people's homes the way you want them to treat yours. At the end, you do a good clean-up, vacuuming, emptying the trash, changing the sheets on the bed, that kind of thing. Inevitably there are accidents, they happen, but mostly it's just dropping a cup or breaking a plate, and those you replace, probably with something better than what got broken."
Tom and Mary point out that you don't need special home insurance to do a holiday exchange because the average home policy covers damage done by visitors. In their case, they sometimes like to swap cars as well, and their car insurance covers other drivers, but swapping cars is one of the things you check into when planning an exchange.
How far ahead should you start planning?
"A long way ahead, for a big trip," Mary advises. "I do all our planning and I'd say start a year or so ahead. You have to decide where you want to stay, then find a suitable place, and then agree on dates. You're reliant on people getting back to you, and some take a while. Also, the sooner you start and arrange a swap, the sooner you can start looking at flight prices to get the best deals."
Tom and Mary say that most of the people they have exchanged with have come from overseas, from countries including Australia, England. Spain, and Canada, but they've also done U.S. exchanges, including one woman who had a magnificent apartment in New York City as well as a family who had a home on the exclusive Governors Island in Manhattan.
"In fact," Mary adds, "I just got a request for somebody to do a home exchange this summer, from a family of five from Washington D.C. They saw the site that we're on, which is kind of funny because I don't pay for that one anymore, but they've left up my listing. I just wrote back and had to say 'No, we're not going anywhere, this summer.'"
Is it hard to use someone else's kitchen?
"I enjoy cooking," Mary says, "and using someone else's kitchen has never been a problem. I think going to the grocery stores, seeing what's on the shelves, and visiting markets is also part of the whole travel experience for me. It's how you really see the way people live, rather than only going to the museums and tourist sites and so on. Of course, we love to eat out too, but the cost mounts up if you do it every night. It also depends where the home's located, what's nearby."
Mary explains that when you arrive in a home, there's usually a folder of information covering everything about the house, just as you would find if renting a holiday home.
"Yeah, the intricacies and idiosyncrasies of the house, like this switch may not work right, or this is how you turn on the back light, this is the water main shut-off, and garbage is collected on Thursday, and the newspaper's delivered every day, so enjoy that. I have a book that I prepared for any exchangers, like: Where's the grocery store and what do you do if this happens or whatever, so I leave that in a very prominent place in the front hallway when they walk in. We installed one of those key safety boxes on the front of the house, with a code, so we give them the code, they walk in, and everything they need to know about the house is right there."
After some successful exchanges, the couple say they became good friends with people and gone on to do other exchanges more informally, without going through the home exchange websites. They typically exchange for a weekend, a week, or two weeks, as that's what most other people want to do, though they jumped at the chance to spend 23 days in Buenos Aires and see Argentina, a country they'd long had on their bucket list.
However, the sky's the limit, they point out. They know of one couple with a home in Russell Bay, on the very north of the North Island of New Zealand, who are doing back-to-back exchanges while they travel the world for six months.
"After staying with us in New Hampshire," Tom says, "they were going to Vermont, and then they were going down to Pennsylvania, then on to England, and from there they were going to Spain… then I lose track!"
What appeals to you most about holiday home exchanges?
"It's a very economical way to travel," Mary replies, "and that's my philosophy. It's also a great way to meet people, to feel like a local when you travel instead of just staying in an impersonal hotel room."
"Same for me," Tom adds. "You get to see places cheaply, and some come with cars so you can travel around for just the price of gas. It's just a good way to see the world, and do the local-to-local thing, and be staying in someone's house rather than a hotel."
The bottom line: How much does it cost?
"Peanuts," Mary says, recommending one site they're on, HomeExchange.com, whose membership is $150 a year. "That's typical, and an absolute bargain if you consider all the wonderful trips we've had and friends we've made."
HOA Rules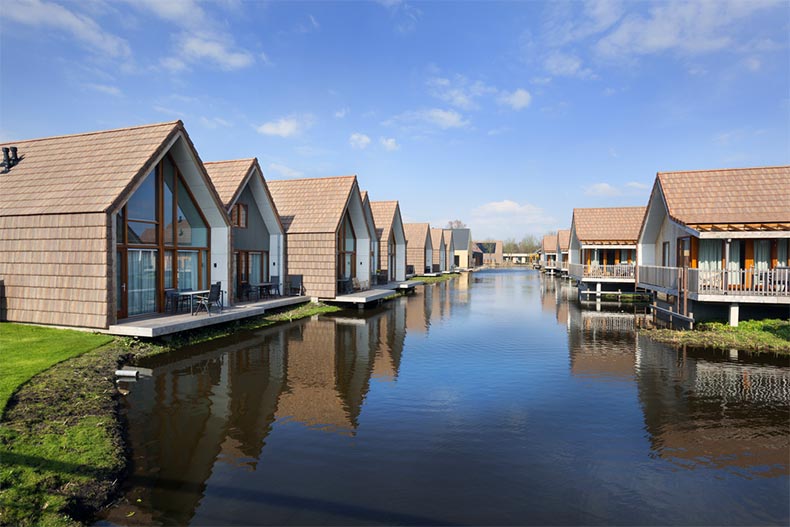 Tom and Mary don't use their Arizona winter home for exchanges, for various reasons.
"We like being here in the winter," Tom explains, "and no one would want to be in Arizona in the summertime. I wouldn't do that. Also, our home here is in a homeowners' association (HOA) and they have rules about renting out your property which would probably apply to home exchanges too, but that's not the case with the house we own in New Hampshire, so that's the one we exchange."
So, if you're considering buying a property within an HOA and you intended to participate in holiday home exchanges, be sure to check the rules first. If you're still searching for your next home, another advantage of signing up for an exchange program is that you may be able to find an exchange in the place you're thinking of moving to and be able to check it out first hand.
Some Holiday Home Exchange Programs
One tip if you're looking to exchange in a particular country: Search for programs within that country, such as AussieHouseSwap for Australia. Although they list properties worldwide, they inevitably have a far better selection of domestic properties.