Miami is a beautiful, diverse city in a tropical locale with access to some of the finest beaches in the country and all of the amenities and recreation that a world-class metropolitan city has to offer.
The city is an ideal retirement destination for active adults because of its year-round warm weather, amicable tax system, and some of the best health care facilities in the state. Whether you like to spend your time hitting the links, exploring the local museums and arts, or simply relaxing and enjoying your leisure time in the sunshine, people from all walks of life could benefit from moving to Miami to retire. 
Read on to learn more and decide if this city in Southeast Florida is the right place for you.
Miami Cost of Living/Retirement Costs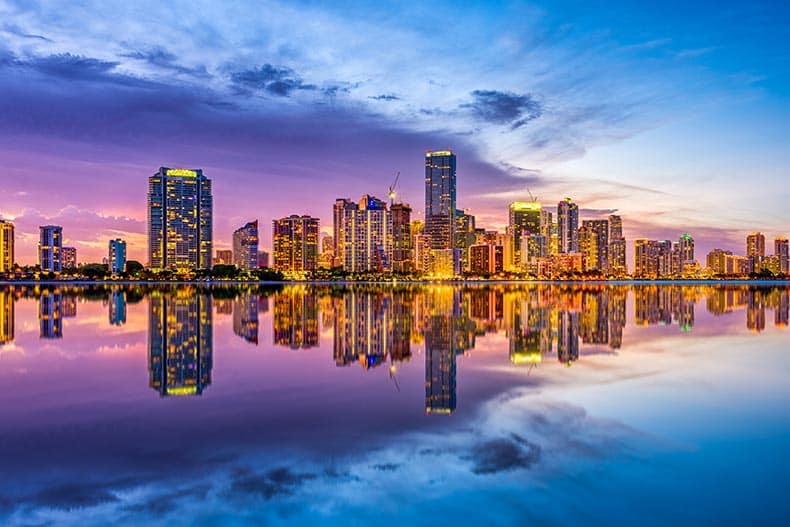 The cost of living in Miami is about 22% higher than the national average. The primary factor in this difference is the higher cost of homes and housing as well as transportation. The median home cost is currently about $560,000, with prices trending upwards.
Transportation costs are about 44% higher than the national average, but the city also has very good public transit options with an elevated rail system that travels around the metro area, a free monorail and trolley system downtown, and an extensive bus system. Grocery and utility costs are closer to the national averages, with groceries being slightly higher and utilities slightly lower.
Florida is considered very tax-friendly to retirees. There's no state income tax, meaning all forms of retirement income (Social Security benefits, retirement savings accounts, and pensions) are all completely exempt from tax at the state level.
Property taxes in Miami-Dade County are about 1.02%, which is just below the national average. To help offset this cost all residents qualify for a homestead exemption, with additional exemptions for qualifying residents who are 65+. The sales tax in Miami is seven percent but doesn't apply to groceries and medicine. There is also no estate or inheritance tax in Florida.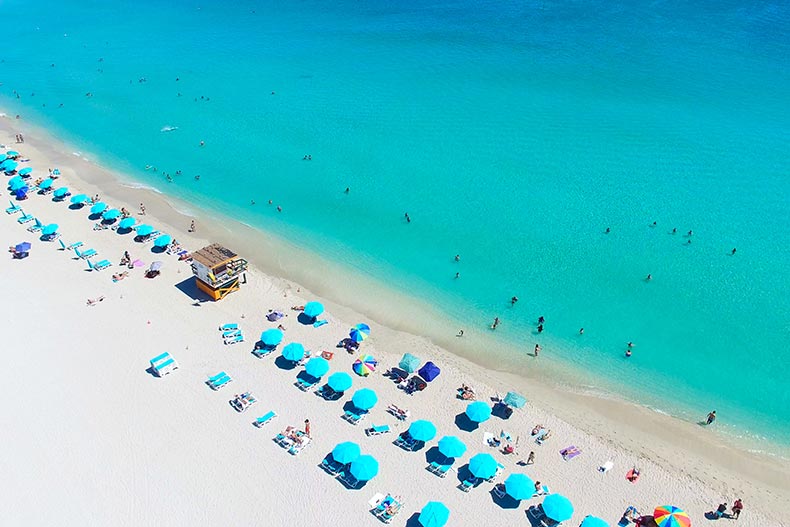 Miami is categorized as having a tropical monsoon climate type, one of the only areas in the continental United States classified as tropical. This means summers are hot and humid, with average high temperatures in the 80s, while winters are short and warm, with average lows in the 60s. Residents can expect an average of 59 inches of rain per year, much of it during the wet season spanning from May to October, with very little precipitation during the warm winter months. 
Due to its location in between two tropical bodies of water, Southern Florida is occasionally susceptible to hurricanes, primarily during mid-August through September. But the area is free of other extreme weather such as tornadoes and has never recorded any accumulated snowfall in its history. Typically the weather is hot and sunny, with about 248 days of sunshine each year.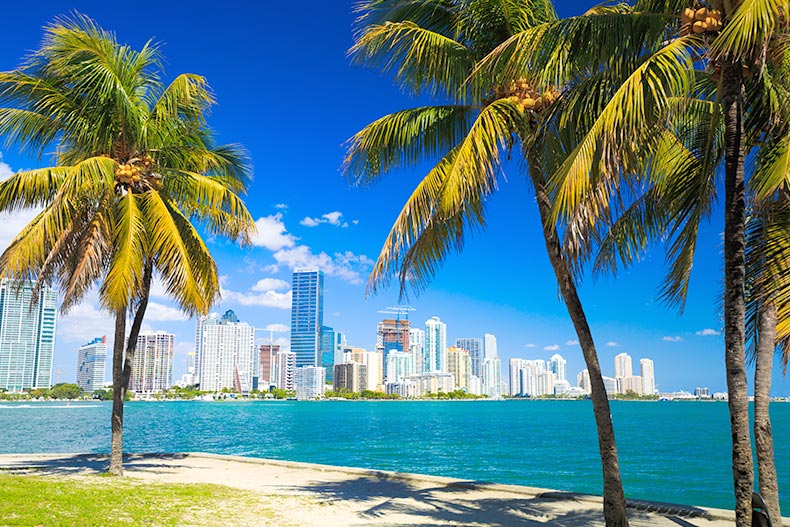 Because of the year-round tropical weather and abundant sunshine, Miami is a great place for active adults who enjoy being outside. One of the biggest draws for outdoor recreation is the city's many beaches, which span more than 20 miles of coastline along the Atlantic Ocean and Caribbean Sea. Another is the golf scene, with over 20 courses in the city and another 31 within 20 miles.
Besides that, there are numerous parks and nature preserves in the Miami area where residents can enjoy a wide range of outdoor activities, such as hiking, biking, kayaking, snorkeling, and more while immersing themselves in the natural beauty of Southern Florida.
Miami Culture and Entertainment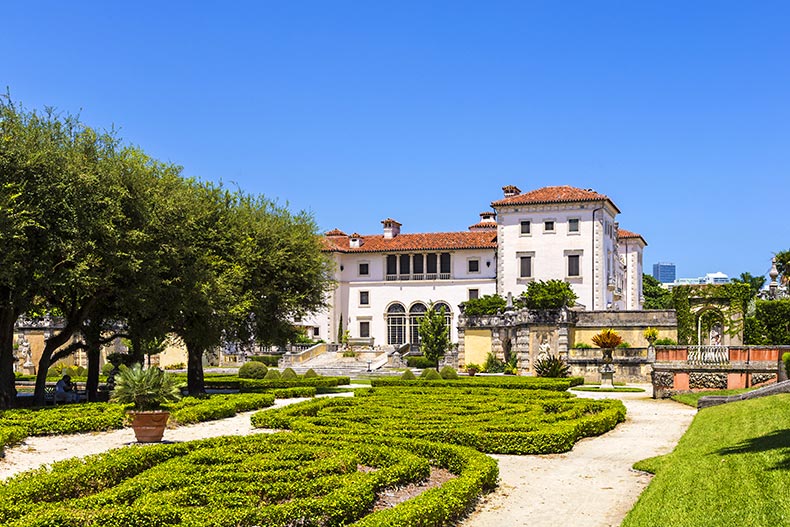 Being in a major metropolitan city, there is never a shortage of things to see, do, and experience for active adults living in Miami. Whether it's finding great new restaurants, exploring the local culture, or catching an interesting show, there's a little something for everyone. These are just a few examples of the numerous things Miami has to offer.
Miami is famed for its Latin and Caribbean food, but as a major city, it has a diverse array of cuisine available. Some of the best restaurants can be found in Miami Beach, where residents can enjoy fine dining inside beautiful resorts or enjoy a meal outside on scenic oceanfront terraces.
Those looking for international cuisine can visit neighborhoods such as Little Havana or Little Haiti to enjoy authentic dishes. Wynwood is another popular neighborhood noted for its restaurants, lounges, and breweries.
Miami has a thriving performing arts scene, with a year-round calendar of theater, dance, and music available at the Adrienne Arsht Center for the Performing Arts. Here residents can catch performances by the center's resident companies: the Miami City Ballet, Florida Grand Opera and the New World Symphony, among others. The FPL Solar Amphitheater at Bayfront Park, FTX Arena, and Fillmore Miami Beach are great venues to catch performances by popular touring musicians of all genres.
Fans of professional sports have plenty of options to choose from as well. The city is home to MLB's Marlins, NFL's Dolphins, and NBA's HEAT, each with their own respective stadiums, in addition to other regular and annual sporting events.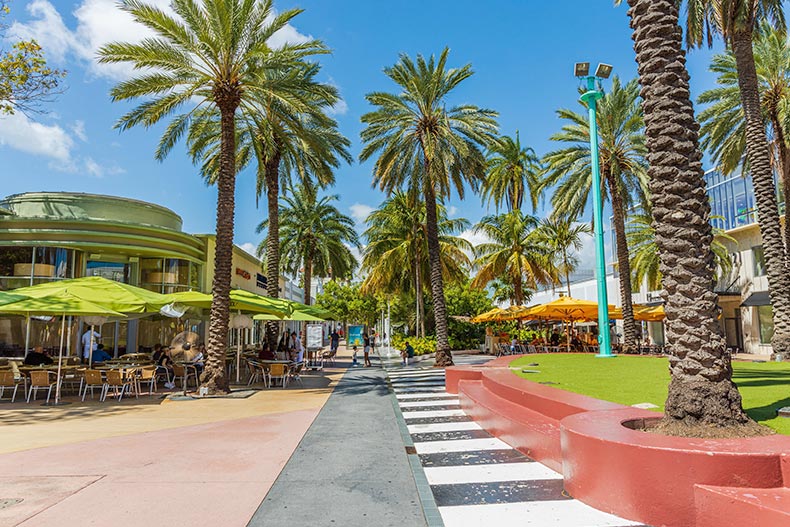 There are dozens of health care facilities in Miami that are nationally ranked and rated high performing in various procedures and conditions, according to U.S. News and World Report. Some of the top ranked in the Miami-Fort Lauderdale area are Cleveland Clinic Weston in Weston, Baptist Health Baptist Hospital in Miami, and Mt. Sinai Medical Center in Miami Beach.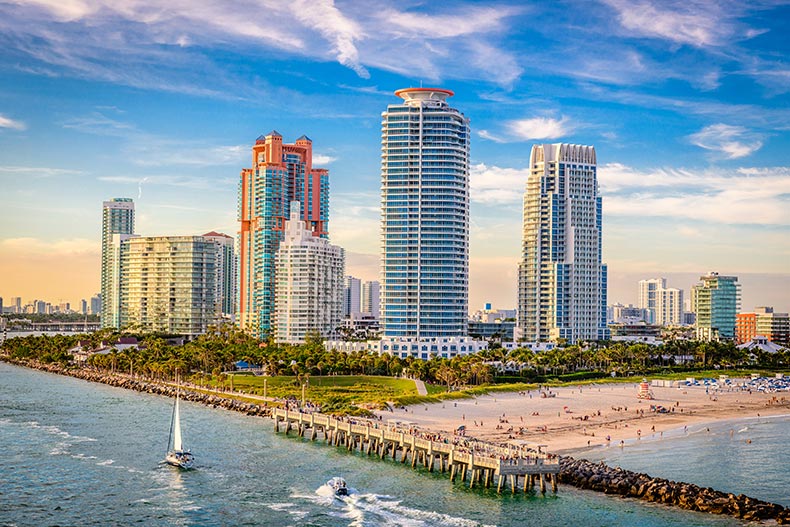 In addition to beautiful scenery and all the benefits of living in a big city, these 55+ communities in Miami and the Miami area provide additional amenities and benefits for a low-maintenance lifestyle. Consider these options to find the right home to live out your retirement years.
This community, also in Downtown Miami, is a condominium complex consisting of 503 units available for resale. Floor plans range from 407 to 1,360 square feet with one to two bedrooms and one to two bathrooms. Studio units are also available. Amenities include a clubhouse, an auditorium, an outdoor pool, and shuffleboard courts.
Miami Is a Great Place to Live
Miami is a great place to live for active adults who want to live in a warm climate with access to beautiful tropical nature and all the world-class experiences available in a metropolitan city. 
Need help finding the right home to fit your lifestyle, budget, and all of your other needs? Contact 55places.com to find your perfect community in the Miami area.