Orlando and Miami are two well-known cities in the Sunshine State, and both of them attract millions of visitors every year. Orlando is in Central Florida and Miami is in Southeast Florida. Both have warm weather, lots to do, and some great options for low-maintenance living. 
Florida is an ever-popular state for retirement because most days are sunny and warm, there's a lower cost of living compared to other large cities across the country, and all the family and friends you might miss will have a lot of good reasons to visit you.
Everything you love about Florida is available in both Orlando and Miami, but which is the better city for your retirement? Let's find out.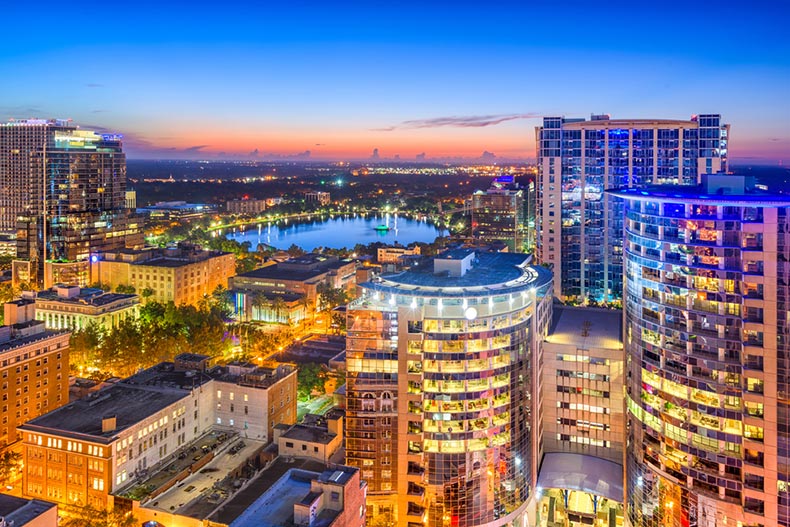 Do you imagine spending a large part of your retirement at the beach? Then, you might lean towards Miami where there are 35 miles of coastline. People flock to Miami Beach for the blue waters and deep-sea fishing, and South Beach is the seaside scene for nightlife and culture.
Orlando is landlocked, but you can get to a beach in less than two hours. Daytona Beach and other Atlantic coastal towns are to the east and Tampa, Clearwater, and St. Pete beaches are to the west. Freshwater lakes are abundant in Orlando, so if you prefer fishing and boating to surfing and sunbathing, this might be the better city for you.
Both cities are large, well-populated, and brimming with good food, entertainment, and recreation, but they're very different. Orlando has a population of about 280,000 people, and Miami has more than 454,000 full-time residents.
In Miami, you'll find a lot of culture and diversity, including Cuban and Haitian neighborhoods. Orlando was once known mostly for its theme parks, but the city has grown and continues to develop in order to accommodate its surging population.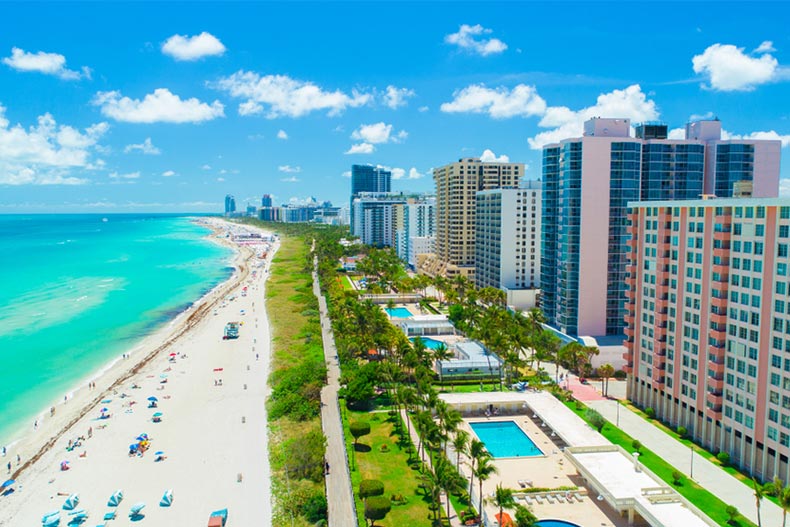 One thing Orlando and Miami have in common: no snow. Both cities get a lot of sunshine all year round, and some serious rain and thunderstorms in the summer months.
All of this sunshine and warm weather means year-round golf, pleasant winter hikes, tennis, bike riding, fishing, and boating. Active adults in both Orlando and Miami enjoy outdoor recreation every month of the year.
The average temperature in Miami is 88 degrees in August during the day and 79 degrees at night. In January, the average high is 74 degrees and the low is 63 degrees. Generally, you can expect humid summers and pleasant winters.
Orlando, further north, is a bit cooler, but that's not true in the summer months. Residents here miss out on those sea breezes that Miami residents enjoy. The hottest months are June through August, where the average high is 91 or 92 degrees and the low is around 75 degrees. Winters are cooler, with January temperatures averaging in the low 70s, and at night, the lows can get down to 52 degrees on average.
In addition to the heat, you'll have to plan for potential storms, especially in Miami. The hurricane season runs from June 1 until November 30. Miami is often in the path of any storm that starts in the Atlantic, and while in Central Florida, Orlando has been affected by hurricanes and tropical storms in the past.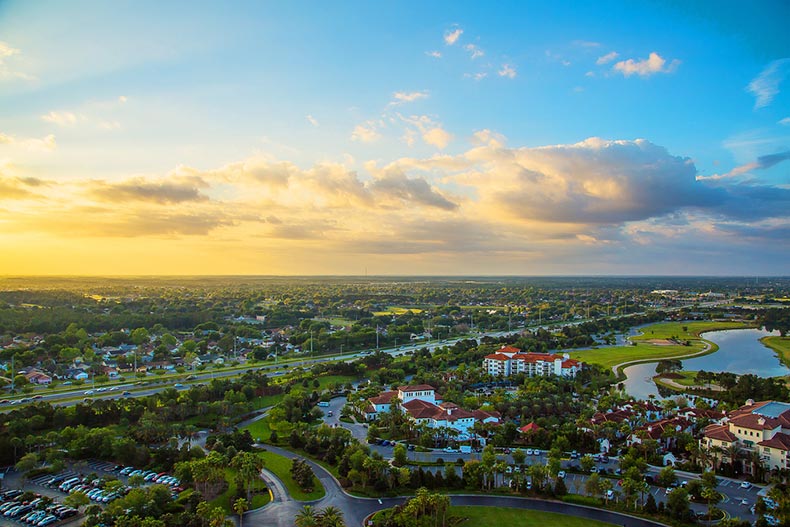 When it comes to cost of living, Orlando is about 15% cheaper than Miami. Miami is an expensive city, and anyone retiring on a strict budget will find that their money goes further in Orlando.
The median home price in Miami is around $398,000 compared to the median home price in Orlando, which is about $294,000. Food and groceries, on average, cost about 6% less in Orlando. Transportation costs are much lower in Orlando, and health care costs are about the same.
Here's one interesting twist about the cost of living index between these two cities: utilities are actually lower, on average, in Miami. This could be due to higher air conditioning bills in the hotter Orlando summers. Heating is also necessary at least a few days every winter in Orlando, while that's normally not the case in Miami.
When it comes to taxes, active adults in both Orlando and Miami enjoy a lack of state income tax as Florida residents. You won't get out of your federal taxes, but Social Security benefits, pensions, IRAs, 401(k)s, and other retirement income are untouched by the state government. Florida doesn't have an inheritance tax or an estate tax, either.
Culture and Entertainment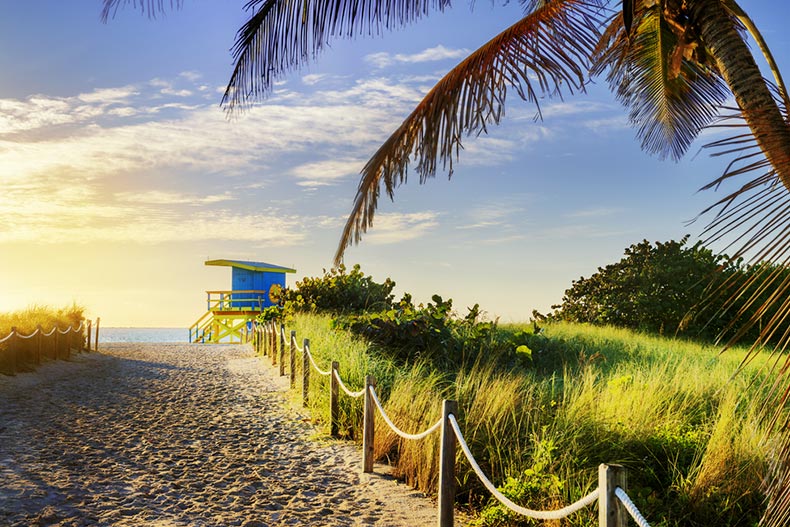 What To Do in Orlando
More than a dozen theme parks can be found in Orlando, and as a Florida resident, you can benefit from lower annual prices and tickets to special events. The Magic Kingdom, Epcot Center, Universal Studios, and Islands of Adventure are some of the most popular parks. 
But, there's more to Orlando than Disney. Art lovers will enjoy some of the museums and gardens in Orlando, including the Orlando Museum of Art, the Mennello Museum of American Art, and the Rollins Museum of Art. The Harry P Leu Gardens encompass 50 acres of trails, lakes, and botanical wonders. 
The Florida Mall is also in Orlando, and it's the largest mall in Central Florida. Explore 250 shops in this iconic shopping center that draws millions of visitors every year. The Orlando International Premium Outlets are also popular as well as the Lake Buena Vista Factory Stores. The Mall at Millenia is right off Interstate 4 and has large department stores, small boutiques, and lots of dining options.
Live music and performances are easy to find in Orlando. Some of the most popular venues include The Plaza, The Social, and The Abbey. Theaters include The Bob Carr Theater and the Central Florida Performing Arts Center.
Outdoor fun is available at some of Orlando's hiking trails, nature preserves, and lakes. Hal Scott Regional Preserve and Park offers hiking, biking, and birding. Orlando Wetlands provides a great opportunity to photograph alligators and wintering ducks. Golf courses abound, and there's great fishing and boating to be found at Clear Lake, Lake Conway, and Lake Estelle.
What To Do In Miami
Bring your salsa dancing shoes when you retire to Miami. You'll want to explore Little Havana and enjoy the ongoing festivals that celebrate jazz, films, and food. Check out landmarks like the Cape Florida Lighthouse and the Vizcaya Museum and Gardens. Explore famous neighborhoods like the Art Deco District, Ocean Drive, and South Beach. 
Museums and art galleries are in every corner, including the Perez Art Museum, Museum of Contemporary Art, Rubell Museum, Museum of Graffitti, and the Lowe Art Museum at the University of Miami.
Shopping, fine dining, and nightlife is abundant in each of Miami's eclectic neighborhoods. Brickell City Centre is a shiny, modern mall in the heart of the financial district. It's an outdoor shopping center with catwalks that take visitors from store to store. The Miami Design District has high-end boutiques such as Hermes and Cartier. The Miracle Mile Shopping District is in Coral Gables, one of Miami's swankiest neighborhoods, and there's also an outdoor shopping center that's lush and green called The Falls in the Pinecrest neighborhood.
Entertainment is a 24-hour cycle in Miami. Catch live shows and performances at venues like The Urban, where outdoor concerts are frequently held, and The Ground Miami, a trendy place for music shows. The Olympia Theater is a fascinating place to see a show, and there are always performances to be found at Overtown Performing Arts Center and Adrienne Arsht Center for Performing Arts.
Follow the crowd to Miami Beach when you want some sunshine and fresh air. One of the most popular spots to enjoy exploring nature is Everglades National Park. There's fishing, hiking, and boating to be done in this unique ecosystem, but bring your bug repellent. Other favorite parks in the area include Biscayne National Underwater Park and John Pennekamp Coral Reef State Park. Miami has more than 45 golf courses.
Health Care and Education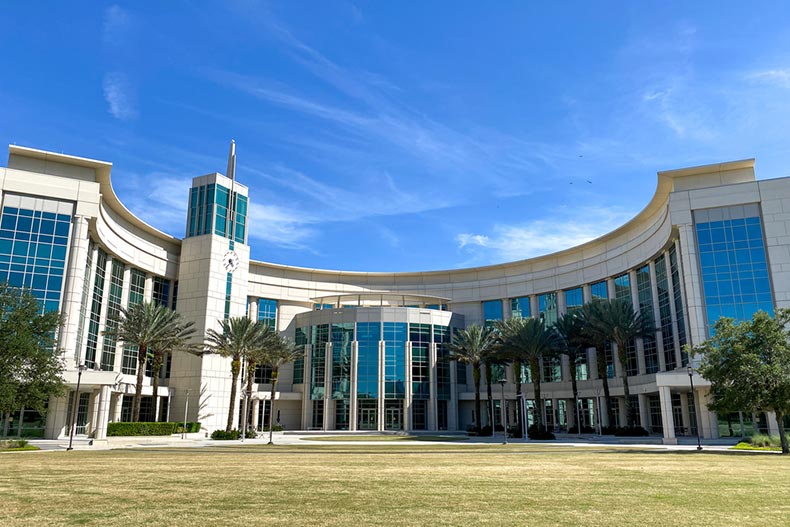 Health care options and costs aren't much different in Miami and Orlando, except that Miami's size leads to larger hospital networks, including teaching hospitals.
In Orlando, the major health care providers are Orlando Health and AdventHealth. Both hospital systems include multiple medical centers, specialists, and primary care. Orlando Health, in particular, has been noted nationally for its diabetes and endocrinology, gynecology, nephrology, and neurology and neurosurgery programs. 
In Miami, The University of Miami Health System combines patient care with research and education. Baptist Hospital of Miami is also consistently ranked as one of the best in the nation for patient care and services. There's an emphasis on community health in Miami, with some of the busiest medical centers being clinics like the Community Health and Wellness Center of Miami, which offers free and low-cost services and resources.
When it comes to education, Miami has more to offer than Orlando. 
In Orlando, the University of Central Florida and Rollins College are the main campuses for higher education and lifelong learning. Miami has a number of colleges and universities, including the University of Miami, Florida International University, Miami Dade College, and more than 50 technical and vocational schools.
55+ Communities in Orlando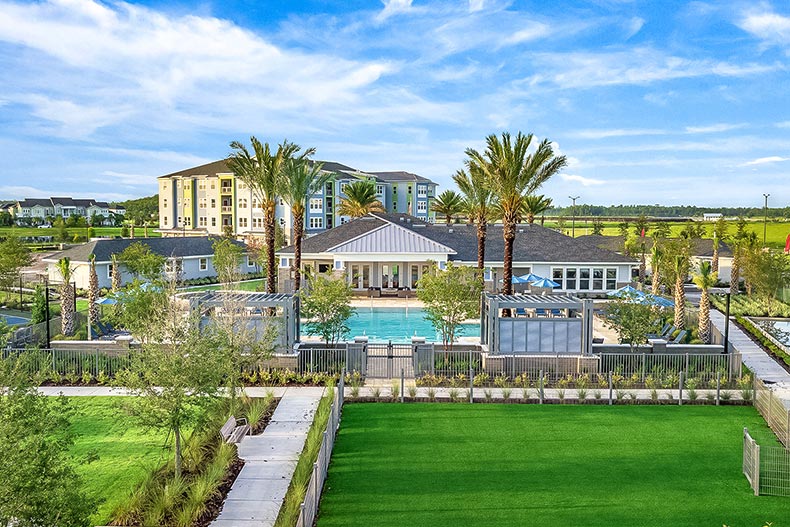 Gatherings of Lake Nona is a condo community in Orlando. There are mid-rise buildings with elevators and garages, a clubhouse with a fitness center, pickleball and bocce courts, and an outdoor pool. The two- and three-bedroom homes have open floor plans and balconies or patios.
At VillageWalk at Lake Nona, there are no age restrictions, but it's a popular place for active adults to call home. With a Town Center as the main clubhouse and center for amenities, residents have an easy time staying physically healthy and socially connected. Attached villas and single-family homes are available in more than a dozen models and floor plans.
Enclave at VillageWalk is an active lifestyle community in Orlando of spacious, single-family homes. This gated community only has 144 homes, all of them with lots of square footage, three to five bedrooms, and customized finishes and design elements. The community includes a day spa, a pet boutique, a fitness center, a ballroom, pools, and several walking and biking trails.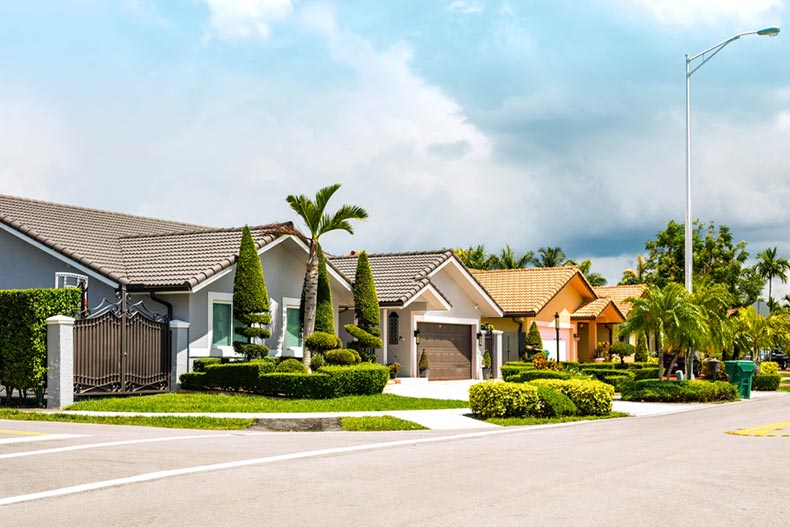 Affordable living does exist in Miami, especially at Star Lake Estates, a 55+ community of condominiums. This ideally located community offers residents a clubhouse, a pool, and shuffleboard courts as well as condo homes with 407 to 1,360 square feet in one- and two-bedroom models.