California is a dream retirement destination for many people. The coastal state has beautiful weather, beaches, and no shortage of things to do. But it's a big state with many cities for retirees to consider, and each spot has its pros and cons.
San Francisco and Los Angeles are two of the state's most well-known cities. One is in the heart of northern California, and the other is a Southern California hub. Do you prefer milder weather and niche neighborhoods, or do you picture yourself enjoying hotter days and a bit of Hollywood glamor?
Compare these two Golden State cites to help you decide which is perfect for your retirement.
Geography and Population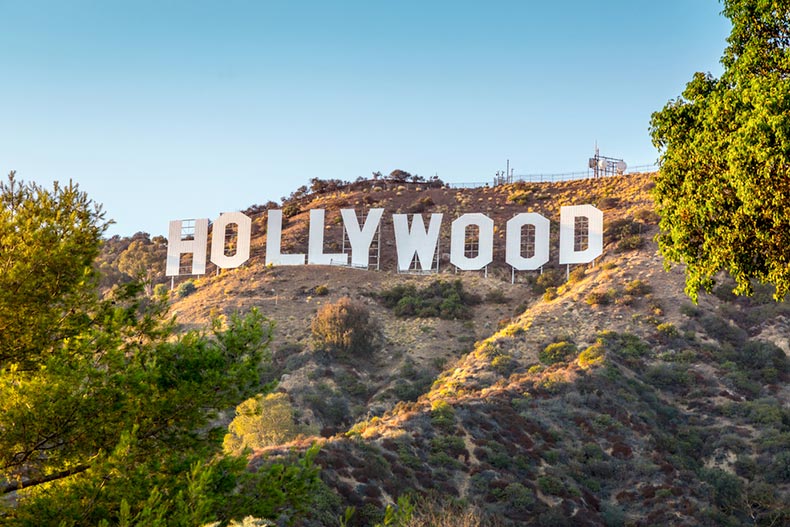 San Francisco is famous for its hills. The relatively compact city is situated on a peninsula that juts out into a bay of the same name. As you look out over the water, you can catch iconic sights, like the Golden Gate Bridge and Alcatraz Island.
As a part of the famous Bay Area, San Francisco is near other major California cities, such as Oakland, Berkeley, and San Jose. More than 800,000 people call San Francisco home.
Los Angeles is a city that sprawls. It has a relatively small downtown area, but it covers more than 500 square miles. This buzzing urban center doesn't have many skyscrapers, but it does have a dramatic backdrop of mountains.
L.A. is within easy reach of several other southern California cities, such as West Hollywood, Long Beach, and Beverly Hills. About 3.8 million people live in L.A.
Climate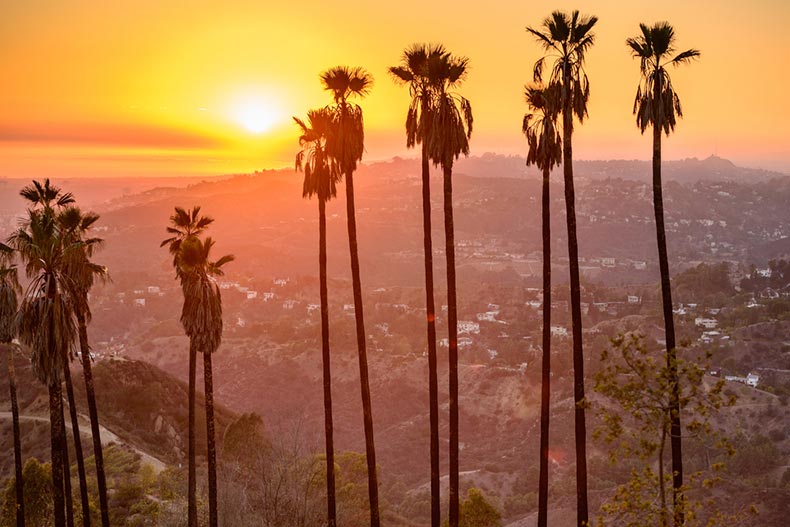 The climate can be a big deciding factor if you're torn between San Francisco and Los Angeles. Further north, San Francisco is known for its cooler temperatures. The summers there are warm but not hot, typically hovering in the low 70s. Winter hardly ever brings a bitter chill, with temperatures in the 50s and 40s most of the time. Winters can be rainy, while summer is usually quite dry.
With such mild temperatures, it's easy to enjoy the outdoors in San Francisco regardless of the season. You can spend time out on the water, whether you enjoy sailing, kayaking, or taking a cruise. The city is also within easy reach of a number of beautiful state parks, like Angel Island State Park.
If you picture palm trees offering shade from hot, sunny days, Los Angeles might be the city for you. Summer temperatures can soar up into the high 80s, while winters cool off with temperatures in the 50s and high 40s. The climate in L.A. is very dry, making the beaches a popular spot to walk, swim, and surf. If you're all about spectacular views, it's hard to get tired of the panoramic vantage point offered by Griffith Observatory.
Cost of Living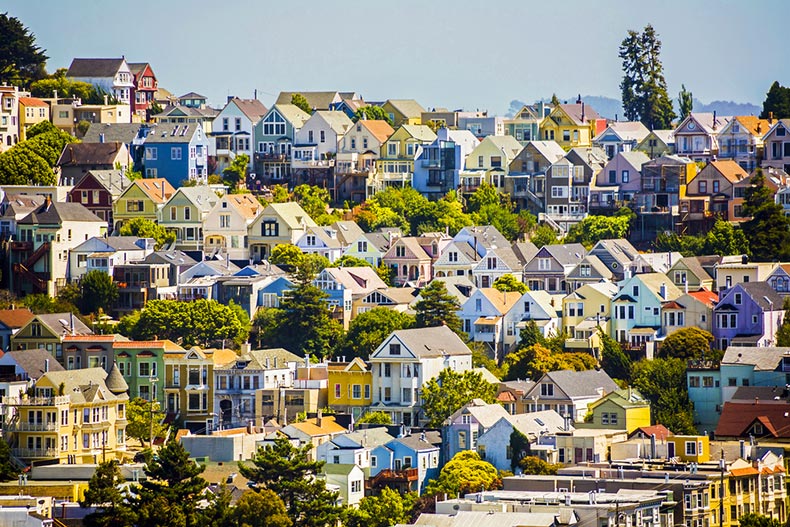 California has an expensive reputation. Housing, taxes, and everyday essentials tend to be pricey in both San Francisco and Los Angeles. The median home price in Los Angeles is $827,579, and it's approximately $1.2 million in San Francisco, according to NerdWallet.
The city, county, and use tax rate in San Francisco, effective April 2022, is 8.625% In Los Angeles that tax rate is 9.5%, according to the California Department of Tax and Fee Administration. Property taxes in California are an average of 0.73 percent, according to SmartAsset.
Culture and Entertainment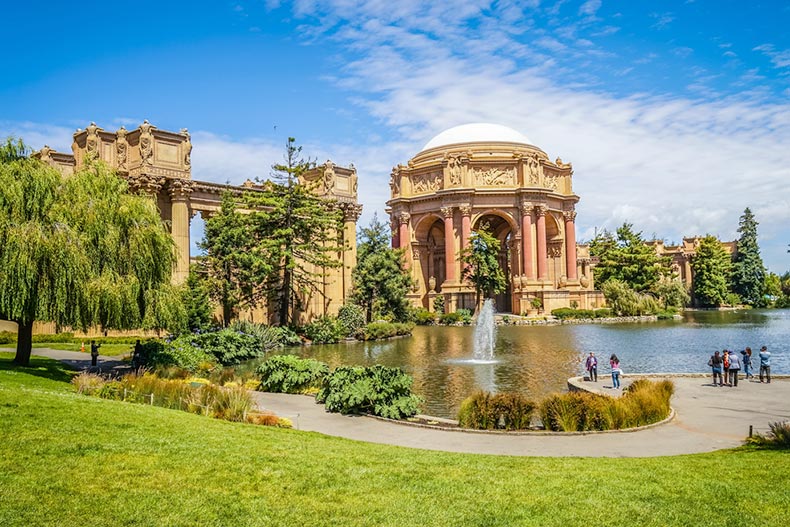 What To Do in San Francisco
Of course, the Golden Gate Bridge and Alcatraz are two of the city's most famous landmarks. To get a feel for the city, you can also head to Fisherman's Wharf to see San Francisco's resident sea lions, or you can ride one of the city's cable cars.
San Francisco is also rich in cultural institutions. If you yearn to dive into the art world, head to the Fine Arts Museum of San Francisco. If your interests lean more toward the sciences, the Exploratorium will be right up your alley.
Like any big city worth its salt, San Francisco has no shortage of shopping districts. Check out Union Square for all of your favorite retail giants. For a more boutique shopping experience, you can explore the streets of the Noe Valley neighborhood.
Retiring in San Francisco means you can still catch plenty of touring musical groups. The city has entertainment venues ranging from enormous (think Chase Center, home to the Golden State Warriors) to the more intimate, like The Fillmore.
San Francisco is home to plenty of beautiful parks ideal for enjoying the outdoors. Golden Gate Park is a classic pick with a great view. If you're in the mood for a picnic, Washington Square Park is a good spot for your spread.
What To Do in Los Angeles
Hollywood is one of the first things most people associate with L.A., and you'll definitely be able to see the iconic sign while you're out and about in the city. You can also stroll the city's famous Santa Monica Pier.
Dive into ancient history at the La Brea Tar Pits and Museum or go for something more modern with the Museum of Contemporary Art. You can also lose yourself for hours at the Getty.
LA's shopping districts hardly need an introduction. Take your pick from Beverly Boulevard, Rodeo Drive, or the Sunset Strip, just to name a few options.
Entertainment is L.A.'s business. Naturally, you can always find something happening in the city. Check out the Hollywood Bowl, Troubadour, or Greek Theatre. Disneyland is also in Anaheim and easily drivable from Los Angeles, a big plus if you're planning on having your grandkids visit.
The beach is high on the list of outdoor recreation in Los Angeles, and there are plenty of hiking options around the city. Explore the trails at Griffith Park or Runyon Canyon Park.
Health Care and Education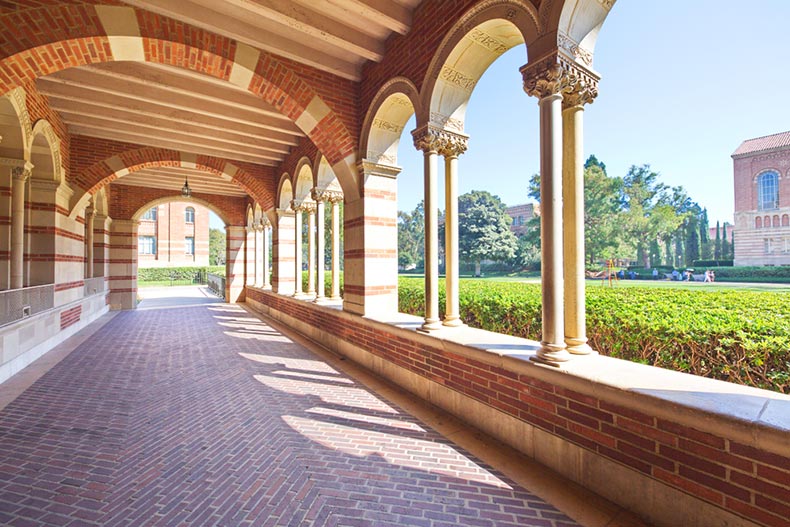 UCSF Medical Center is U.S. News & World Report's top-ranked San Francisco hospital. The hospital is nationally ranked in 14 specialties, including cancer care, endocrinology, and geriatrics.
While not located within San Francisco, this Bay Area city is often associated with the nearby University of California, Berkeley. The University of San Francisco is also located in the Bay Area.
Los Angeles is home to several highly regarded health systems. Residents have access to UCLA Medical Center, the top-ranked hospital by U.S. News & World Report, as well as Cedars-Sinai Medical Center and Keck Medical Center of USC. Each of these hospitals is nationally ranked in multiple specialties.
The University of Southern California and the University of California, Los Angeles are both located in Los Angeles. USC and UCLA are both well-regarded nationally.
55+ Communities in the San Francisco Area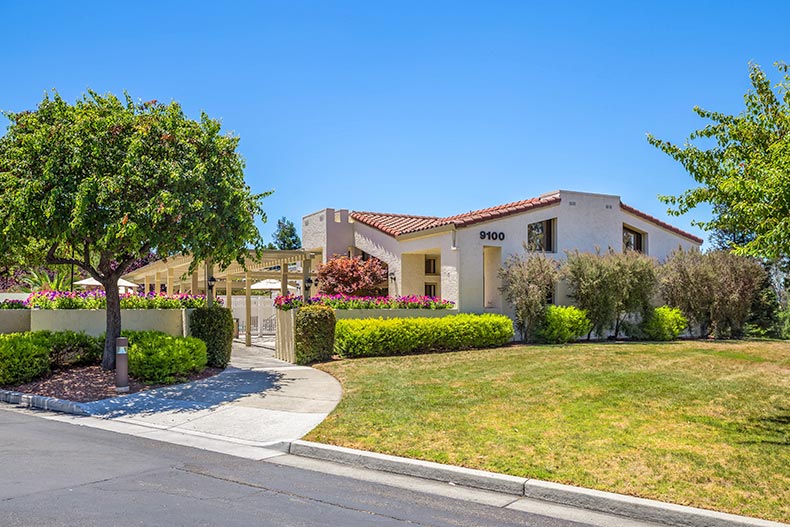 Low $400s – Low $1Ms
The Peninsula Regent, a 55+ community in San Mateo, is a collection of condos. The community has a total of 207 homes, ranging from the low $400s to the low millions. Residents enjoy low-maintenance living as well as amenities like an indoor pool, a fitness center, and a library. Though not located in San Francisco, it's near enough that residents can readily enjoy all that the city has to offer.
Request more information about The Peninsula Regent.
Mid $400s – Mid $1Ms
For those who've dreamed of finding their retirement out on the golf course, The Villages Golf & Country Club in San Jose could be high on your list. This 55+ community has a blend of attached and single-family homes starting in the low $400s and going up to the low millions. Residents can enjoy the 18-hole golf course as well as four different community clubhouses.
Request more information about The Villages Golf & Country Club.
Mid $100s – Low $500s
Yountville is just a quick jaunt from San Francisco. There you'll find the 55+ community of Rancho de Napa, which has a total of 235 homes situated on lush grounds. Homebuyers will find homes priced in the mid $100s to the low $500s. Rancho de Napa residents have access to a private clubhouse, bocce courts, and an outdoor pool.
Request more information about Rancho de Napa.
55+ Communities in the Los Angeles Area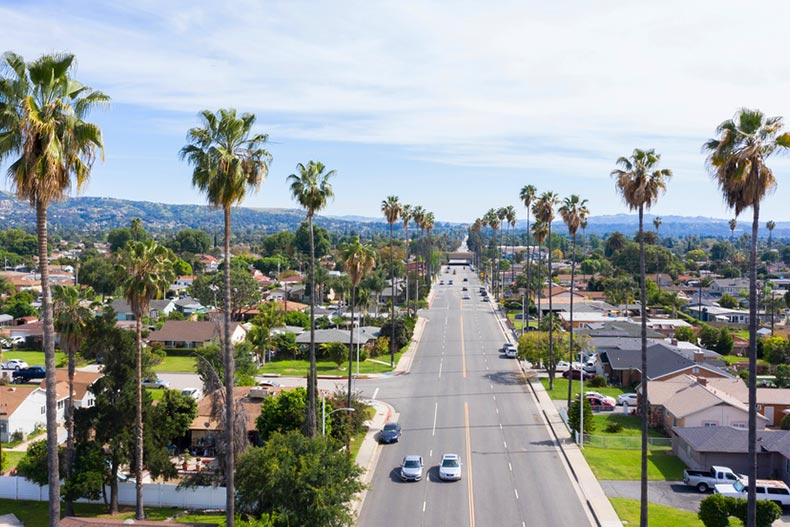 High $300s – Mid $500s
Teramachi Homes is a 55+ condo community located in the city's Little Tokyo district. Condos start in the high $300s and go up to the mid $500s. Condo living means very little maintenance, and L.A. is just waiting right outside your door. The community also has a pool and a fitness center.
Request more information about Teramachi Homes.
Mid $500s – Low $700s
Village Court is another 55+ condo community. This one is located in Torrance, just about an hour outside of Los Angeles. The community has 112 condos priced in the mid $500s up to the low $700s. Village Court has plenty of outdoor space for residents who want to soak up the southern California sun.
Request more information about Village Court.
Low $900s – High $1Ms
Sun and sea are what many people come searching for in California, and the 55+ Sol y Mar community delivers. It's located in the coastal city of Rancho Palos Verdes in Los Angeles County. Sol y Mar has an intimate feel with just 60 attached homes starting in the low $900s and going up to the low millions. Residents enjoy easy access to Los Angeles as well as convenient amenities right at home.