If you've ever heard "Margaritaville," the popular Jimmy Buffett song, then you might have an idea of what a Margaritaville lifestyle includes. The lyrics to the song reference beachside living, sunshine, sunbathing tourists, flip-flops, romance, and—you guessed it—margaritas. 
It's not all about the tequila and salt, however. A Margaritaville lifestyle is a state of mind, and for a handful of active adult communities, it's a place that turns into a home.
We're looking at why 55+ communities that embrace the Jimmy Buffett brand and the Margaritaville lifestyle are so popular. Latitude Margaritaville communities can be found in three locations close to the Atlantic surf and the Gulf breezes. There may be more communities coming, but for now, let's take a look at what this lifestyle is all about.
Latitude Margaritaville and Jimmy Buffett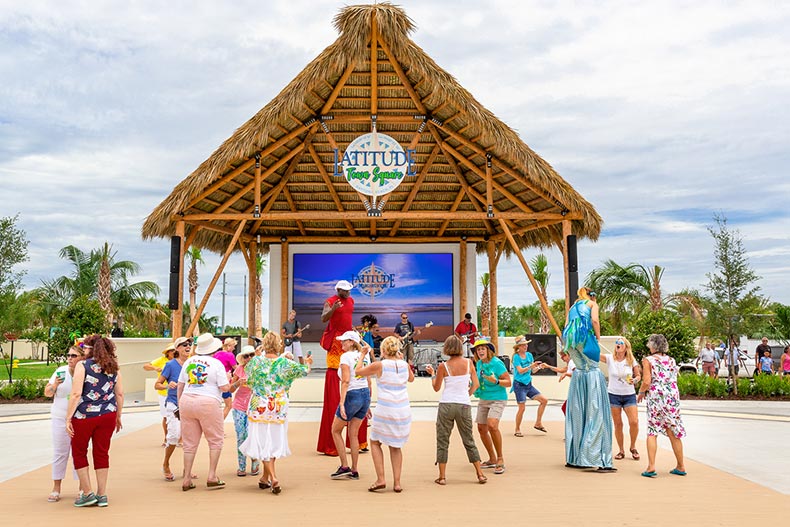 Latitude Margaritaville is a portfolio of 55+ communities developed in partnership with the global lifestyle brand Margaritaville and real estate developer Minto Communities. 
For Buffett fans, there's a bonus: The community isn't just branding for the crooner. Jimmy Buffett actually owns a home in the Latitude Margaritaville Daytona Beach community. Residents have met him, introduced him to their dogs, and enjoyed having his laid-back, creative presence in their community.
Active Adults are All About Amenities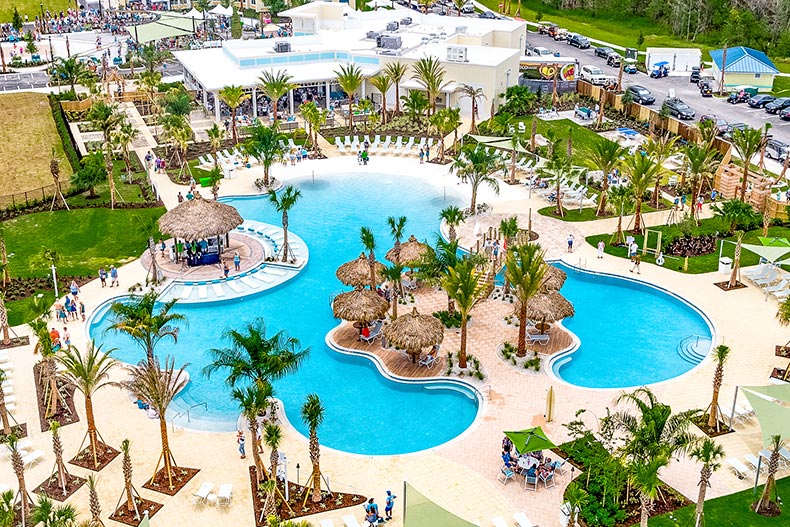 The Margaritaville lifestyle is focused on amenities. What is there to do? At the existing Latitude communities, quite a bit. 
The Town Center includes a restaurant and retail shops. There are theaters, arts and crafts rooms, game rooms, and card rooms. Dog parks and Barkaritaville pet spas are popular amenities for pet owners. Each community has a state-of-the-art fitness center, aerobics room, and indoor pool. Outdoor pools and patios are also available as well as pickleball courts, shuffleboard courts, tennis courts, and walking trails.
In addition to amenities, the Latitude Margaritaville communities provide opportunities for social engagement and activities. There are book clubs, paddleboard clubs, art classes, and concerts. Residents enjoy holiday parties, luncheons, and potluck gatherings. This is all part of the Margaritaville lifestyle. 
At Latitude Margaritaville Hilton Head, there's a poolside bar, tiki huts, and a zero-entry pool with a beach entry. The community in Daytona Beach has a private beach as well as a shuttle that brings residents back and forth. 
Plenty of amenities and activities keep residents busy, but the Margaritaville lifestyle is not always about being busy. There's a relaxing, laid-back atmosphere that reflects the vibe in some of Jimmy Buffett's best songs. 
Home Designs Are Intuitive for Active Adults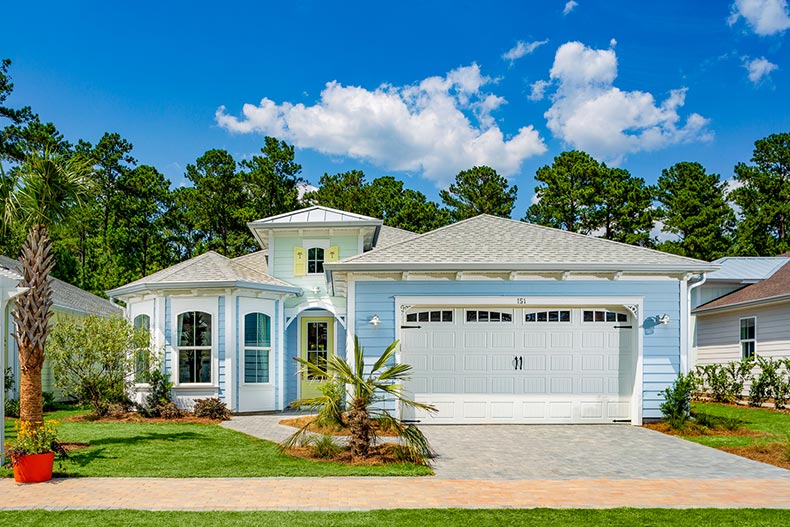 Dozens of models and floor plans are available in Latitude Margaritaville communities, and buyers will have a selection of single-family and attached homes to choose from. Many of them are move-in ready, and some are new construction.
Most homes offer open floor plans, plenty of storage, and private outdoor space, allowing homeowners to enjoy their Margaritaville lifestyle in the privacy of their own homes. Cottages are two bedrooms and two bathrooms with between 1,210 and 1,481 square feet. Some models have a den and most have an attached two-car garage.
Single-family homes are available in the Beach Collection, Caribbean Collection, and Island Collection. These homes range from 1,507 to 2,564 square feet, with two to three bedrooms and two to three-and-a-half bathrooms. Most of these homes have a den or office space as well as a large owner's suite. These homes have an attached two- or three-car garage. 
All homes have updated appliances, wood and tile flooring, and dedicated spaces such as formal dining rooms, breakfast rooms, and kitchen islands. Bedrooms offer walk-in closets, and bathrooms may include double sinks, separate showers, and garden tubs.
Where Are These Margaritaville Communities?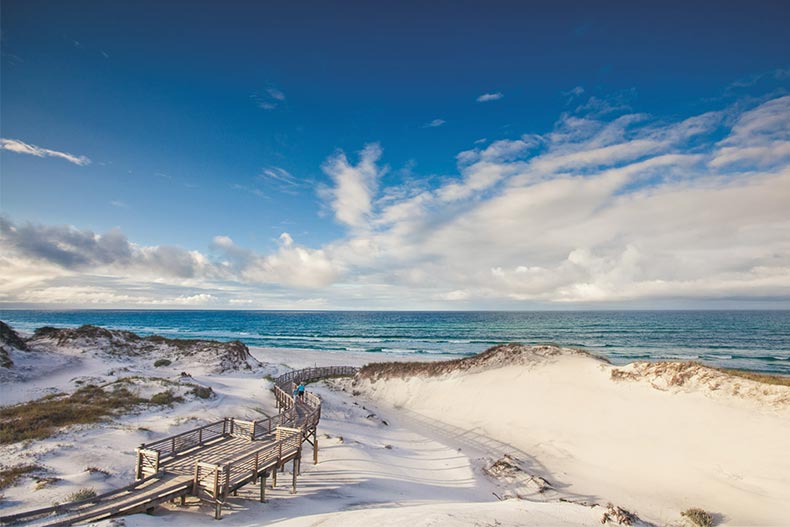 The Margaritaville lifestyle requires a prime location. Here are where active adults can find the fun-filled, beautifully landscaped, and always popular 55+ communities:
Daytona Beach, FL
Latitude Margaritaville Daytona Beach was the original Margaritaville lifestyle community. It's located just a few minutes from the beach, and residents here get their own private beach club. This golf cart-friendly neighborhood is home to 3,900 new and resale homes, and the social scene is constantly abuzz. Golf outings, parties, and fitness classes are always taking place. With the restaurant, pools, and 200,000-square-foot retail center, everything a resident needs is right here within the gated community. 
Daytona Beach offers a myriad of opportunities to enjoy golf, beaching and boating, fishing, hiking, fine dining, arts, and culture. There's the Daytona International Speedway, a boardwalk, and a Museum of Arts and Sciences. Daytona Beach also has its own airport, making travel to and from the community a breeze.
Hardeeville, SC
The Margaritaville lifestyle in Hilton Head includes a sandy lakeside beach area and a huge Town Square area that offers indoor and outdoor entertainment on a weekly basis. The pool area includes cabanas and tiki huts, and there's a business center as well as a workshop. 
Hilton Head is known for its 23 championship golf courses, its enviable, white-sand beaches, and its great restaurants. There's plenty of shopping to be done and lots of kayaking, fishing, and biking in the area. This area is regularly rated as one of the top vacation destinations in the country, and residents here have decided to turn their Margaritaville beach breaks into a permanent lifestyle. There are 3,000 new and resale homes in this gated community.
Panama City Beach, FL
One of the newer communities found in Florida's panhandle is Latitude Margaritaville Watersound. There are 3,500 new construction homes planned, and the community has all the amenities and activities residents expect from a Margaritaville lifestyle. There's an indoor lap pool as well as an indoor whirlpool spa. A marina is coming soon, and the indoor/outdoor bar will serve residents who are relaxing at the restaurant or by the pool. 
Panama City Beach is on Florida's northern Gulf of Mexico coast. It's not as crowded as other parts of Florida, lending a locals-only vibe to the area, even as tourists come and go. Gorgeous turquoise water washes up on white sand beaches, and there are several state parks in the area, including St. Andrews State Park and Camp Helen State Park. Scuba diving is popular as is fishing and boating.
Explore the Margaritaville Lifestyle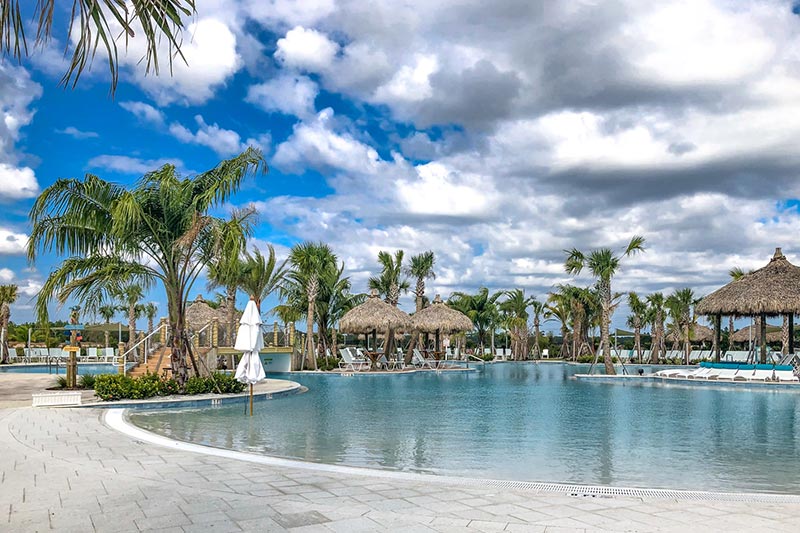 Is the Latitude Margaritaville lifestyle right for you? If there's even a chance that it is, you owe it to yourself to explore that chance. Contact 55places for more information about Latitude Margaritaville communities!