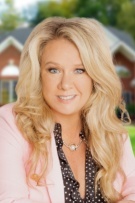 United Real Estate Solutions
Lic. #9312875518 (TN)
Contact Me
Marie understands that buying a home is not only a life-changing experience, but it can also be an emotional one. Marie is dedicated to transforming your idea of a dream home into a reality. Her goal is to provide a personalized service that is as unique as each of her clients. She takes pride in building relationships and working hard to ensure the real estate goals of her clients are achieved.

It is Marie's desire to provide a quality service that is reliable, honest and represents the best of the industry. Buyers and Sellers need a trusted resource to navigate them through the complex world of real estate. With Marie's knowledge and commitment, she will work to provide the best and timely information during her client's real estate experience.

Energetic and Reliable. Those are the two qualities you will experience when you meet and work with Marie Santos. After a successful career in Fitness Training, she decided to combine her passion for assisting others to reach their personal goals with her high level of energy to help others SELL their home and or find their dream home.