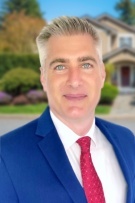 RE/MAX Preferred
Lic. #0893537 (NJ)
Contact Me
Whether you're buying or selling a home, making your move seamless and stress-free is what's most important to Billy. His past clients will tell you that he takes the time to find out your goals and needs so he can navigate you through your transaction, getting you the best deal along the way! He also makes sure you have a full understanding of every step of the process so you can make informed decisions with confidence.

Billy is a Certified Home Buying Advisor, Certified Home Selling Advisor, a member of the National Association of Expert Advisors, a Circle of Excellence recipient, and has received the RE/MAX 100% Club Award. His business is focused in south Jersey, where he was born and raised, and is now raising a family of his own. He stays on top of current market trends and the latest technology, but also values face-to-face time with his clients and knows the importance of consistent communication.

When you work with Billy, you work with only the best. Over the years, he has created relationships with top lenders, home inspectors, and title companies that care for his client like he does, like family. After just one conversation with him you will know that you are in hands you can trust, that you've found an agent who will put you first, and that you can be excited about what's ahead.