Residents at Latitude Margaritaville in Daytona Beach know they've stumbled upon something special. It's one of the most popular 55+ communities on Florida's Atlantic Coast, and the reasons won't surprise you. It's an amenity-rich, perfectly located neighborhood for active adults who enjoy social events, staying healthy, and exploring all the golf courses, beaches, restaurants, and shops available in the Daytona Beach area.
There are a few facts that may surprise you, however. Here are five things you should know about this community—especially if you're looking at homes for sale in Daytona Beach.
1. Jimmy Buffet Is a Neighbor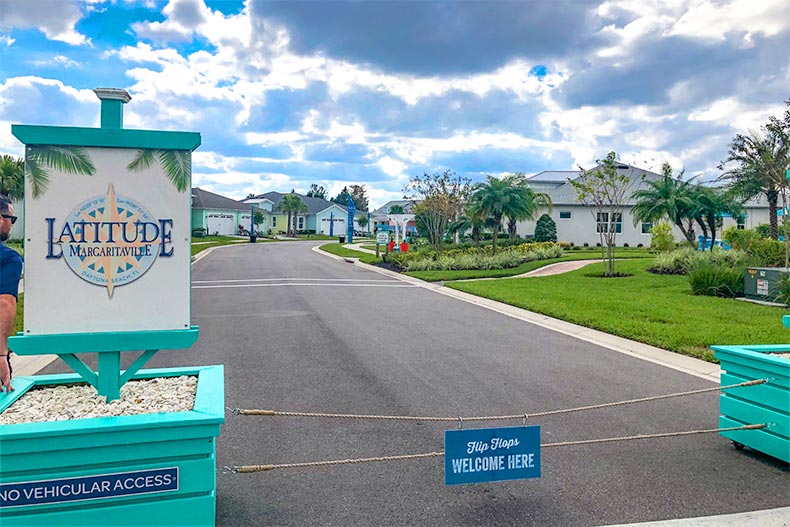 The entire Latitude Margaritaville community is designed with Jimmy Buffett and his lifestyle in mind. Choose your favorite Buffet song, and you'll find something around the neighborhood that makes sense. Love the song "Last Mango in Paris"? You'll enjoy the events and performances at the Last Mango Theater. If you listen to "Coconut Telegraph" on repeat, you'll love checking emails at the Coconut Telegraph Business Center.
But, even better than the associations is the singer and songwriter in flesh and blood. Jimmy Buffet actually owns a home in the community. While his main residence remains New York, residents have met and mingled with the performer, and his house is one of the Bimini models. The Bimini floor plan is part of the Island Collection and has 2,310 square feet, two bedrooms, a den, two-and-a-half bathrooms, and an attached three-car garage.
2. The Beach Club Is Open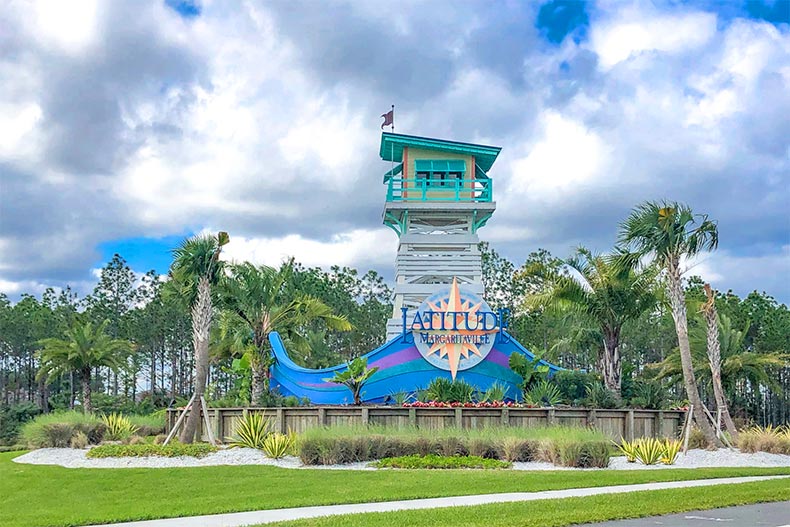 Latitude Margaritaville isn't on the water, but the community provides an easy way for their residents to get to the water. A private shuttle takes homeowners to their own little patch of paradise on the coast. There's no need to worry about traffic or parking; the shuttle operates throughout the day on a continuous loop schedule. Residents can pack a beach bag and go there and back whenever they'd like.
The private beach club is just outside Daytona Beach, 11 miles from the community in Ormond-by-the-Sea. In addition to the beach, the club offers a large swimming pool with a sunny patio and plenty of seating. There's a bar and an open-air pavilion with cabanas. A wheelchair-accessible path leads right to the water, and floats and boogie boards can be reserved for a day or a few hours. Catering is also available at the beach club for parties and special events.
3. We're Up to Phase 6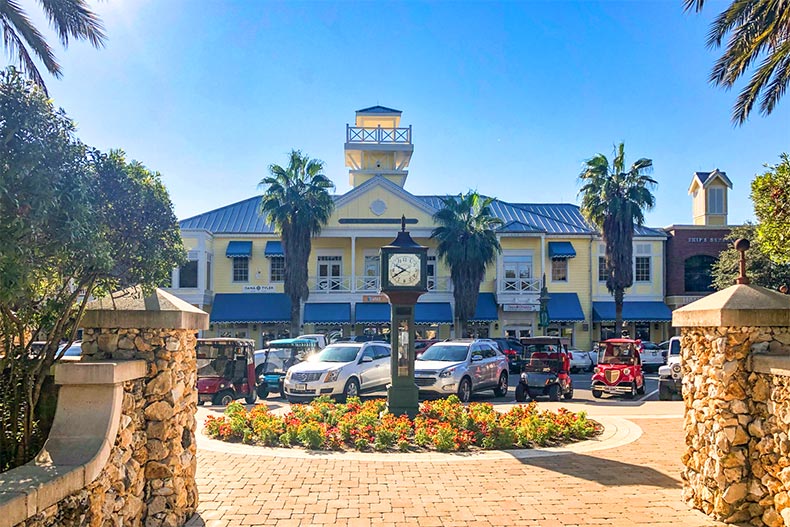 It seems like just yesterday that Minto Communities was asking for permission to expand into Phase 2, which added 3,250 properties to the community for a total of 6,650 single-family and attached homes.
At the end of 2020, developers shared their plans to expand into Phase 6. The sixth phase of development will include 317 new construction single-family homes, and construction is expected to be complete in October of 2021.
Homes have been selling quickly, and there's a lot of demand for both new construction and resale properties within the community. Buyers have a lot of options, and the 600 home sales in 2020 were record-breaking.
4. Grocery Shop on a Golf Cart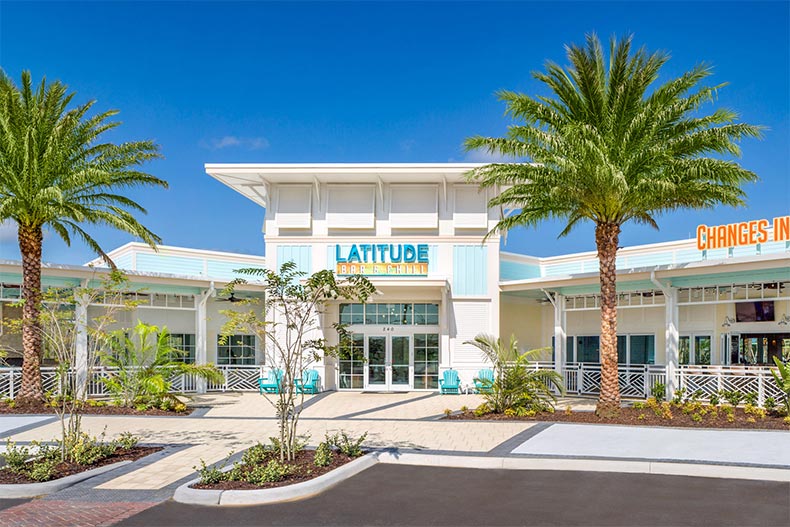 Latitude Margaritaville in Daytona Beach is primarily a residential community, but its mixed-use designation means that retail development is also permitted, even encouraged. For residents, this means convenience.
Just across the street from the community's main entrance is Latitude Landings, a 200,000-square-foot Margaritaville-themed, retail center. There's a Publix, which is golf-cart friendly. When those golf carts need a tune-up, the community also has a golf cart repair center called The Hangar Workshop.
5. Community of the Year in 2018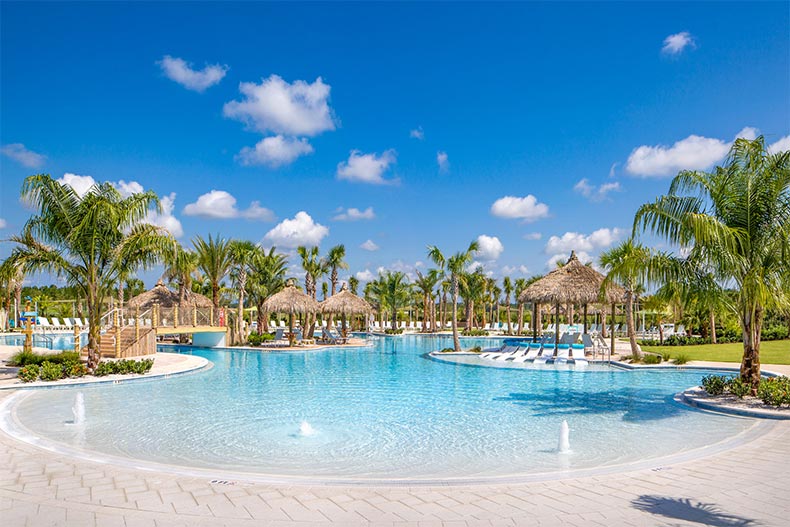 Earning the Community of the Year title from 55places is pretty prestigious, especially when you consider the sheer number of 55+ communities growing throughout the country. Latitude Margaritaville in Daytona Beach won this award in 2018. The community won not only because of its incredible amenities, diverse collections of single-family homes and attached villas, and enviable location under the Florida sun; it also won because of its attention to the needs and desires of active adult homebuyers.
With a lifestyle focus that embraces making new friends, focusing on new passions, and living the best possible life, Latitude Margaritaville changed what a 55+ community looks like and offers.
This was not the only award Latitude Margaritaville won in 2018. They were also awarded the Community of the Year award from the Private Communities Registry (PCR). The formal presentation was made at the annual International Builders Show (IBS) in Las Vegas during their February 2019 convention.