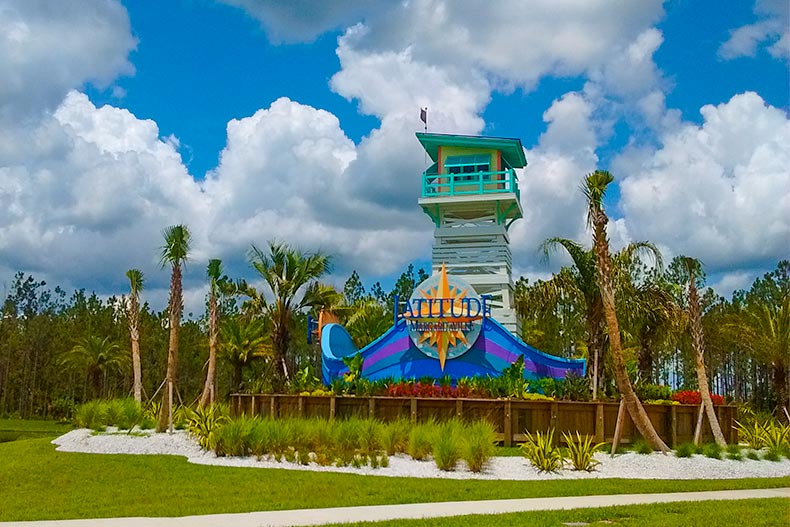 It's been more than a year-and-a-half since Margaritaville Holdings and Minto Communities announced a new line of active adult communities inspired by the music and lifestyle of singer and songwriter Jimmy Buffett but the excitement has yet to dissipate. Not only has Latitude Margaritaville Daytona Beach been the most popular community on 55places.com since then and it remains the most-visited community page on the site.
No wonder Latitude Margaritaville Hilton Head has also been a success, Latitude Margaritaville Watersound is in development on Florida's Panhandle, and as many as ten more Latitude active adult communities could be on their way around the country.
The original Daytona Beach location remains the one people are most interested in. So we thought it would be a good time to check back in and share some details that you might know be aware of when it comes to America's most popular active adult community.
1. Ethan Allen Themed Packages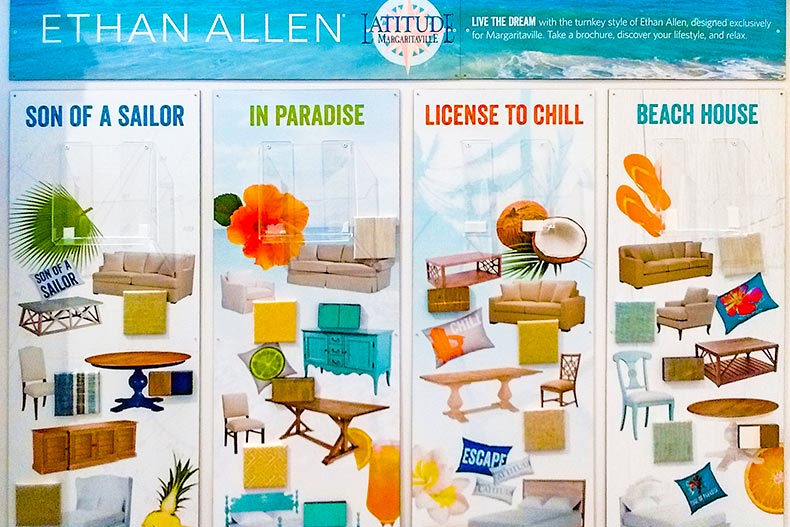 Latitude partnered with furniture company Ethan Allen on four distinct design packages.
When you arrive at the Latitude Margaritaville sales center you're greeted with options. Fixture options. Flooring options. Tile options. Cabinetry options. Seriously, it's a lot of options. But they also make things a bit easier for you by partnering with furniture company Ethan Allen on four distinct design packages that give whichever residence you pick the style you want.
The four themes include Beach House (weathered finishes, seashell tones, cottage-style furniture), License to Chill (natural textures, warm wood finishes, rustic wood tables, and colorful pillows), Son of a Sailor (warm blue colors, hand-tailored upholstered beds and seats, textural twills, and chic cotton), and In Paradise (white and wood finishes, colorful accent pieces, seaside cottage styles).
2. Amenities On Schedule
Latitude Margaritaville has an impressive collection of amenities, most of which is currently under construction. The Latitude Town Square, Fins Up! Fitness Center, Last Mango Theater, Workin' N' Playin' Center, Latitude Bar & Chill Restaurant, and Paradise Pool are all expected to be completed by early 2019. But wasn't there supposed to be a beach club, too?
You might be surprised to learn Latitude Margaritaville is actually about five miles from the beach. However, don't let that fact put you off as the developer has purchased a spot in Ormond Beach for a private beach club. When it's eventually built, a shuttle will run throughout the day to bring residents back and forth. Construction on the beach club doesn't have a timeline yet but there will be plenty for residents to do inside the community in the meantime.
3. What Are the HOA Fees?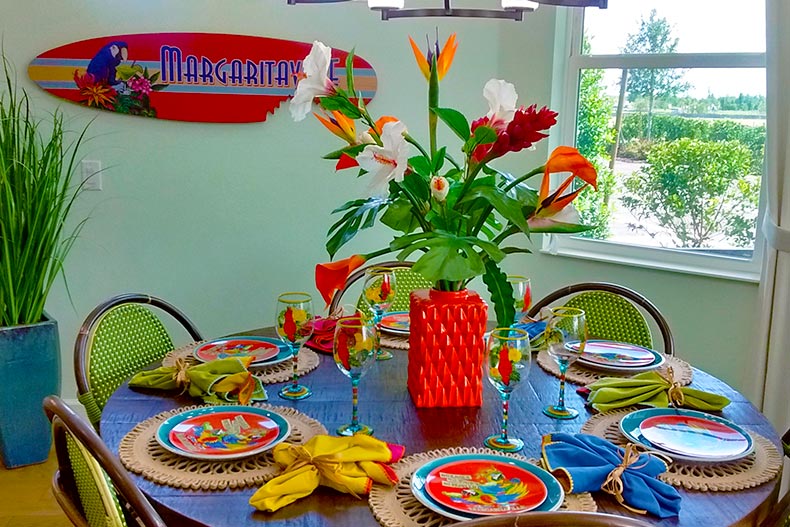 One of the most popular questions we see at 55places.com is certainly relevant here as well. We know that prices for new homes here range between the low $200s and mid $300s, but what are the monthly homeowner association costs to consider?
Monthly HOA fees here range between $194 to $223 for 2018 but are expected to rise as the amenities and further community construction is completed in 2019, reaching $260 to $289. Those fees will not only allow for full access to all community amenities but also cover yard maintenance on all residences. As always, double check with your local agent on specifics as these numbers have a tendency to change.
4. Shopper's Paradise
There's obviously a lot of talk about the laidback lifestyle that comes with life at Latitude Margaritaville but there might not be enough talk about all of the shopping opportunities that will present themselves to residents in the coming years.
The community is already just down the road from Tanger Outlets, a massive retail center full of national brands. The 200,000-square-foot Latitude Landings retail center will be opening just outside the Margaritaville community anchored by Publix. Meanwhile, a 400,000 square-foot "power lifestyle" retail center at Tomoka Town Center, just east of Interstate 95, will be completed soon. And don't forget The Trails Shopping Center, the 135,286-square-foot center at the east entrance to The Trails neighborhood in Ormond Beach.
5. You Might Actually Live Next to Jimmy Buffett
A cynic would assume that Margaritaville is simply a way for Jimmy Buffett to attached his name without actually being involved in the community. Well, the cynic would be surprised to learn that Jimmy himself has a home in Latitude Margaritaville. He even stopped by unannounced to meet with some of his new neighbors recently.
No word on which design package Jimmy went with, but if we had to guess we'd say the Son of a Sailor style. Of course, Jimmy spends much of the year on the road and has a few other homes around the world, but you never quite know when he'll be back in town.