There's more good news for Latitude Margaritaville residents and their guests: They now have their own private beach club.
The long-awaited amenity is available at last, providing homeowners at the 55+ community with access to the Atlantic Ocean's sun, sand, and surf. There's also a 2,381-square-foot outdoor pavilion that offers shaded seating, a tiki bar, a restroom, and changing facilities. Residents will find a large resort-style pool at their private beach club, with cabanas and lounging areas.
Opening at the end of January, the private beach club is the latest amenity at the popular community that promises active adult living and endless social opportunities. Latitude Margaritaville in Daytona Beach has been developed by Minto Communities, and it's one of the hottest selling 55+ communities in Volusia County and throughout Florida.
Exploring the Latitude Margaritaville Beach Club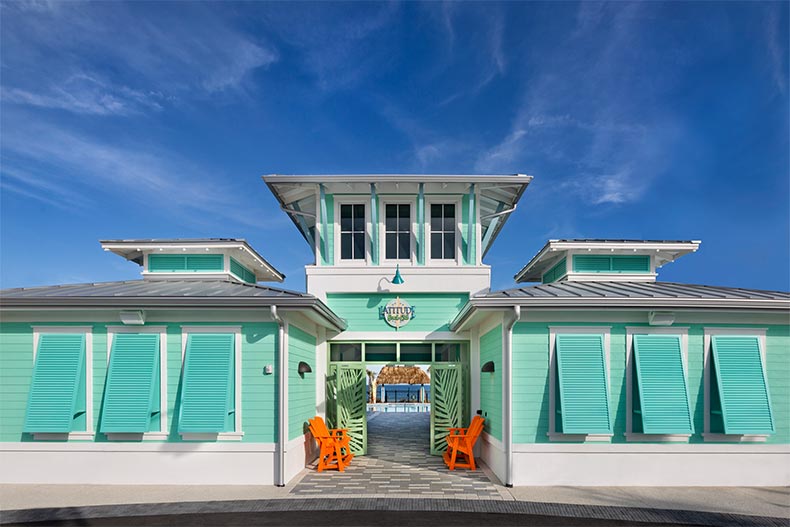 Latitude Margaritaville's desirable Daytona Beach location provides a perfect spot for a private oasis along the Atlantic Coast. It fits the Jimmy Buffet theme as well as the desire for residents to enjoy active, outdoor amenities that are part of the community but not necessarily inside the neighborhood.
There's no need to worry about traffic or parking; a private shuttle brings residents back and forth from the community to the beach club. It operates on a continuous loop, providing flexibility for anyone who wants to come and go throughout the day. The community is about 11 miles from the beach club.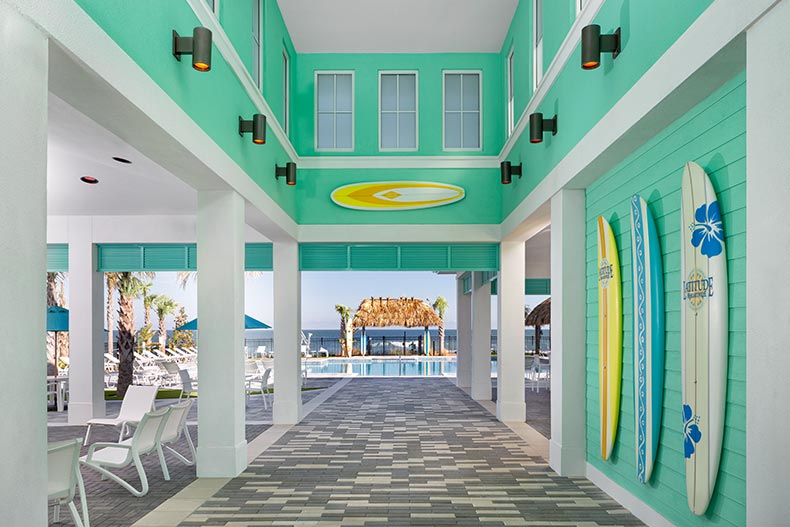 The beach club is on Ocean Shore Boulevard, outside Daytona Beach in Ormond-by-the-Sea. The club embraces a tropical theme, with coastal styles in the architecture, furniture, and design. The open-air pavilion includes covered seating, complimentary cabanas, and catering for parties and special events. Teak and cloth beach chairs are available to residents and they can reserve water toys such as floats and boards in advance.
Residents and their guests can enjoy swimming, sunbathing, playing beach volleyball or tossing a frisbee, and relaxing at the bar. A wheelchair-accessible path is provided, leading from the beach club to the public beach behind it. There's also a 24/7 security system.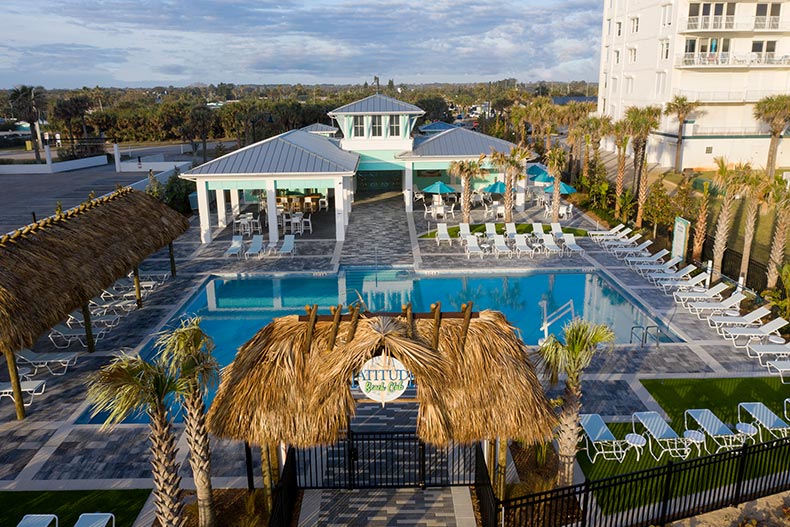 The Latitude Margaritaville Beach Club is on the site of the former Oceanic Motel on A1A, which opened in 1952 but had been deteriorating for years.
In a statement, Minto's Latitude Margaritaville Division President William Bullock said:
"With the opening of the Beach Club, along with Latitude Margaritaville's many other resort-style amenities, our residents have the ultimate range of world-class amenities available to them. The Beach Club is a unique amenity and a major addition to the 'on vacation' lifestyle found at Latitude Margaritaville Daytona Beach."
Additional Amenities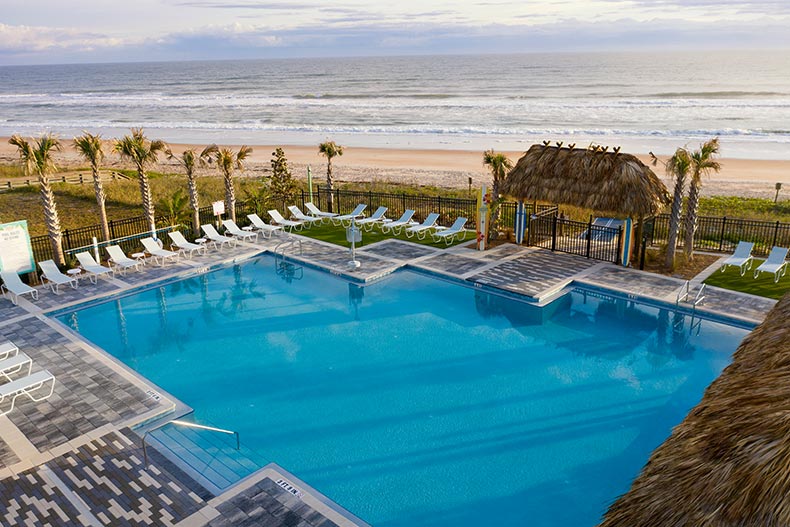 The Beach Club is one of many unique amenities offered at Latitude Margaritaville Daytona Beach. Residents enjoy the Latitude Town Center, which showcases a bandshell and a full-size concert stage. There's also a big screen to show live concerts and movies and a Town Square for dancing.
Homeowners get their workouts in and take group fitness classes at the state-of-the-art Fins Up! Fitness Center. Outside, there's the Paradise Pool with a beach-style entry and a swim-up Tiki Island.
The community offers a number of dining options at restaurants such as Latitude Bar & Chill and Changes in Attitude Bar, which offers poolside drinks and dining. There are tennis courts, pickleball courts, and walking trails. The pet-friendly neighborhood also includes a pet spa and the Barkaritaville Dog Park.
The amenities in Phase Two, which are currently under construction, include the Workin' N' Playin' Center where residents can enjoy an arts and crafts space and special programs and classes. There's also the Coconut Telegraph Business Center and Last Mango Theater, which is meant to be used for shows, dances, and special events. The Hangar workshop will provide maintenance and garage space for residents with golf carts.
Latitude Margaritaville Homes for Sale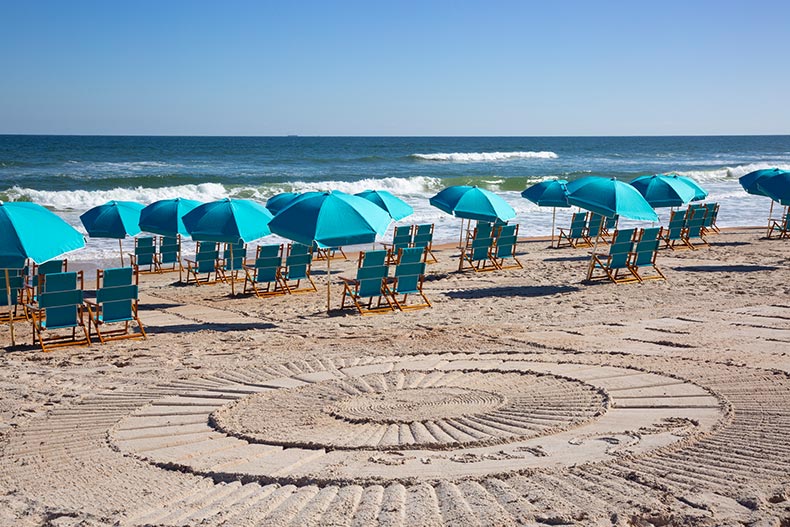 New construction and move-in ready homes are available in single-family and attached models. Dozens of floor plans ranging from 1,204 to 2,545 square feet are available. Plans call for a total of 3,900 homes once construction is complete. Prices start in the low $200s.
Request more information about Latitude Margaritaville in Daytona Beach.