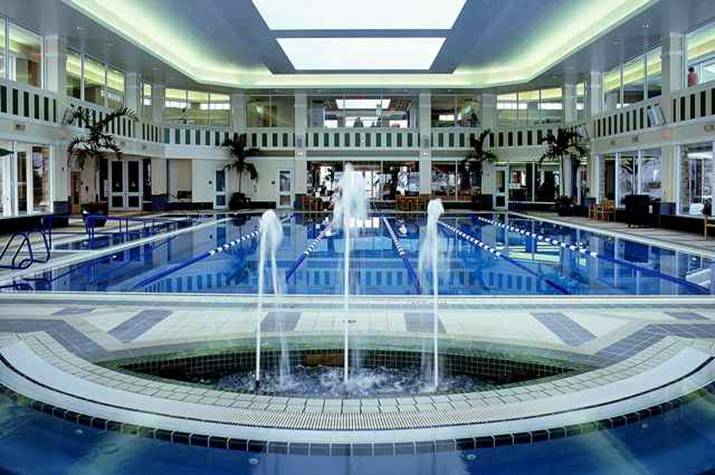 Swimming is a great low-impact exercise for those of nearly any fitness level. Swimming burns calories, builds muscle, increases cardiovascular endurance, and improves flexibility. Swimming is also relaxing and fun. It's no wonder that many active adult communities include lap pools or resort-style pool and spa areas.
The Health Benefits of Swimming
There are many health benefits associated with swimming. Unlike some other activities which focus on one element of fitness, swimming provides a challenging workout that exercises the whole body. It is a low-impact activity, as the buoyancy of the water reduces stress on the body. Yet, the water also adds 12 to 14 percent more resistance than air, which means that moving against the water's resistance helps to quickly build muscles and burn calories.
While swimming pools are a great place to exercise, they also offer a popular spot to relax with friends and cool off when the weather is hot. Active adult communities often feature indoor or outdoor swimming pools and may include both.
Four Seasons at Great Notch in New Jersey, for example, even offers an indoor swimming pool with a retractable glass roof. Some of the terms used to describe the swimming pools at active adult communities can be confusing. Here's what they mean.
Olympic-Size Swimming Pools
Olympic-size swimming pools are, as the name implies, the same size as those used in the Olympic Games. To be designated Olympic-size, a swimming pool should be 50 meters (164 feet) long by 25 meters (82 feet) wide.
Some active adult communities, as well as many hotels and resorts, list "Olympic style" or "junior Olympic" swimming pools among their amenities. These are usually large, rectangular pools that can easily be divided into lap lanes. However, they are generally smaller than a true Olympic-size pool.
Resort-Style Swimming Pools
Active adult communities are also frequently described as having "resort-style" swimming pools. This can refer to swimming pools of nearly any shape or size, as the distinction is generally used to show that the pool is designed more for leisure than lap swimming. Resort-style swimming pools can have curved edges, wide steps, decorative islands, or any number of design elements. Their surroundings often include spas, sundecks, and lounge furniture.
Heritage Bay in Naples, Florida, features an outdoor resort-style pool and spa area complete with its own Tiki bar.
Some Communities With Swimming Pools
Many active adult communities—such as Carolina Preserve in North Carolina, Frisco Lakes by Del Webb in Texas, and Sun City Shadow Hills in California—include both lap pools and resort-style pools. Other communities, such as Valencia Shores in Lake Worth, Florida, even offer fitness in the form of a resistance pool. Also known as "current pools", resistance pools give swimmers a harder workout as they swim against the constant current.
Whether used for fitness or for fun, swimming pools have proved to be a popular amenity at active adult communities. When visiting a prospective community, be sure to stop by the swimming pool, where you may just meet a few friendly resident swimmers.