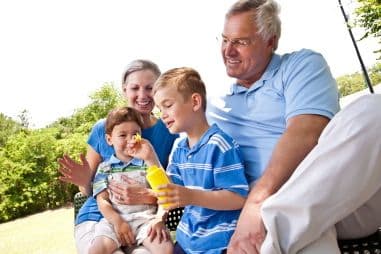 One of the first questions potential homebuyers ask about active adult communities is, "Will my grandkids be allowed to visit me?" They are relieved to learn that the answer is a resounding "yes." Even in age-restricted communities, kids are welcome to visit as long as they follow the community rules and don't become permanent residents.
Misconceptions About Kids in 55+ Communities
There are some misconceptions about active adult communities, particularly when it comes to age restrictions. Many active adults choose age-restricted communities because they want to live among their peers. They may prefer living on a street that isn't lined with playing children or frequented by teenaged drivers. But that doesn't necessarily mean that they dislike kids or want to ban them from the community entirely.
Residents at age-restricted communities are often grandparents themselves or they may have close friends with young children. They typically welcome a chance to meet their neighbors' visiting family and friends, including kids of all ages. In fact, many active adult communities include playgrounds to entertain young visitors. Some active adult communities offer other special amenities as well, such as the grandchildren's pool at PebbleCreek in Goodyear, Arizona.
While age-restricted communities are designed for active adults, there are amenities which will appeal to kids. Visiting grandkids often enjoy activities like catch-and-release fishing in communities which have stocked lakes, swimming in resort-style pools, bringing a pet to the dog park or trying out some crafts in a community art studio. Some golf communities even have junior programs for young golfers.
Problems with Visiting Children
In general, problems with visiting kids only arise when they don't follow the community rules, which may include limitations on the length of an extended visit. These rules are in place to support the rights of all of the community's residents, not to make it difficult for grandparents to spend time with their young visitors.
At age-restricted communities, limitations are typically put on visitors under the age of 19, but that age can be different from one community to the next. The length of time that kids are allowed to visit can also vary, but it's common for kids to be limited to visiting no more than 30 to 90 days out of the year.
It's likely that there will be rules regarding how or when visiting kids can use the community amenities, such as swimming pools or sports courts. They may only be allowed during certain hours or on certain days, and they typically must be accompanied by an adult. This is both for the safety of the kids, and for the comfort of the other residents who are using the facilities.
Before kids come to visit, it's important that residents understand the rules for young visitors. Respecting these rules is the best way to be a good neighbor, avoid unnecessary problems, and ensure that your grandkids will be welcome to visit again.