Living in an age-restricted community is often new to active adults moving into a 55+ neighborhood. There are plenty of benefits to living exclusively among your generational peers, and also perhaps a few challenges.
Let's take a look at what it means to live in an age-restricted community, and whether it's important enough to you as you begin or continue your search for a new home.
What Are Age-Restricted Communities?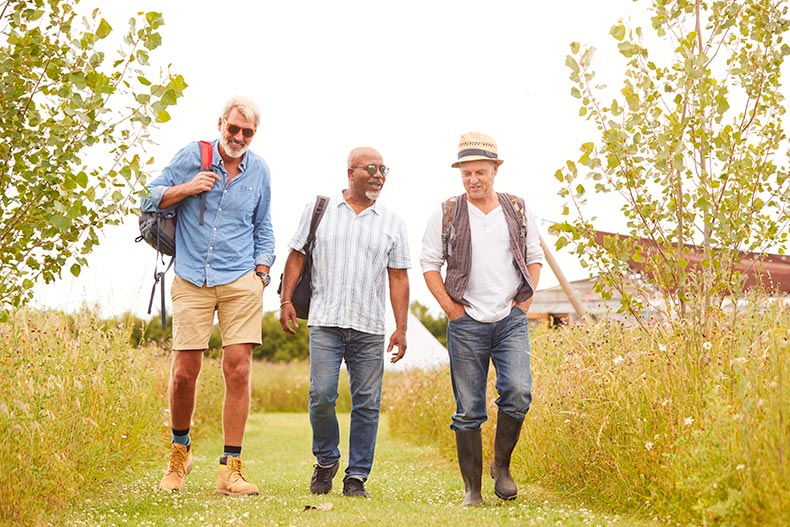 When it comes to buying, renting, and even taking out a mortgage, federal fair housing laws are pretty strict about not discriminating against residents because of age. So, how do age-restricted communities even exist? 
An age-restricted community is specifically created for adults who are 55 years of age or older. You may find some communities that target residents who are 62 years of age or older. The standard, however, for these types of communities, is 55 years old. 
The United States Department of Housing and Urban Development (HUD) included language in the fair housing laws that protects this type of age-specific community, building, or neighborhood. 
This type of community attracts couples, families, and individuals who want to live in a neighborhood that's predominantly populated by adult residents. It doesn't mean that every single person living there will be 55 years of age or older. The Fair Housing Act allows younger people to live in a home where there's at least one resident who meets the 55-years-of-age threshold. 
These communities offer a diverse assortment of housing. Some are condo communities and others are residential neighborhoods with single-family homes. Some such neighborhoods offer a mix of homes, townhomes, villas, condos, and even mobile homes. 
Most age-restricted communities focus on lifestyle. There are often clubhouses, swimming pools, sports courts, and other facilities that foster a sense of community and participation. Clubs are formed and activities are planned. Some communities will even have a lifestyle director or an activities director to help with organizing and scheduling. 
An age-restricted community is different from an age-targeted community. An age-targeted community will often market their homes and their neighborhoods to active adults who are at or nearing retirement, but there won't be a specific requirement that says residents must be a certain age. 
Age-restricted communities are also not a place where people go for onsite care or help with medical needs and household chores. Those are often assisted living facilities or retirement communities that offer continuing care.
Who Can Live in a 55+ Community?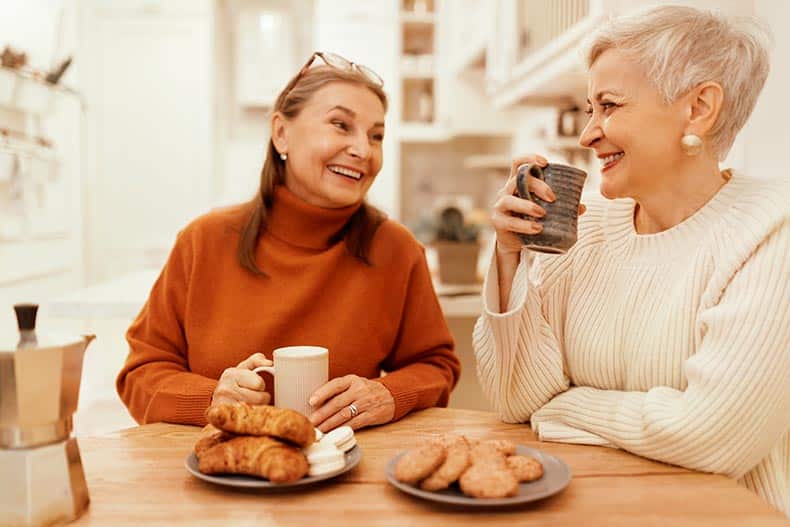 You may be wondering who can live in a 55+ community. 
According to the Fair Housing Act, at least one resident must be 55 years of age or older for a household to exist within a 55+ community. If, for example, you are 58 years old and your spouse is only 45 years old, you can live in a 55+ community. An adult child who is moving in with you would also be permitted within the community.
No one under the age of 19 can be a permanent resident of an age-restricted community. 
It's also important to understand that each community will have its own standards and requirements. At least 80% of the entire community needs to have at least one resident 55 years of age or older in a household in order to meet the legal definition of an age-restricted community. The community you want to move into may have its own bylaws or HOA rules and regulations. Spend some time investigating those before you make plans to live with other people who don't meet the age threshold.
Pros of Living in an Age-Restricted Community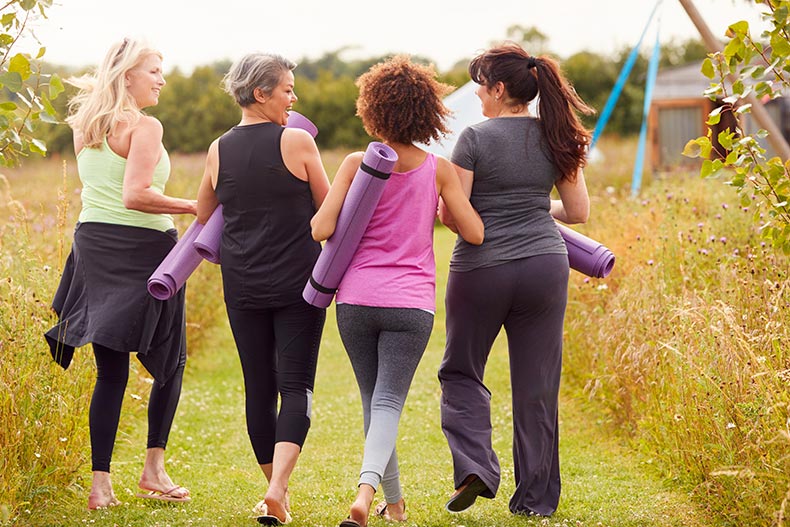 For many people, living in such a community feels comfortable. The neighbors are close to the same age, and there are a number of similar interests and desires. 
If you're specifically looking for a 55+ community as you're planning a move or nearing retirement, here are some of the advantages to buying a home in an age-restricted neighborhood.
If you're planning to downsize from a larger home into a condo or even a smaller single-family home, age-restricted communities can give you back a lot of your time. Many of these communities offer low-maintenance living, which means you won't have to spend your time shoveling snow, mowing the grass, or watering the lawn. 
Typically, such household chores are part of an HOA fee. You can even lock up your home and leave for long trips without worrying about who will fetch the mail or water the plants outside. You can count on low-maintenance living that complements rather than interferes with your active lifestyle.
Enjoy an Active Lifestyle
If you're 55 years of age or older, you might be thinking about exploring new hobbies and passions. Or, you might finally have the time to dive deeper into those things you've always loved to do. Age-restricted communities offer a number of opportunities for physical and social engagement that you simply won't find outside of these neighborhoods. 
For residents with a competitive streak, there are usually sporting events. Imagine softball games, bowling tournaments, and fishing derbies. Exercise classes abound as well. Yoga and dance classes are often available. You can join a tennis club or a golfing group. 
We have explored 55+ communities with wine tastings, cooking demonstrations, language classes, book clubs, and prayer groups. There are sewing circles, woodworking clubs, and even outings to local malls, concert halls, and restaurants. 
Every community will have its own vibe and its own social calendar. There's rarely any pressure; residents are invited to participate as much or as little as they want. If you're looking for a way to stay active and social, however, your community can certainly help you.
Some residents describe the available amenities in an age-restricted community as similar to those found in a "country club." You'll find a lot of the amenities described as akin to resort living. 
Many of the amenities you can expect to find in 55+ communities include clubhouses, fitness centers or gyms, indoor and outdoor pools, spas and hot tubs, shuffleboard and pickleball courts, tennis courts, and bocce courts. You might have beach volleyball available or a putting green. 
Some 55+ neighborhoods are built on or around a golf course. Others are on a body of water and provide fishing piers and boat launches.
Living Near Like-Minded Neighbors
We cannot always choose our neighbors. In an age-restricted community, however, you'll know a little something about your neighbors before you move in. You'll know that they're in the same age group. You'll also know that like you, they had a lot of choices when it came to where to live, and they chose this particular community. Probably for the same reasons you did. 
This can be an extra layer of security for a lot of residents. You have a good idea about who you're living near. There's not going to be a fraternity house throwing wild parties next door.
Homes are Designed for 55+ Homeowners
What are you looking for in your next home? 
Maybe you want to cook a bit more, so a gourmet kitchen is important. Perhaps stairs are a thing of the past for you, and single-level living is a priority. You might be looking for a garden tub in the primary bathroom or a screened outdoor patio for your morning coffee. Smart home technology might be a priority for you and your laid-back lifestyle. 
Developers of 55+ communities know their market. They know who their ideal homeowners are, and they're designing intuitive floor plans that meet your needs. It's nice not to have to plan on major renovations before you even close the deal. 
You can expect safety to be a priority when you buy a home in a 55+ community. Many neighborhoods will be gated. Some will have staffed security at the community entrance. It's a great way to feel safe, especially if you tend to travel and you'll be leaving your home for weeks or even months at a time. Age-restricted communities are popular among part-time residents in some parts of the country, particularly Florida. This is a major consideration when communities are being planned for safety and security.
Healthy Living Opportunities
Some 55+ communities offer opportunities to get or stay healthy. From fitness centers to exercise classes to spas and salons onsite, there are many options for residents who are focusing on their physical, mental, and emotional health. You'll find a lot of age-restricted communities offer bike paths and walking trails. The landscaping is intended to provide a pleasant place to get some exercise and fresh air. 
Community is healthy. Having a sense of belonging will help you settle into your new home and make new friends. That's great for longevity and awareness. 
Many residents moving into 55+ communities have raised their children. They've enjoyed a successful career. They may be shuffling their life's priorities. 
Does this sound like you? If so, it might be time to downsize. You can find a community that allows you to downsize in both space and maintenance. Maybe you'll still want to entertain, so you need outdoor space and an extra bedroom. Or, perhaps you're simplifying your life as much as possible and the one-bedroom, one-bathroom condo in an age-restricted community is exactly what you're looking for when you buy your next home.
The age-restricted communities you're looking at are likely more affordable than the housing you find outside of 55+ neighborhoods. You'll need to factor in HOA fees, but you can get a good deal on both new construction and resale homes. This is especially true when you think beyond the price point and consider the value you're getting. You don't need your own pool because there are community pools. The landscaping may be included. You can cancel your gym membership and use the fitness center that's available to you.
Cons of Living in an Age-Restricted Community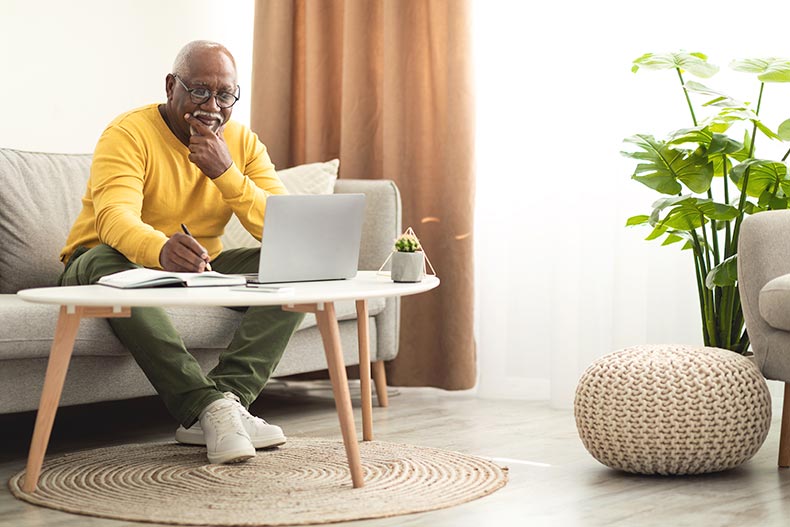 There are plenty of perks to living in an age-restricted community. What about the downsides, though? What should you prepare to endure rather than enjoy?
Okay, so it's exciting that you won't have to rake those leaves or shovel the snow off your walkway or keep your grass at exactly the right shade of green. You'll have a lot of this taken care of for you. 
But, at what cost? 
You'll need to budget for HOA fees. Nearly every 55+ community will be governed by an HOA or a community association of some sort. That's going to mean a monthly, quarterly, or annual payment to cover the dues. That's on top of any membership fees you may be paying for golf privileges if you're living in a golf course community with age restrictions. 
Not everyone loves the HOA fee. Here's the reality, however: More and more homes are in associations, even outside of age-restricted neighborhoods. There's a strong chance that you'll be paying association fees wherever you move next.
What if you want the grandkids to spend the summer with you? 
A lot of age-restricted communities will have restrictions on how many visitors you're allowed and how long they're permitted to stay. You'll want to study these rules and regulations before you buy. If you enjoy hosting holiday celebrations for weeks at a time, you might run into trouble with your HOA.
Does This Mean Less Diversity?
Of course, there are benefits to living among people in your own age group. But, are you missing out on what a younger population can bring to your quality of life? 
Maybe yes, maybe no. Everyone has different opinions on this. If you enjoy being surrounded by young children, and you find yourself energized by younger people, you might not be well-suited for an age-restricted community. You'll still encounter people outside of your own age range, but those meet-ups won't be as frequent or as organic. Decide whether that's okay with you. 
If you're not sure, consider a master-planned community where part of the neighborhood is age-restricted and other parts of the neighborhood are not. You're likely to run into a diverse collection of neighbors in the clubhouse, fitness center, and other communal spaces.
As we said earlier, age-restricted communities are not the same as retirement communities. They're not the same as assisted living facilities. If you or someone you're living with needs a lot of medical care, you might want to look for something different. These 55+ communities are ideal for those who can live independently. 
Many of them are close to world-class medical facilities and hospitals. However, you won't have any kind of care or support on-site.
How Do I Know if an Age-Restricted Community is Right for Me?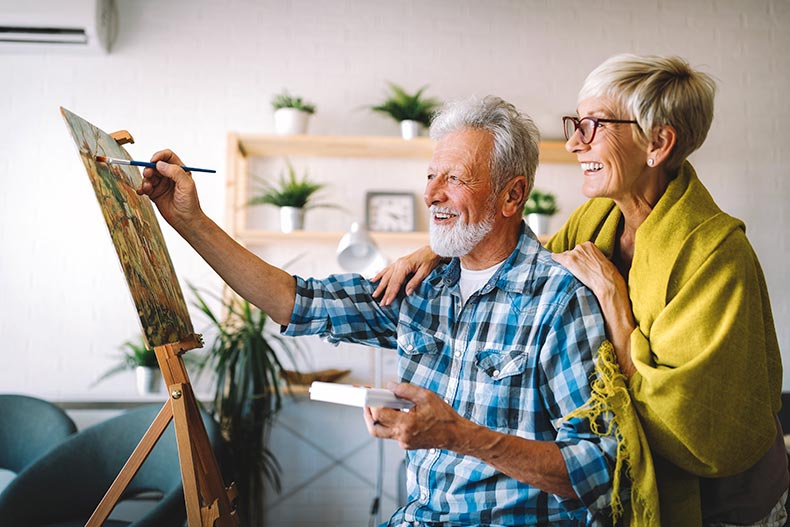 Buying a new home is known to be a bit stressful and also a lot of fun. 
As you decide on what you want for the next chapter of your life, you'll need to consider whether it includes an age-restricted community. It makes sense for you if you're intrigued by the idea of living among people who find themselves at the same stage of life as you. It's also probably right for you if you're looking for amenities, activities, and an opportunity to be more social. 
On the other hand, this type of community may not be ideal for you if you prefer to live somewhere more remote, without the sense of community or the specific demographics that neighborhoods like these are known to provide. 
The best thing you can do is explore some of these communities on your own. Take a look at how they're set up. Evaluate the amenities and lifestyle options that they have available. Compare costs. Take some tours and talk to residents. Attend an event at a community near to you. 
As you begin to explore your options, you'll get an idea of how important the 55+ age restriction is to you. Perhaps it makes perfect sense. Or, maybe it makes you nervous. 
Provide yourself with all of the information and resources you can find as you make your decision. When you move, you have to decide where you want to live, what type of property you're looking to buy, and what you'll need to be happy. If the 55+ age restriction is a big part of that happiness, you have a lot of options across the country. 
We can help with resources and support. Contact 55places to find your dream home in a 55+ community.