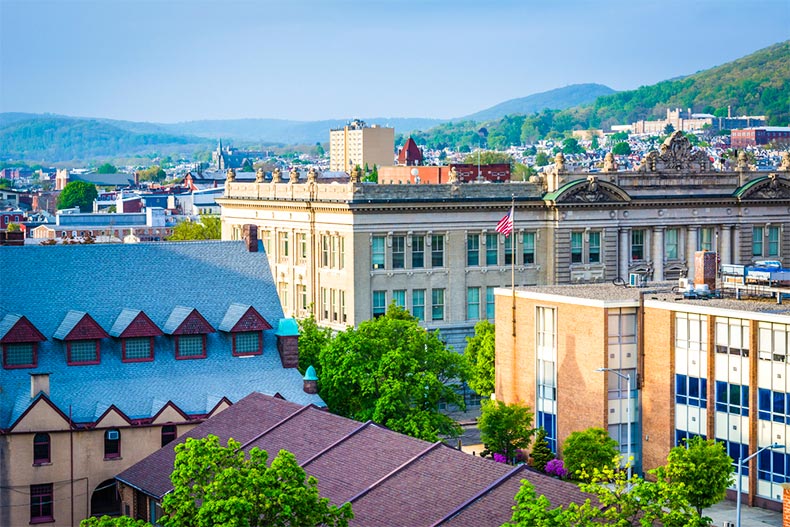 In case you're not familiar with Reading, Pennsylvania, it's located in Pennsylvania's Berks County, about 60 miles northwest of Philadelphia and a 45-minute drive from either Lancaster or Allentown. It has a population of around 90,000, and it's the fifth-largest city in the state.
Those are the basics, but what about this area makes it attractive for active adults? To begin with, Reading area real estate is affordable and near cities that offer top medical care, shopping, and services, along with indoor and outdoor leisure activities. Referred to as "Pennsylvania's Americana Region," this part of the state is big on Dutch Heritage, with museums, farmers markets, antiques, and festivals.
Those who enjoy outdoor adventures can go bird-watching at Hawk Mountain Sanctuary or go boating at Blue Marsh Lake. Also, nearby Kutztown has a charming main street, and it's home to Kutztown University.
Reading is practically surrounded by golf courses, including Willow Hollow and Flying Hills. Two other top destinations are the Fairgrounds and the VF Outlets shopping center in Wyomissing. The downtown area also has renowned restaurants like Judy's on Cherry and top medical facilities like Reading Hospital Tower Health.
This part of Pennsylvania is gaining popularity with active adults, and it's an excellent choice for retirees.
Douglass Village - Douglassville
The Pottstown suburb of Douglassville is a quiet community, and it's home to Douglass Village, an intimate active adult neighborhood that will have 142 new and resale single-family homes upon completion by Douglass Village LLC.
These beautifully designed homes come in eight models, ranging from 1,238 to 1,640 square feet, with two or three bedrooms, two bathrooms, deluxe master suites, and attached one-or two-car garages. They are Energy Star certified homes with gourmet kitchens and designer light fixtures.
Douglass Village's community clubhouse is replete with a lounge, a catering kitchen and dining area, a heated outdoor pool, an exercise room, and a game room. There are also walking trails and abundant natural space on the grounds. The Schuylkill River waterfront is less than a mile away, and nearby historic Boyertown makes for a great day trip.
Lilyfield - Sinking Spring
Active adult homebuyers get a lot of value for their investments at Lilyfield, a tight-knit neighborhood of 92 resale single-family homes. It was built between 2005 and 2007 by Grande Construction, about eight miles outside of Reading.
There are four models, sized from 1,400 to 2,100 square feet, with two to three bedrooms and bathrooms, large first-floor master suites, and attached two-car garages. Some of these charming homes also include basements or extra attic space.
The private clubhouse has a catering kitchen, gathering room, and outdoor patio, making it the perfect place for group meetings, parties, or just relaxing. The property also boasts parks and natural space, a gazebo, a pond, and walking trails.
Sinking Spring is just 11 miles outside of Reading, so driving to the Berkshire Mall, running errands at Walmart, or visiting the Reading Public Museum is a piece of cake. Artsy types also like visiting Goggleworks, a repurposed historic industrial building that offers art classes, programs, and exhibits.
Meadow View Farms - Oley
One of the best things about Meadow View Farms is its small size, which makes getting to know your neighbors easier. Judd Builders broke ground on this property in 2009, and it will have 117 new and resale single-family homes upon completion.
There are six floor plans, ranging from 1,561 to 2,434 square feet, with two to three bedrooms and bathrooms, first-floor master suites, and attached two-car garages. Options like dens, breakfast nooks, tray ceilings, and decks make these appealing homes spacious and comfortable.
The Meadow View Farms Community Center is a private clubhouse, with its own business center, an exercise facility, and a relaxing great room with a fireplace. Oley is about eight miles east of Reading, and its downtown area has great small-town appeal, with a grocery store, bank, deli, coffee shop, and church. Locals often put on their hiking shoes or grab their bikes and head over to the beautiful Stonecliffe Recreation Area and the Union Canal Trail for outdoor adventures.
The Village at Maidencreek in Blandon
Last but not least (and priced right) is The Village at Maidencreek, a gated 55+ neighborhood that will have a total 110 new and resale attached homes when finished.
Built by Larken Associates, this development offers five floor plans, sized from 1,494 to 2,367 square feet, with two to three bedrooms, two or two-and-a-half baths, first-floor master suites, and attached one-car garages. Upgrades include porches, lofts, and fireplaces.
The inviting clubhouse has a modern fitness center with a whirlpool spa, a steam room and sauna, lockers, and an exercise room. There's also a business center, a fireplace lounge, and a catering kitchen with a serving bar. Blandon is 13 miles from Reading, and it's just outside of lovely Ontelaunee Park and Rich Maiden Golf Course. It's also near Route 222, where you'll find a Sam's Club, Walmart, grocery stores, restaurants, and plenty of other services.