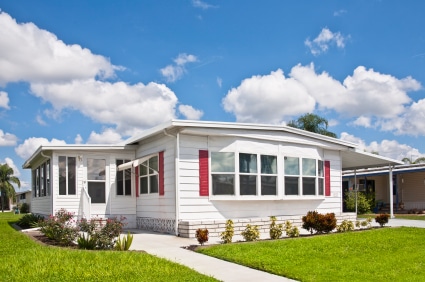 When searching for their ideal retirement homes, active adults can choose from many different home styles. Some popular options include condos, townhomes, attached villas and single-family homes. Retirees who decide to relocate to a community with manufactured homes may also have the option of leasing the land instead of buying their own lot.
What Is a Land-Lease Community?
In a land-lease community, homebuyers can save money by leasing the land that their home sits on, even though they own their home. There are benefits to land-lease communities, but there are also some drawbacks. As with other home buying options, the decision often comes down to the homebuyers' individual needs and personal preferences.
Benefits
The largest benefits to land-lease arrangements are usually financial. First, buyers do not have to invest their savings upfront in a large down payment or cash land purchase. (Not including the cost of the manufactured home itself). The amount of money that would have been used to buy the land could be invested, letting it earn interest which can then be used to pay the monthly lease fee. Homeowners who lease their land will also be spared the cost of expensive real estate taxes.
Older adults who are strapped for cash and living on a fixed income may find that their options for buying a new home are limited. This is especially true if they were unable to make as much of a profit as they had expected on the sale of their previous home. A land-lease community may offer an unexpected opportunity to purchase a home without breaking the bank.
Drawbacks
While land-lease communities can offer financial benefits, some homebuyers prefer the stability of owning their own lot. When leasing the land, the lease will need to be renewed on a yearly, or monthly basis. If the landowner were ever to decide not to continue the lease, the homeowner would be forced to move off of the land. The lease rate will also rise over time, which may make a good deal less lucrative as the years go by.
One other point to consider is that land-lease communities are typically run by a professional management company instead of a Homeowners' Association (HOA). Some homeowners may prefer the idea of a professional management company, instead of the neighborhood politics which can arise with an HOA. However, an HOA board is often made up of elected residents, which gives the homeowners more say in how the community is run.
Whether buying a home and lot in an active adult development or choosing a manufactured home in a land-lease community, a new home is a major investment. Examining all of the options will let retirees make the best choice for their personal needs.