There are many ways to retire—maybe you're thinking of heading to Florida or Arizona for year-round sun, maybe you're hoping to be a snowbird who flies south for the winter, or maybe you're retiring abroad or in an urban core. For active adults seeking a less traditional route, retiring on a houseboat may be a dream come true.
Have You Considered a Houseboat?
Houseboats aren't a thing of fantasy only attainable by the rich. In fact, they're generally more affordable than a traditional home. Living on a houseboat gives active adults lower monthly costs, the ability to travel, a sense of community, and a reason to downsize.
We're taking a look at why you should consider retiring on a houseboat, why you shouldn't, and the overall cost of putting down roots in the water.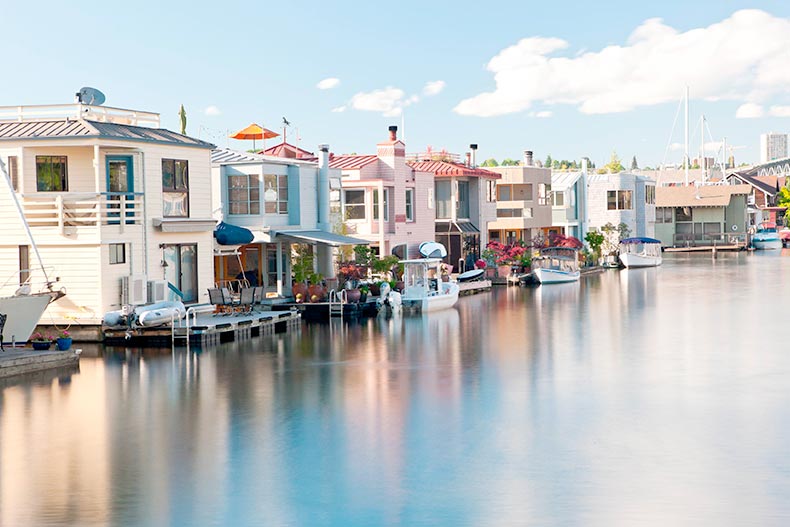 Pros of Living on a Boat
Houseboat Cost
The first and most noticeable difference of living on a houseboat is the amount of money it costs, whether that's the cost of purchasing or the monthly fees after. After you've made your purchase, the average annual amount it actually costs to live in a houseboat is around $6,000.
This includes everything from slip fees and utilities to maintenance and insurance. Some utilities, like water and electricity are provided by docks, while others, like heating and sewage, can be done for free using solar technology and composting. Altogether, that comes out to around $500 a month, much less than you'll pay for a traditional home or apartment.
Freedom
Like tiny homes, houseboats allow residents to leave or go on vacation whenever they want. There's no prep for leaving your home empty for weeks, there's no pet sitter to find or pay, there's nothing to pack, and there are no tickets to buy.
This is especially important for active adults who, according to the 2019 55places Housing Survey, expressed more interest in traveling with family or a community group than any other lifestyle pursuit.
Downsizing
Another big desire for homebuying active adults is to downsize. Moving to a smaller home means homeowners have less space to heat, clean, maintain, and pay for at point of purchase. For empty nesters, a lot of extra space is unnecessary, so the cost of that space isn't worth it.
A mid-sized houseboat that suits two people comfortably and can accommodate visitors is generally around 40 to 50 feet. Of course, the amount you're willing to pay will depend on size, but the priciest houseboats you're going to find usually top off around 110 feet. That's generally much smaller than the average single-family home and will make it easy to cut out unneeded space.
Houseboat Community
While one of the major benefits of living in a 55+ community is living among peers and the health benefits that come with it, a houseboat can pretty much claim the same. Whatever dock you decide to call home for a majority of the year will come with plenty of neighbors. Houseboat communities vary in size, but whether you want a dozen neighbors or hundreds, you'll be able to find the right one for you.
Houseboat neighbors don't just hang out by the docks either. Whether you're out on the open water, in the marina, or hanging out on land, there are plenty of places to go and things to do with your houseboat neighbors. Some activities include Christmas light parades, barbecues, parties, and campfires.
They're Everywhere
If you want to move into a 55+ community, your options are almost strictly suburban. There are a handful of communities in urban areas, but not many, and there are almost none in more rural areas outside of major metropolitan hubs. That means active adults who want a 55+ community in an urban area have to find rentals, and those looking in rural areas have almost no options.
In contrast, there are boat docks and houseboat communities almost everywhere. If you want to live in a big city on your boat, that's possible. If you want a more secluded location, that's definitely possible. Whether you're looking to live on a small lake or the Mississippi River, there are plenty of options for houseboat living.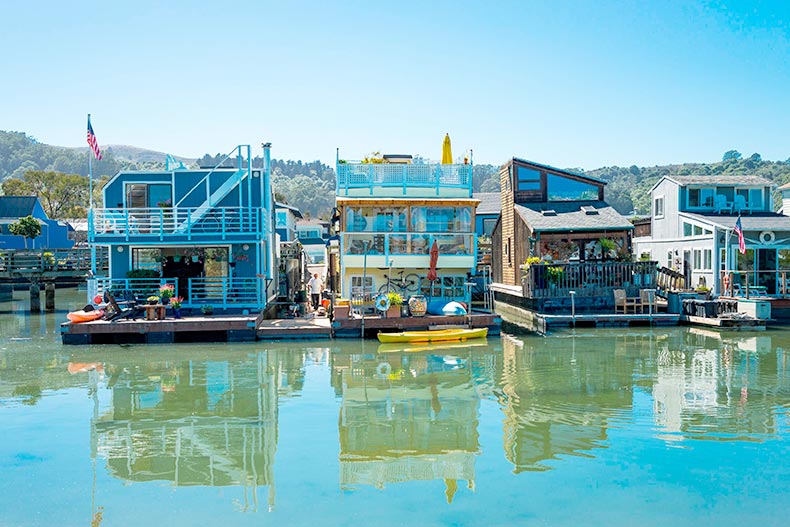 How Much Does a Houseboat Cost?
A houseboat's price depends on what you want out of it. If you're willing to buy resale, you can get a houseboat with enough space for $50,000 to $200,000. Many are even more affordable, if you're willing to downsize a bit more.
New houseboats generally start in the $200s and can go into the millions, depending on size and quality. Whatever option you choose, a houseboat is generally cheaper than a traditional home at point of purchase and in terms of monthly upkeep.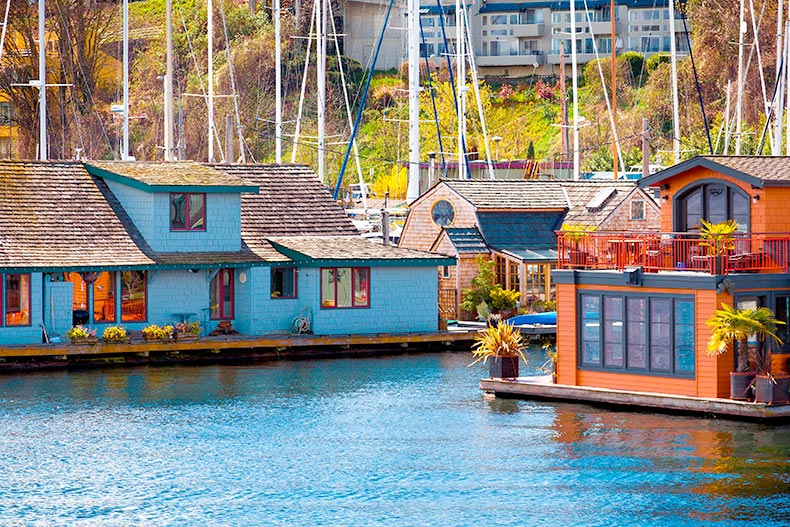 Should You Retire on a Houseboat?
Of course, living on a boat is not for everyone. If you're prone to falling, seasickness, or you suffer from dizzy spells, a houseboat probably isn't right for you. You should also only consider living on a boat if you're ready to be active and maintain your home. While the cost is lower than a traditional home, you won't be buying into a homeowners' association that could help maintain your home.
If you're on the fence about retiring on a houseboat, then try it for yourself. There are plenty of houseboat rentals available across the country. Try it out for a few months or even a few weeks and see if living on a boat is right for you.