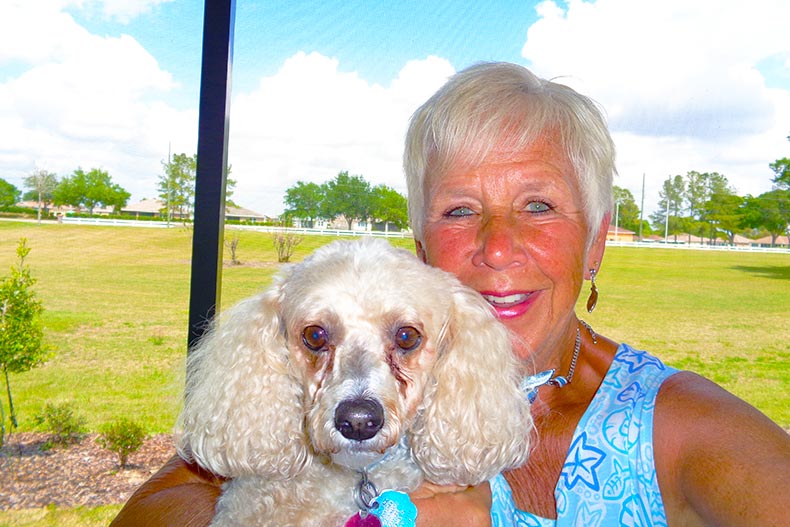 If you're going to name your active adult community On Top of the World, you're setting a pretty high bar for yourself. Fortunately, On Top of the World in Ocala, Florida doesn't seem to have much of a problem meeting and surpassing that standard. After finishing No. 2 on 55places.com's 100 Most Popular Active Adult Communities for 2018 list earlier this year, the community is back at No. 2 on the 55 Best 55+ Active Adult Communities for 2018 list. Whether it's based on pageviews, reviews, or amenities, OTOW (as it's known by locals) always seems to be right near the top.
One person who would confirm that is Becky Anderson, who has lived in On Top of the World since December 2017.
A retired registered nurse originally from outside Philadelphia, Becky began her retirement adventure with a motorhome, snowbirding back and forth to Florida. Two years ago she decided to make Florida her permanent home, settling in Punta Gorda. While there, she heard about On Top of the World and decided to visit last October. Within two months, she was a full-time resident of the Central Florida community.
So what has life been like in the seven months since?
'An Adult Disney World'
"I have made some of the best friends I have ever had in my entire life here," says Anderson. "To me, it's sort of an adult Disney World. The people are wonderful. It's a beautiful community. I've found my happy place."
The amenities and activities are often cited as the biggest reasons people enjoy living at On Top of the World. You can count Becky among them.
"There's so much to do, anything and everything you can think of. If somebody's bored it's their own fault."
'It's Just a Fun Place'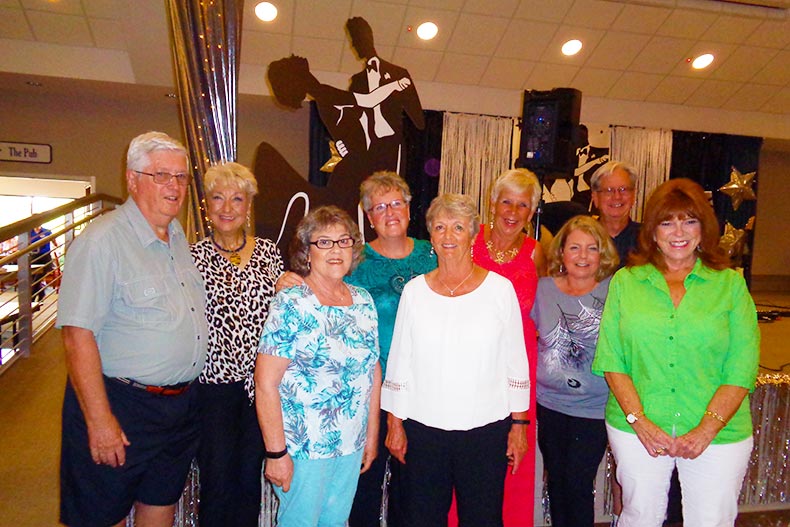 Becky's day often begins with some shuffleboard before breaking for two hours of badminton. After that, it's on to a game of cornhole. Once the games have ended, it's usually social time, be it at the pool or otherwise. If it's Friday, you'll find her with friends at Happy Hour in the rec center. Each week, the community brings in a band and plenty of dancing ensues.
"It's just a fun place."
Though sometimes, there's something to be said for doing nothing at all. "There are some days if you don't feel like doing anything, you don't have to do a doggone thing," says Anderson. "But that doesn't happen very often."
'So Many Different Opportunities'
It's not just about what happens inside the community. "One of the things that's so great about OTOW is that they plan so many different trips. We've gone to dinner theater in St. Petersburg. We go to Kennedy Space Center. They provide so many different opportunities for us."
Living in Ocala means you live in the Horse Capital of the World. In fact, Marion County is home to more than 600 Thoroughbred farms. Anderson recently toured some of the local horse farms. "It was absolutely incredible."
All of this speaks to the larger point of customer service and the way the OTOW staff makes residents feel at ease. "They're very attentive," says Anderson. "I'm in a new house and I haven't really had any problems at all but if there is a problem they take care of it right away. They've got great pride in this community. That makes it really nice."
'The Friendships Are Everlasting'
Ultimately, however, what has made the On Top of the World experience so memorable for Becky are the friendships she's made in such a short amount of time.
"The thing that I love the most is the friendships I've made. There are six of us who have become sisters. It's a couple's world and there are a lot of us who aren't couples but we're not alone anymore. The friendships are everlasting."
Whether she's challenging friends to a friendly game, dancing the night away, or just out walking Molly, her Bichon Poo ("a great way to meet others who are out walking"), Becky is having the time of her life in a community that feels like home.
"As I say, I'm on top of the world at On Top of the World."