Charlotte is one of the fastest-growing cities in the U.S. The flourishing metropolis offers all the perks of living in a big city without feeling like you live in a big city, with its lengthy list of cultural amenities, exciting entertainment options, and wealth of shopping and dining destinations. Add favorable weather, a desirable location, and affordability to the city's list of amenities and you have plenty of reasons why retirees choose to move to the Queen City.
Here's what you need to know if you plan to retire in Charlotte, NC.
Retiring in Charlotte: Pros and Cons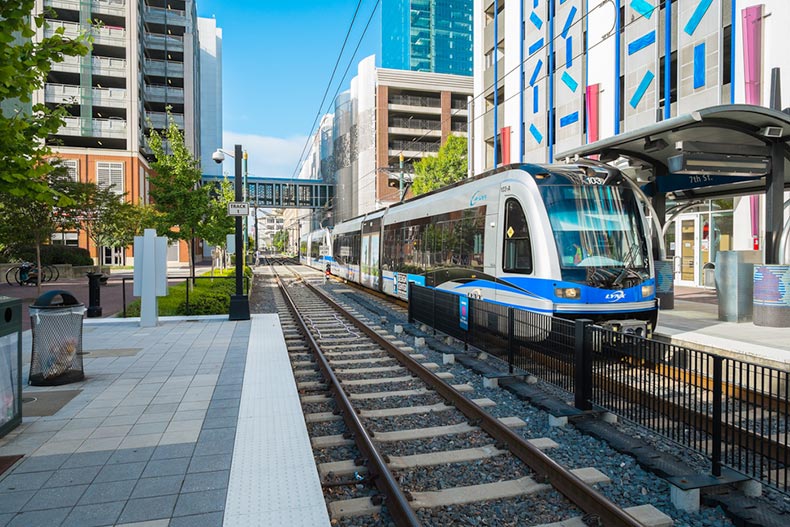 PROS
Affordability: According to BestPlaces.net, Charlotte's cost of living is 1.1% lower than the U.S. average. Charlotte's median home price is $301,300, which is lower than nearby cities, including Raleigh, Durham, and Charleston.
There's plenty to do: The Queen City has a seemingly endless list of museums, art galleries, music venues, and performing arts theaters for residents to enjoy as well as a number of professional sports teams that have games scheduled throughout the entire year.
The city's convenient location: Ask a Charlottean what they love about living in Charlotte, and nine times out of ten their answer will be the city's location. In a matter of a few short hours, residents can either be soaking up the sun at some of the most popular beaches along the East Coast or hiking a trail, taking in unparalleled views of the Blue Ridge Mountains in Western NC.
CONS
Not very walkable as a whole: A fair number of neighborhoods are reasonably walkable/bikeable as long as you stay within that specific area, but walkability dramatically decreases between neighborhoods. Residents typically need a car or public transportation to get from one neighborhood to another.
Public transportation options are limited: There's a public transportation system known as the Charlotte Area Transit System (CATS) that consists of the LYNX Blue Line Light Rail, buses, and the new CityLYNX Gold Line streetcar, but its routes are limited. (It's important to note that the city is working on expanding its public transportation routes and offerings.)
Safety: According to the FBI's Crime Data Explorer, Charlotte's violent crime rate is currently above the national average.
Charlotte Climate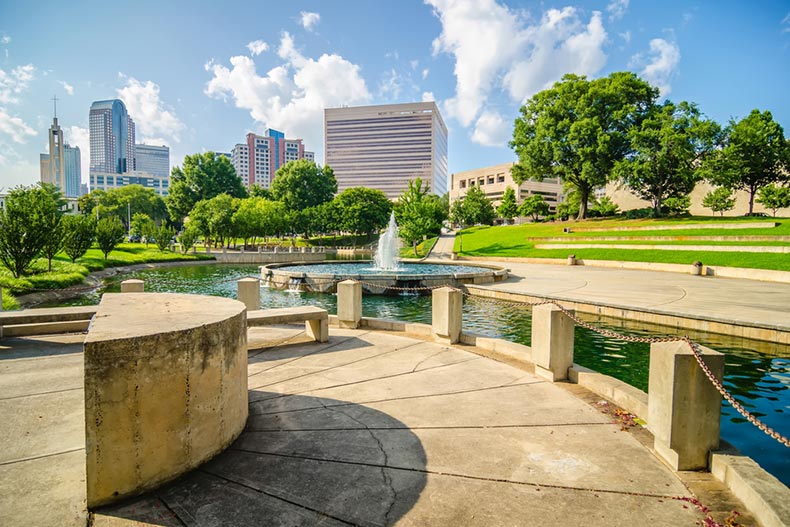 Charlotte offers a mild climate with pleasant temperatures most of the year. The city experiences all four seasons and is rarely impacted by severe weather events like hurricanes or powerful snowstorms.
According to U.S. Climate Data, Charlotte's average snowfall is 1-2 inches between the months of January and March, and the average annual rainfall is between 3-4.3 inches. July and August are the hottest months of the year with average temperatures reaching close to 90 degrees.
When the weather is nice—which is most of the time—you can typically find locals enjoying the beauty of parks like Freedom Park or Romare Bearden Park, boating on Lake Wylie or Lake Norman, or taking advantage of the wide variety of outdoor recreation options that U.S. National White Water Center has to offer.
Charlotte Taxes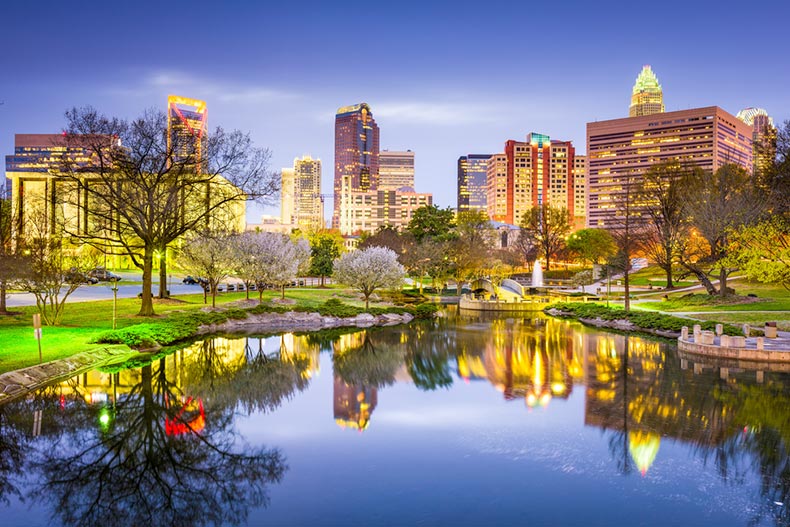 Along with Charlotte's affordability and low cost of living, residents also benefit from having no state estate tax and lower than average property taxes. For retirees, Social Security benefits are tax-exempt, and those who are 65+ and qualify can take advantage of a low-income homestead exclusion, which can help save tens of thousands of dollars.
Charlotte Property Taxes
According to SmartAsset, both North Carolina and Mecklenburg County's property tax rates are currently lower than the national average of 1.07%. Mecklenburg is just under the national average at 1.05%, and North Carolina is well below the average at 0.77%.
Charlotte Retirement Income Taxes
Fortunately, for retirees living in Charlotte, Social Security retirement benefits are tax exempt. However, other forms of retirement income like pensions, 401(k)s, and IRAs are taxed at a flat income tax rate of 5.25%.
Charlotte Tax Exemptions for Seniors
Seniors 65+ with an income of less than $31,500 can take advantage of the North Carolina low-income homestead exclusion. For those who qualify, the low-income homestead exclusion can deduct either $25,000 or 50% of taxable value on their property (whichever is the greater deduction).
Charlotte Health Care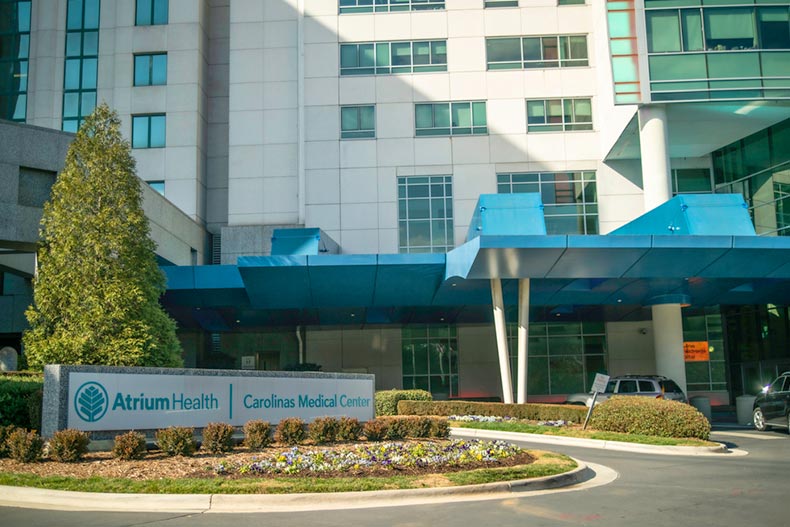 Two major health care systems call Charlotte home and provide locals with top-notch health care facilities and physicians.
Atrium Health has a number of hospitals and medical facilities spread throughout Charlotte and is known for its high-quality care, medical research, and specialties in categories like cancer, cardiovascular care, organ transplants, and burn treatments. Several of Atrium's physical rehabilitation centers have been nationally ranked as America's Best Physical Rehabilitation Centers by Newsweek.
Novant Health is Charlotte's other leading healthcare provider. Along with its long list of hospitals, clinics, urgent cares, and emergency rooms that can be found throughout the city, Novant also boasts a number of specialty centers including, the Heart & Vascular Institute, the Cancer Center, the Women's Center, the Stroke & Neurosciences Center, and the Rehabilitation Center and Behavioral Health.
Where to Live in Charlotte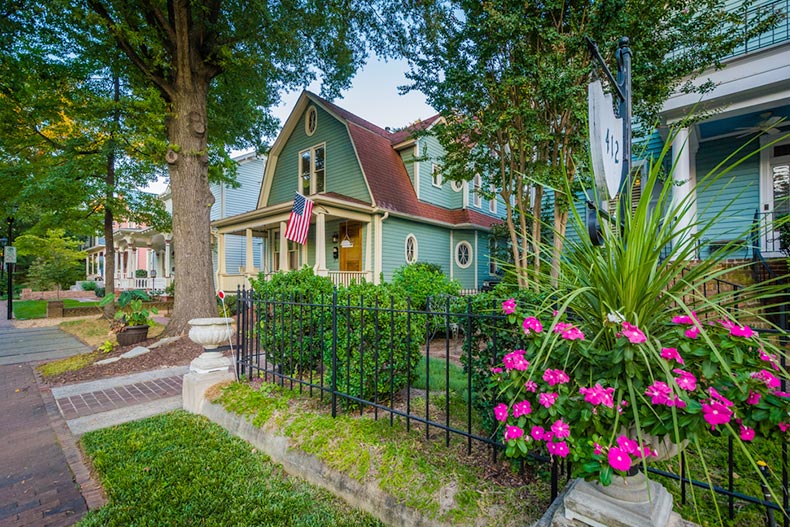 Charlotte is home to several distinct neighborhoods and suburbs that all have their own unique appeal and draws. Whether you want to live right in the middle of all the action or retreat to a quiet suburb, there are plenty of options when it comes to living in Charlotte, NC.
Lake Norman
Situated 20 miles north of Charlotte, the Lake Norman area offers residents the opportunity to enjoy a slower pace of life but still have daily conveniences close by. Home to NC's largest man-made lake and  520 miles of shoreline, the Lake Norman area includes a number of different towns, including Huntersville, Mooresville, Denver, Davidson, and Cornelius.
There are plenty of commercial shopping and dining destinations like Birkdale Village in the area as well as historic main streets lined with charming Mom-and-pop shops. While the lake is the area's biggest draw, Lake Norman is also home to several NASCAR racing shops, Davidson University, and a variety of outdoor recreation centers, including historic Latta Plantation, the Raptor Center, and Jetton Park.
Fortunately, for retirees moving to Charlotte, there are plenty of active adult neighborhoods to consider in the Lake Norman area, including, Trilogy Lake Norman, The Courtyards at Kinnamon Park, The Courtyards on Lake Norman, and The Farm at Ingleside.
Fort Mill
Fort Mill has quickly become one of Charlotte's fastest-growing suburbs. Located 30 minutes south of the city, the area gives residents easy access to all the amenities Charlotte has to offer as well as daily conveniences nearby.
Between Fort Mill's main street, the Kingsley area, and Baxter Village, there's no shortage of retail and dining options. There's also no shortage of ways to get outside and stay active with several area parks and greenspaces. The Anne Springs Close Greenway is a 2,100-acre nature preserve that offers a seemingly endless list of recreation options ranging from hiking and biking to horseback riding and kayaking.
If Fort Mill sounds appealing, then you're in luck, there several excellent active adult communities in the area, including  Four Seasons at Gold Hill and Carolina Orchards. Other nearby communities include Regency at Palisades, Highcliff at Palisades – The Gardens, and The Meridians.
Matthews
Matthews is another popular Charlotte suburb that will appeal to active adults moving to Charlotte. On any given day, residents can catch a show at the Matthews Playhouse of the Performing Arts, take in a history lesson at the Matthews Heritage Museum, or go antique shopping at Antique Alley.
Looking for fresh produce? Meander through the Matthews Community Farmers Market or stop by the Providence Produce Markets. Want to spend some time outdoors? Take your pick from several local parks, including Colonel Francis Beatty Park, Stumptown Park, and William R. Davie Park.
Golfers will especially appreciate having the Emerald Lake Golf Club nearby, while soccer fans can enjoy cheering on the home team at a Charlotte Independence game.
The Matthews area is home to six active adult communities, including Bella Sera Villas, Village of St. Andrews, Polo Club at Weddington, Polo Club at Matthews, and The Courtyards on Chestnut Lane.
Ready to Make the Move? 55places Can Help.
To discover more exciting 55+ communities in Charlotte, we invite you to contact us at 800-928-2055 or visit 55places.com. Our experienced team of real estate experts will guide you through the top options in your area and help you make a seamless transition from your current home to a 55+ community. We look forward to helping you make your next move the best one yet!