This may come as a surprise, but Jacksonville, Florida is the largest city by landmass in the Continental United States. It covers 840 square miles, and the population is surging too.
People retire to Jacksonville because it's warm, it's pretty, and it's an ideal blend of beach fun, nature preserves, and city fun. There's culture and sports. You can go surfing and antique shopping on the same day. Then, you can spend the evening watching live music or sampling craft beer.
Here's what you need to know if you're one of the lucky active adults planning a retirement in Jacksonville.
Retiring in Jacksonville: Pros and Cons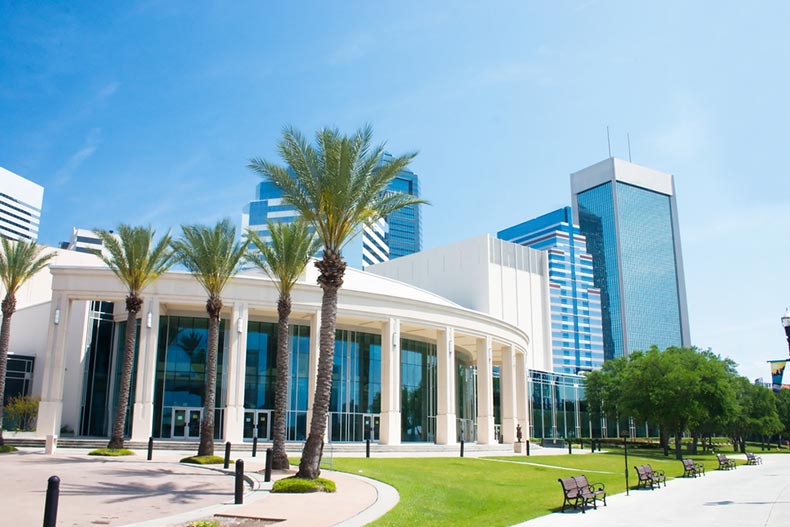 PROS
Weather is more than tolerable: The seasonal balance is better here than in other parts of Florida. You'll never have to worry about snow, and the humidity doesn't hang over the summers as hard as it does in southern Florida or on the Gulf Coast.
You'll find art, culture, and history: Jacksonville is home to The Florida Theatre, The Alhambra Theatre, and Jacoby Symphony Hall, a beautifully decorated orchestra hall that's home to the Jacksonville Symphony. Art lovers will find plenty to enjoy at museums such as The Museum of Contemporary Art, The Cummer Museum of Art and Gardens, and The Museum of Science and History. There's also the Jacksonville Zoo and Gardens, home to 2,000 different animals and 1,000 species of plants.
Reasonable cost of living: The cost of living in Jacksonville is lower than other parts of the country and even lower than other parts of Florida. You can expect to spend 10 percent less for everyday items in Jacksonville than the national average. This extends to real estate. Home prices are competitive, and you'll get a lot more for a lot less when you're looking at Jacksonville real estate.
Diversity of landscapes: Jacksonville allows people to decide whether they want to live on the beach, in the middle of a busy city, or in the quieter suburbs with lawns and mature trees. Downtown Jacksonville is on the St. Johns River, providing boating and fishing opportunities. There are state parks, hiking trails, and wilderness areas in and around Jacksonville.
CONS
Jacksonville is no small city: Living in Jacksonville, FL means being surrounded by people. It means possibly spending an hour or more getting from one end of town to another. The population census in 2020 put the population of Jacksonville at around 950,000 people. If you're someone who prefers a small-town feel, Jacksonville might prove a challenge. The fact that it's so spread out can also be difficult. Not everything will feel close to where you are.
You'll share your city with tourists: Tourism is a factor throughout Florida, and that includes Jacksonville. More than 22 million people visit Jacksonville every year, and you'll find yourself sharing the roads, beaches, restaurants, and other hotspots with those tourists.
There could always be a hurricane: The Atlantic Coast is on high alert from June 1 to November 30 every year, during hurricane season. While the large named hurricanes are often few and far between for Jacksonville, there are a number of tropical storms every year that deliver a lot of rain, high winds, and a general sense of dread while neighbors stock up on bottled water, fill sandbags, and pull in the patio furniture.
Jacksonville Climate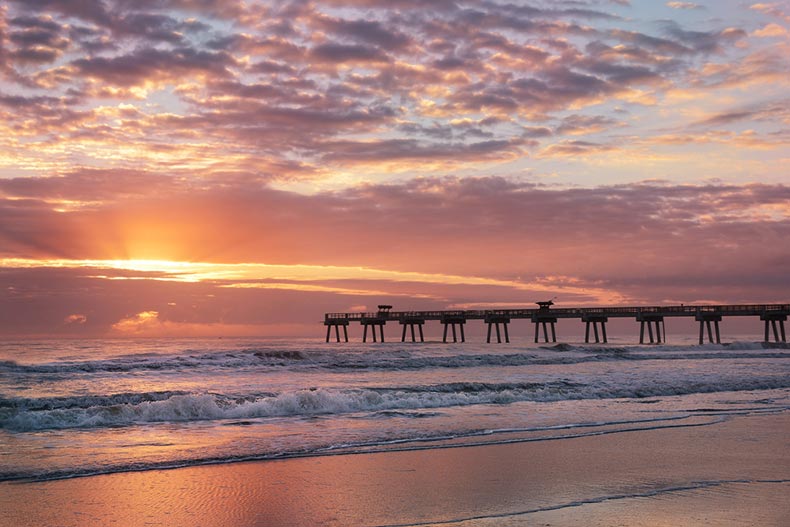 Jacksonville doesn't have four traditional seasons, but you'll feel a subtle change from summer to autumn and winter to spring. Floridians like to track their season by whether it's the wet season (summer months) or the dry season (winter months).
You can expect a daily thunderstorm from May through October, as well as temperatures reaching the high 80s and the 90s. Temps settle into the high 60s and the 70s for the rest of the year. Nights in the heart of winter can be chilly. It's not unusual for households to use the heat at least for a week or two.
In addition to the summer thunderstorms, there's also tropical weather to worry about. Expect constant reminders to prepare for hurricane season as the summer arrives.
It never gets so cold that you can't enjoy a golf game or a tennis match, even in January or February. People living in Jacksonville, FL love being outdoors. They take advantage of the sunshine and salt air by visiting the beach, biking, hiking, kayaking, and deep-sea fishing.
Jacksonville Taxes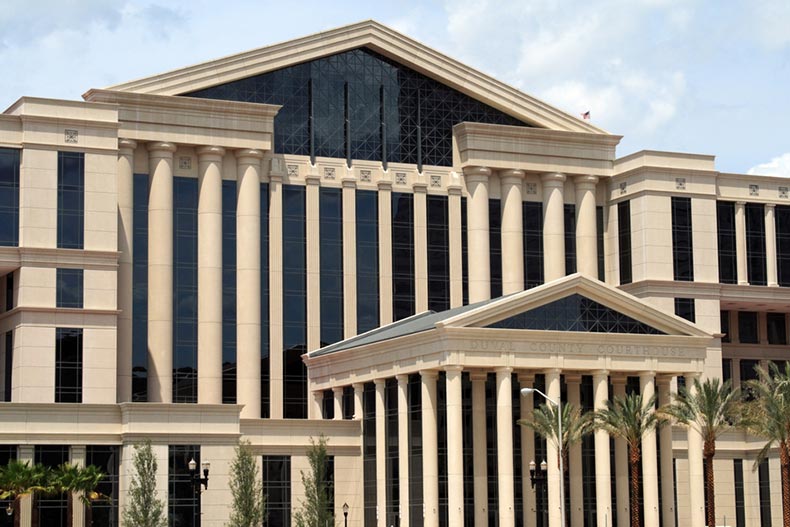 Without a state income tax in Florida, retirees living in Jacksonville get to keep more of their income. They also escape any inheritance tax or estate tax. The combined city and state sales tax in Jacksonville is 7.5 percent, which reflects the 6 percent state tax rate plus a 1.5 percent Jacksonville city sales tax.
Jacksonville Property Taxes
In Jacksonville, the property tax rates are lower than the national average and about the same as what homeowners pay throughout the state of Florida. The Duval County Tax Collector is responsible for collecting taxes on real estate and tangible personal property, and those taxes can be paid online in full or with a partial payment and subsequent payment arrangement. The Property Appraiser determines the value of all property in Jacksonville, approves and calculates various tax exemptions, and maintains property descriptions and addresses.
Jacksonville Retirement Income Taxes
Florida is routinely listed as one of the best places to retire, and that's because of the favorable tax environment in the state. Retirees living in Jacksonville don't have to pay state income taxes on their Social Security benefits, pensions, IRAs, proceeds from 401ks, or other retirement income sources.
Jacksonville Tax Exemptions for Seniors
Homeowners in Florida can take advantage of the Homestead Exemption, and in 2021, the Jacksonville City Council voted to increase the exemption for some seniors. Low-income seniors are eligible for a $50,000 exemption applied to the value of their homes when it comes to the portion of the bill for city of Jacksonville taxes. That's double the $25,000 exemption that was previously allowed for low-income homeowners 65 years of age and older.
Jacksonville Health Care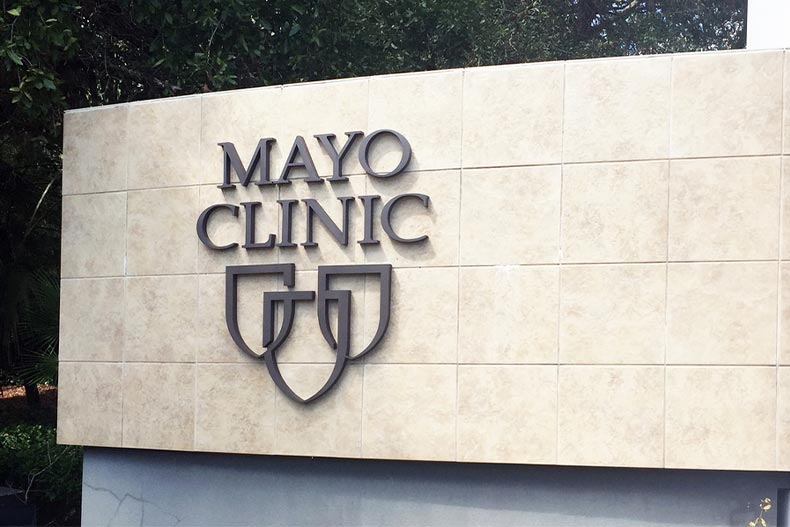 The Mayo Clinic, with two locations in Jacksonville, has been named the best hospital in Florida. It's a huge research and teaching institution with medical specialists in nearly every specialty area, including a Heart Center and a Cancer Center. There's a Brain Tumor Program and a Trauma Center. Nearly all in-patient and out-patient needs can be taken care of at the Mayo Clinic.
There's also Baptist Health and the University of Florida Health, both of which have a wide network of providers and support.
Where to Live in Jacksonville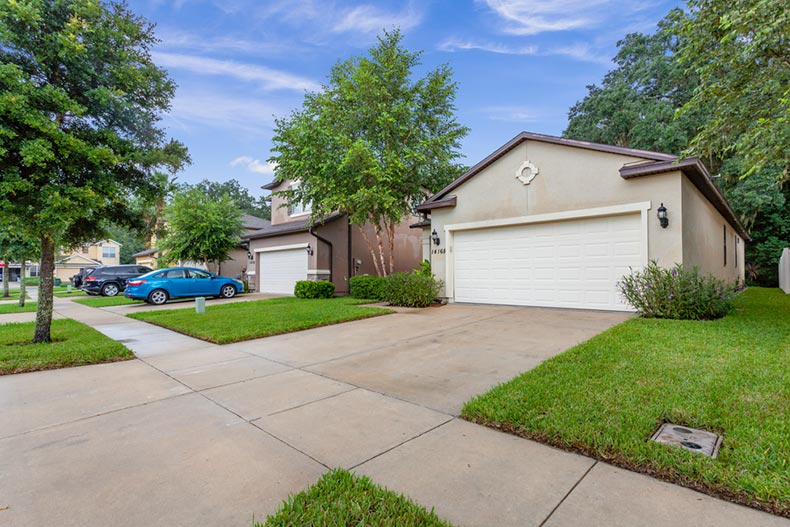 Because Jacksonville is so spread out, there are a number of different areas to choose from when active adults are relocating. The city of Jacksonville provides easy access to entertainment and recreation. But to be closer to the beach, Ponte Vedra or Fernandina Beach might make more sense.
Jacksonville
A number of master-planned and 55+ communities can be found in the center of Jacksonville, where residents are close to The Ritz Theater, the Times-Union Center for the Performing Arts, and the Cummer Museum of Art and Gardens. The Jacksonville Jaguars is the local NFL team, and residents enjoy annual jazz and seafood festivals.
Living in Jacksonville means being able to easily access arts, entertainment, great dining, and outdoor recreation. People can be seen biking or jogging along the river, golfing, or shopping in one of Jacksonville's unique neighborhoods.
When looking for an active lifestyle community, homebuyers focused on the city of Jacksonville might want to consider a centrally located community like Sweetwater, which is located close to downtown, the airport, and St. Johns Town Centre. Homes are available as condos, attached villas, and single-family residences. Amenities include a clubhouse with a fitness center, a movement studio, and both an indoor lap pool and an outdoor resort-style pool.
Del Webb is well-known in Florida for its active adult communities, and Del Webb eTown is an excellent representation of what the builder can do. With over 500 new construction single-family homes, the focus in this community is on smart home living. Residents can connect their smart devices to thermostats, appliances, and home security features. There are also amenities like a clubhouse, a fitness center, an event lawn, pickleball courts, a pool, and walking and biking trails.
Ponte Vedra
Located right between Jacksonville and St. Augustine is Ponte Vedra, a neighborhood that attracts active adults who don't want to live right in the city and prefer a quieter lifestyle with more space for beachgoing, recreation, and shopping.
Living in Ponte Vedra is a great idea for golfers. It's known as a golfing capital, with pristine, challenging courses at places like TPC Sawgrass, The Lagoon Course at Ponte Vedra Inn, and The Yards.
Artisan Lakes is an intimate community in Ponte Vedra, with new-construction single-family homes available to buyers looking for lots of parks and green spaces. There is a putting green, an event lawn, some lovely lakes, and walking trails throughout the 55+ community. Two design collections are available with 10 floor plans for buyers to choose from.
Nocatee is a popular master-planned community in Ponte Vedra, and it includes Del Webb Nocatee, a 55+ community with new construction homes in both single-family and attached models. Many amenities are specific to the age-restricted community, including a dedicated clubhouse, fitness center, spa, and courts for pickleball, bocce, and tennis. Residents also have access to the Nocatee amenities.
Fernandina Beach
Even further outside of the city of Jacksonville is Fernandina Beach, which is on the northern edge of the Jacksonville area and relatively untouched by corporate and commercial sprawl. Amelia Island is in the area, and you might see people riding horses on the beach.
The area is known for its great seafood restaurants, secluded beaches like Big Talbot Island, and a buzzing downtown area with independent bookstores, bars serving craft cocktails, and unique shops.
Fernandina Beach has a number of 55+ communities for homebuyers who want to live an active lifestyle. You may find that these communities are smaller than some of the others around Jacksonville. Most of them have no more than 100 homes, some even less.
Ready to Make the Move? 55places Can Help.
To discover more exciting 55+ communities in Jacksonville, we invite you to contact us at 800-928-2055 or visit 55places.com. Our experienced team of real estate experts will guide you through the top options in your area and help you make a seamless transition from your current home to a 55+ community. We look forward to helping you make your next move the best one yet!